Maritime forest
OceanWorld
Welcome Important Notices for Refuge Visitors: The refuge beach closes on April 1st for piping plover management. Please click here for more information about the closure.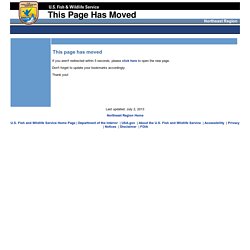 Welcome to the Parker River National Wildlife Refuge -
Parker River consists of 4,662 acres of diverse habitats including sandy beach and dune, cranberry bog, maritime forest and shrubland, and freshwater marsh. The most abundant habitat on the refuge is its 3,000+ acres of salt marsh, one of the most productive ecosystems on the planet. The refuge marsh is part of the "Great Marsh," the largest continuous salt marsh north of Long Island sound. The salt marsh includes not only the vast grasslands you see, but also the mud flats and open water salt pannes.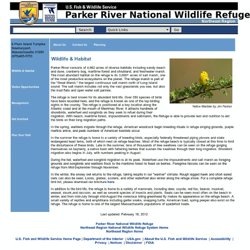 Parker River National Wildlife Refuge - Wildlife & Habitat
Joppa Flats | Mass Audubon | Nature Connection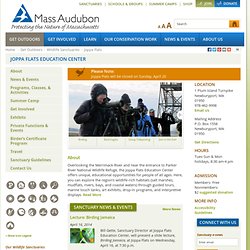 Joppa Flats Education Center The Joppa Flats Education Center is located at the gateway to one of the country's most productive, year-round, wildlife viewing areas—the Parker River National Wildlife Refuge and the Plum Island estuary. Highlights for visitors are the many species of birds that utilize the area's extensive salt marshes, mudflats, rivers, bays, and coastal waters. During local area field trips, Joppa Flats program participants have recorded over 300 species of birds including bald eagle, snowy owl, many warblers, shorebirds, and waterfowl. View our current education program slideshow to get a sense of what we do at the Education Center.
ADDITIONAL WINTER BIRD PROGRAMS Call Joppa Flats at 978-462-9998 for information or to register. Wednesday Morning Birding Wednesdays, 9:30-12:30. For adults. Preregistration not required. Saturday Morning Birding Saturdays, 9:00-11:30.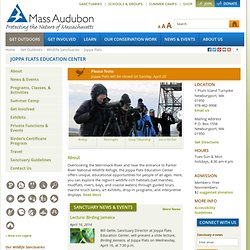 The Merrimack River Eagle Festival - February 11, 2012 | Joppa Flats | Mass Audubon
Thank you for visiting the WRI Website. The page you are looking for might have been removed, had its name changed, or is temporarily unavailable. Please try the following: Use the WRI search engine (in the upper right beneath the banner) to find what you are looking for. If you typed the page address in the Address bar, make sure that it is spelled correctly.
EarthTrends: Searchable Database - Coastal and Marine Ecosystems