Blogs
What Makes Education So Pinteresting? String the words "social" and "media" together in a sentence when talking with most educators and the conversation inevitably turns to the Big Three: Facebook, Twitter, and LinkedIn.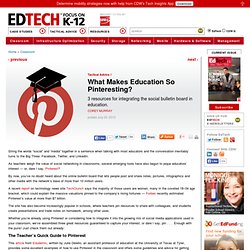 As teachers weigh the value of social networking in classrooms, several emerging tools have also begun to pique educators' interest — or, dare I say, Pinterest? By now, you've no doubt heard about the online bulletin board that lets people post and share notes, pictures, infographics and other media with the network's base of more than 10 million users. Pass It On! Venspired Learning | Teaching, Learning, & Life. Snapshot: Blogger, Wikispaces, Kidblog and iPads. Kia ora!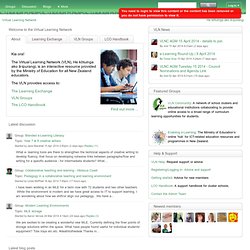 The Virtual Learning Network (VLN), He kōtuinga ako ā-ipurangi, is an interactive resource provided by the Ministry of Education for all New Zealand educators. The VLN provides access to: The Learning Exchange is a brokerage site that enables connections between teachers and learners; joining clusters, schools, groups and individuals who are learning through online and blended programes. iLearn Technology. Virtual Learning Network. QR Codes and TinyURL in Education. We started using QR Codes in our classrooms in the summer of 2011.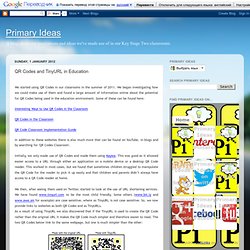 We began investigating how we could make use of them and found a large amount of information online about the potential for QR Codes being used in the education environment. Some of these can be found here: In addition to these websites there is also much more that can be found on YouTube, in blogs and by searching for 'QR Codes Classroom'. Getting a global project started … Where do you begin, and how do you make it meaningful and sustainable? The May #globalclassroom chats are upon us, and this month's question and discussion post comes to us courtesy of Laurie Renton, a Grade Three teacher working in Alberta, Canada.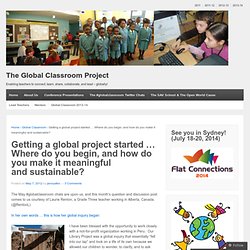 (@RentonL) In her own words … this is how her global inquiry began: I have been blessed with the opportunity to work closely with a not-for-profit organization working in Peru. Our Library Project was a global inquiry that essentially "fell into our lap" and took on a life of its own because we allowed our children to wonder, to clarify, and to ask further questions after participating in a Video Conference experience to "enhance" our understanding of the customs and culture in Peru. Seriously? This is the conversation? « Continue. Mobile Learning Blogroll. Doing Their Dirty Work. Fiction studio books. Sometimes when I look at my children I say to myself, "Lillian, you should have stayed a virgin" – Lillian Carter, mother of the 39th President of the United States.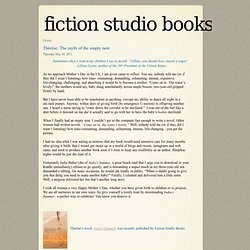 As we approach Mother's Day in the US, I am given cause to reflect. You see, nobody told me (or if they did I wasn't listening) how time- consuming, demanding, exhausting, intense, expensive, life-changing, challenging, and absorbing it would be to become a mother. "Come on in. Lessons Worth Sharing. The new classroom abandons rules and consequences. If you are a product of Teach for America, you likely have all sorts of rules and consequences posted around your classroom.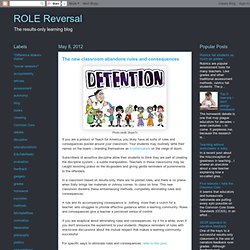 Your students may routinely write their names on the board -- branding themselves as troublemakers on the verge of doom. Subscribers of assertive discipline allow their students to think they are part of creating the discipline system -- a subtle manipulation. Teachers in these classrooms may be caught lavishing praise on the do-gooders and giving gentle reminders of punishments to the offenders. In a classroom based on results-only, there are no posted rules, and there is no praise when Sally brings her materials or Johnny comes to class on time. This new classroom disdains these embarrassing methods, completely eliminating rules and consequences. C. M. Rubin: The Global Search for Education: In Search of Professionals - Part 1.
"You have to invest in the whole system.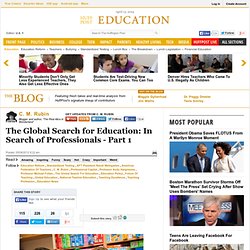 " -- Randi Weingarten. Photo courtesy of the American Federation of Teachers. Here's a powerful challenge to the world of education: Improve the profession of teaching. If you believe that the future of learning depends on the future of teaching, Andy Hargreaves' and Michael Fullan's latest collaboration, Professional Capital, proposes an action plan for teachers, administrators, schools and districts, and state and federal leaders as to how to create a 21st century generation of professional teachers. Over the next few days in The Global Search for Education series, I discuss with Michael Fullan, Andy Hargreaves and Randi Weingarten, President of the American Federation of Teachers, some of the issues as well as some of the strategies necessary to make this a reality.
Preparing for a Different Kind of Middle Grades Classroom - Transforming Learning. How to Make Social Networking Work. I've had mixed results using social networking media for class discussions.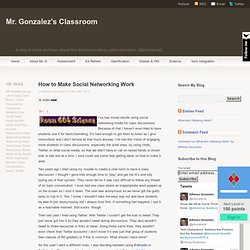 Because of that I haven't even tried to have students use it for backchanneling. It's hard enough to get them to listen as I give instructions and I don't lecture all that much anyway. I've had this vision of engaging more students in class discussions, especially the quiet ones, by using chats, Twitter, or other social media, so that we didn't have to call on raised hands or shush kids or talk one at a time. I sure could use some help getting ideas on how to make it work. How to Create Social Media Guidelines for Your School. Get the seven steps (and a roundup of valuable resources) you need to help bring social media in your classroom.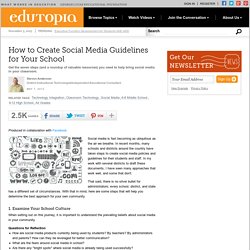 Produced in collaboration with Facebook. Social media is fast becoming as ubiquitous as the air we breathe. In recent months, many schools and districts around the country have taken steps to create social media policies and guidelines for their students and staff. We Are Learning To: Make a difference « Teaching the Teacher. Late last week I decided to throw my carefully crafted-lessons on cyber-citizenship out the window and floated the idea to my class of making a submission to the Inquiry into 21st century learning environments and digital literacy being run by the Education and Science Select Committee.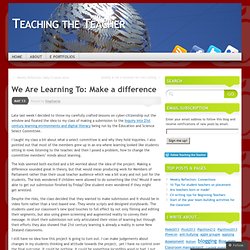 I taught my class a bit about what a select committee is and why they hold inquiries. I also pointed out that most of the members grew up in an era where learning looked like students sitting in rows listening to the teacher. And then I posed a problem, how to change the committee members' minds about learning. 'These Are Your Kids on Books' Poster Goes Viral. Nine disturbing behaviors on social media that people need to stop right now. May 08, 2012|Bridget Doyle Statuses, tweets, pins, check-ins, videos, photos … the insatiable hunger for social media can't be stopped. But as more platforms keep popping up, common sense is becoming lost in a hazy web of bathroom photo shoots and cat memes. Here are some social media behaviors that should be left to die along with MySpace and AOL profiles. Too much information A log of every morsel of food you put in your mouth, labor-contraction frequency and pictures of ingrown toenails are examples of information that should be kept to yourself.
eLearning 4 Life. I Think…Therefore…MI! - Arlington, VA.
---