Snow(: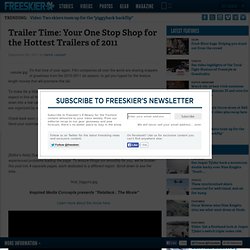 It's that time of year again. Film companies all over the world are sharing snippets of greatness from the 2010-2011 ski season, to get you hyped for the feature length movies that will premiere this fall. To make life a little easier for you, we've created Trailer Time; this is the spot where you can expect to find all the latest and greatest teasers that are hitting the web.
Trailer Time: Your One Stop Shop for the Hottest Trailers of 2011 that is great fun & healthy too !!! Unfortunately it suffers from the image that it is also very expensive. IT CAN BE - BUT IT NEEDN'T BE ! This website shows you how to make things cheaper. Whether it's the holiday itself, or cheaper ski gear, insurance, learning etc., you'll find a section in the left hand column that deals with this.
Skiing On A Shoestring | Home | SKIING - a fantastic sport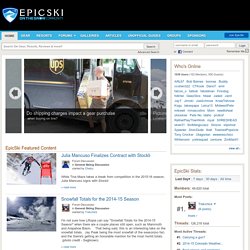 Big fun on a big mountain Pros: Good snow and lots of it, friendly locals, minimum of glitz and hype, good beer, good deals on lodging and lift tix Cons: not always great for powder hounds, no rope tow for the terrain park, maybe the occasional fog? We've been to WMR three times in the past four years, always in March. They have never had less than 10 feet of snow on the ground. 360 degrees of skiing off the summit means that you can pick and choose your conditions, anything from early-morning firm and fast groomers down the front, to soft and smooth on the north side of the mountain, to afternoon corn (or slush, sometimes) where the sun has been on it.
EpicSki - The Site For Dedicated Skiers
Cliff Trampoline at Whistler | Wend Blog
Skis, Skiing Equipment, Ski Resorts | Skiing Magazine
Great Canadian Heli-Skiing - Heli-skiing and heli-boarding heaven, BC, Canada
Flat 7 Screamin Semen: Joey Spencer
. . . Like There's No Tomorrow Official Trailer | WarrenMiller.com