Snow(:
Extreme Mountain Camping. ThreeSixFive. Trailer Time: Your One Stop Shop for the Hottest Trailers of 2011. It's that time of year again.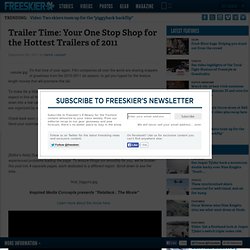 Film companies all over the world are sharing snippets of greatness from the 2010-2011 ski season, to get you hyped for the feature length movies that will premiere this fall. To make life a little easier for you, we've created Trailer Time; this is the spot where you can expect to find all the latest and greatest teasers that are hitting the web. Skiing On A Shoestring | Home | SKIING - a fantastic sport. EpicSki - The Site For Dedicated Skiers. Cliff Trampoline at Whistler | Wend Blog. Skis, Skiing Equipment, Ski Resorts.
Great Canadian Heli-Skiing - Heli-skiing and heli-boarding heaven, BC, Canada. Flat 7 Screamin Semen: Joey Spencer. . . . Like There's No Tomorrow Official Trailer | WarrenMiller.com.
---