FOTOGRAFOS AGENCIA VU II
Roland Allard. Aniu. Jane Evelyn Atwood. Stories Books Awards.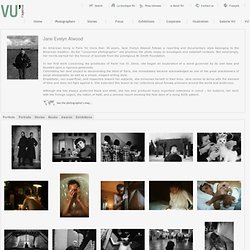 Narelle Autio. Jordi Bernadó. Quentin Bertoux. Agnès Bonnot. Machiel Botman. Franck Brisset. Pablo Cabado. Pablo Cabado was born in Buenos Aires, Argentina.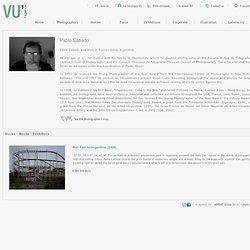 At the age of 17, he moved with his family to Mexico City where he studied photography at the Escuela Activa de Fotografia (Active School of Photography) and the Consejo Mexicano de Fotografia (Mexican Counsil of Photography). There he attended the Taller de los Lunes under the coordination of Pedro Meyer. Bertrand Carriere. Lorenzo Castore. Jean-Luc Chapin. Sophie Chivet. Warren Clarke. Serge Clément. Nicolas Comment. Nicolas Comment is represented by Galerie Vu'.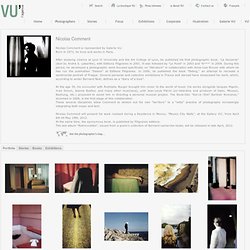 Born in 1973, he lives and works in Paris. After studying cinema at Lyon II University and the Art College of Lyon, he published his first photographic book, "La Desserte" (text by André S. Labarthe), with Editions Filigranes in 2001. It was followed by "Le Point" in 2003 and "A***" in 2004. During this period, he developed a photographic work focused specifically on "literature" in collaboration with Anne-Lise Broyer with whom he has run the publication "Saison" at Editions Filigranes. Olivier Coulange. Franck Courtes. Nick Cubbin. Dominique Delpoux.
Bernard Descamps. Tiane Doan na Champassak. Richard Dumas. Isabelle Eshraghi. Darryl Evans. Bernard Faucon. Franck Ferville. François Fontaine. Rodrigo Gomez Rovira. Christophe Goussard. Michael Grieve. Brigitte Grignet. Stéphane Harter. Glenn Hunt. Gert Jochems. Yvon Lambert. JR. Gilles Larvor. Claude Le Gall. Laurence Leblanc. Frédéric Lecloux. Adriana Lestido. Diego Levy. Christian Lutz. Markus Marcetic. Vincent Migeat. Olivier Mirguet. Malik Nejmi. Claude Pauquet. Fabrice Picard. Serge Picard. Emmanuel Pierrot. Christian Poveda. Greta Pratt. Anne Rearick. Gérard Rondeau. Claude Schwartz. Jeffrey Silverthorne. Manit Sriwanichpoom.
Tono Stano. Maria Steen. Ricard Terré. Guy Tillim. Linda Troeller. Tshi. Yang Yankang. Guillaume Zuili. Steven Siewert / Oculi. Tamara Voninski / Oculi. Jesse Marlow / Oculi. Nick Moir / Oculi. Jeremy Piper / Oculi. Andrew Quilty / Oculi. James Brickwood / Oculi. Tamara Dean / Oculi. James BRICKWOOD. Thomas LEKFELDT. Eivind H NATVIG. Eivind H Natvig / Moment. Johan Bävman / Moment. Andrea Gjestvang / Moment. Jorgen Hildebrandt / Moment. Thomas Lekfeldt / Moment. Chris Maluszynski / Moment. Elin Berge / Moment. Albert ZAWADA. Maciej ZIENKIEWICZ. Adam Kozak. Damian Kramski. Krzysztof Miller. Michal Mutor. Wojciech Olkusnik. Aleksander Prugar. Piotr Skornicki. Tomasz Wiech. Jan Zamoyski. Jerzy Gumowski. Piotr Janowski. Slawomir Kaminski.
---