social media guides and tips
Get flash to fully experience Pearltrees
A year after seventh grade teacher Elizabeth Delmatoff started a pilot social media program in her Portland, Oregon classroom, 20% of students school-wide were completing extra assignments for no credit, grades had gone up more than 50%, and chronic absenteeism was reduced by more than a third. For the first time in its history, the school met its adequate yearly progress goal for absenteeism. At a time when many teachers are made wary by reports of predators and bullies online, social media in the classroom is not the most popular proposition.
After week one I shared my thoughts about " What Google+ Means for Education ." I'm on week two now and the big questions are: Do I really need to join another social network? Answer: Yes.
Posted on 20 July 2009 by asmodeus Welcome! If you like what you read, please subscribe to my RSS feed .
Social media includes varied online technology tools that allow people to communicate easily via the Internet to share information and resources. The dramatic growth of social media creates new opportunities for engaging students. These include social networking sites such as Facebook, MySpace, LinkedIn and Twitter along with blogs and wikis.
Over the past eighteen months Internet security company AVG (disclosure – Rabbit client) has been carrying out research to see how technology has changed childhood, beyond recognition from someone who grew up twenty or thirty years ago. With five waves looking at kids from birth across eleven countries, the end result is a fairly extensive piece of research. Ten key stats are as follows: 1 – 81% of children under two currently have some kind of digital dossier or footprint, with images of them posted online. In the US that rises to 92%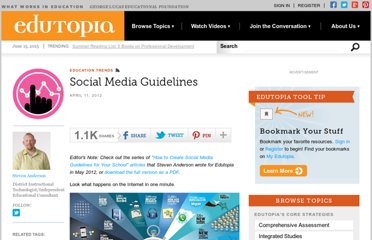 Editor's Note: Check out the series of "How to Create Social Media Guidelines for Your School" articles (1) that Steven Anderson wrote for Edutopia in May 2012, or download the full version as a PDF (2) . Look what happens on the Internet in one minute. Credit: Shanghai Web Designers More and more, social media is becoming a part of our daily lives. Just today, Mashable (3) is out with a report that says Pinterest (4) (which is less than a year old) is the #3 social network (5) in the U.S. This report mentions that the amount of monthly traffic Facebook receives is seven billion page views, and Twitter receives 182.
Get the seven steps (and a roundup of valuable resources) you need to help bring social media in your classroom. Produced in collaboration with Facebook (1) . Social media is fast becoming as ubiquitous as the air we breathe. In recent months, many schools and districts around the country have taken steps to create social media policies and guidelines for their students and staff. In my work with several districts to draft these documents, I have seen many approaches that work well, and some that don't. That said, there is no silver bullet for administrators; every school, district, and state has a different set of circumstances.
Overview Two Pew Internet Project surveys of teens and adults reveal a decline in blogging among teens and young adults and a modest rise among adults 30 and older. In 2006, 28% of teens ages 12-17 and young adults ages 18-29 were bloggers, but by 2009 the numbers had dropped to 14% of teens and 15% of young adults . During the same period, the percentage of online adults over thirty who were bloggers rose from 7% blogging in 2006 to 11% in 2009. Much of the drop in blogging among younger internet users may be attributable to changes in social network use by teens and young adults.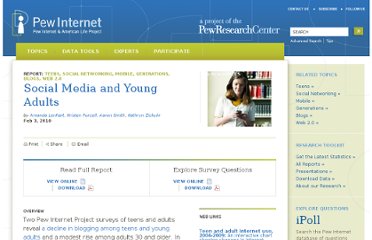 Does your social media activity affect your home's security and safety? The answer might be "Yes," if you believe the results of a recent survey conducted among 50 ex-burglars in the United Kingdom. Nearly 80% of them said that they believe burglars today use Facebook, Twitter and Foursquare to target which properties to rob. Keep that in mind the next time you're about to Tweet your vacation plans or check into a location far away from your home. For more details on the role of social media in your home's security and how to protect yourself, see our infographic.
Dec. 19, 2011, 10:23 a.m. Facebook, Twitter, texting. An article in The Times this weekend explored the treacherous terrain of social media which, on the one hand, can be effective at organizing and teaching students. On the other hand, though, they can be seriously abused. While teachers, and their bosses, are grappling with establishing policies on conduct and privacy, Dr. Charol Shakeshaft , an expert on sexual misconduct by teachers, offers some guidelines.