Look at Soon
Get flash to fully experience Pearltrees
<img class="aligncenter size-full wp-image-9966" title="adventure" src="http://content.artofmanliness.com/uploads//2008/12/adventure.jpg" alt="" width="303" height="400" />
By David Emery , About.com Guide Netlore Archive: Circulating via email, the text of a speech allegedly given by Bill Gates in which he sets out 11 rules for life that kids won't learn in school.
Creative Truths Nice series called Creative Truths by Shirley-Ann Dick . 28th of September 2010
For those of you who are counting, there are actually only twenty-four.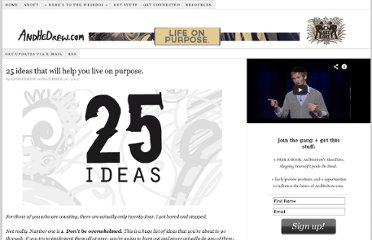 Here's the video of my keynote last night at the 28C3, the Chaos Computer Congress in Berlin, entitled "The coming war on general computation."
This series is supported by Webdesigner Depot, a popular web design blog covering tutorials, design trends, blogging and inspirational posts. You can visit WDD at webdesignerdepot.com and follow WDD on Twitter @designerdepot .