Funny :)
Hyperbole and a Half. Dating Fails - Missed Connections, Dating Sites, & Breakups. Awkward Valentines : Free Funny Valentine's Day E-Cards. Funny pictures, get your daily lolpics.
Home | Nert.Me. Bad Rock | Comics. MLIN - My Life Is Nerdy | It's the Nerd Life. - StumbleUpon. What If Company Logos Were Honest? What would happen if large corporations actually ran their companies with our best interests in mind?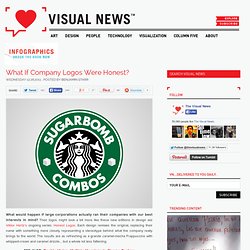 Their logos might look a bit more like these new editions in design wiz Viktor Hertz's ongoing series: Honest Logos. Each design remixes the original, replacing their name with something more closely representing a stereotype behind what the company really brings to the world. The results are as refreshing as a grande caramel-mocha Frappuccino with whipped-cream and caramel drizzle… but a whole lot less fattening.
SEE ALSO: Double Vision.
---