Funny :)
Hyperbole and a Half
Power is intoxicating. Everyone loves having the ability to make their decisions into reality — to think "this should be something that happens," and then actually be able to make that thing happen. It is also dangerous. And it is especially dangerous when applied to four-year-olds.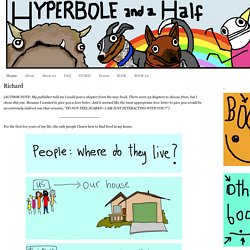 Dating Fails - Missed Connections, Dating Sites, & Breakups
Here at AwkwardValentines.com, we don't like to feel emotions. They're messy and lead to heartache and restraining orders. Still, we understand that sometimes you just need to put it out there, and what braver way to say something than through an ecard? AwkwardValentines.com is the most convenient way to awkwardly say anything to your loved or not-so-loved ones around Valentine's Day. From booty calls to breakups, from love to hate, from boyfriend to girlfriend-of-your-best-friend, we've got you covered. Let Johnny the Awkward Cupid send a card via email to everyone you know.
Awkward Valentines : Free Funny Valentine's Day E-Cards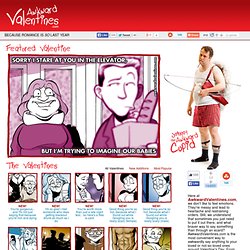 Funny pictures, get your daily lolpics
Home | Nert.Me
Bad Rock | Comics | Nert.Me
I Don't Know Today, I made a creeper out of paper. It measures 13 cm total, it's fully proportional and colored with movable legs. Now it is sitting among numerous Fullmetal Alchemist figures in front of a section of Tolkien books on my bookshelf :) MLIN MLIN - My Life Is Nerdy | It's the Nerd Life
- StumbleUpon
What If Company Logos Were Honest?
What would happen if large corporations actually ran their companies with our best interests in mind? Their logos might look a bit more like these new editions in design wiz Viktor Hertz's ongoing series: Honest Logos. Each design remixes the original, replacing their name with something more closely representing a stereotype behind what the company really brings to the world. The results are as refreshing as a grande caramel-mocha Frappuccino with whipped-cream and caramel drizzle… but a whole lot less fattening. SEE ALSO: Double Vision.