Innovatie
The "Blood and Gore" fund (because it was founded by Al Gore and David Blood), also known as Generation Investment Management, has been on a roll lately. The firm, founded in 2004 with $10 billion under management, funds both startups and public companies in sustainability, and has seen big exits from some of its startup bets in recent years, including smart thermostat maker Nest (sold to Google for $3.2 billion), and solar installer SolarCity (went public in late 2012). At the Cleantech Group's forum in San Francisco on Thursday, Generation Partner Colin le Duc laid out seven guidelines that Generation has adhered to when it comes to backing cleantech startups, but also public companies. Have faith: Have faith in our thesis and courage of conviction, said le Duc.
7 lessons for successful cleantech investing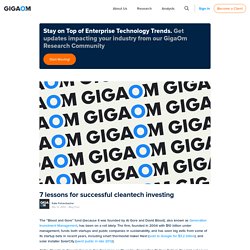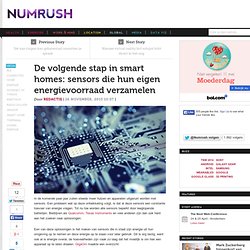 In de komende paar jaar zullen steeds meer huizen en apparaten uitgerust worden met sensors. Een probleem wat op deze ontwikkeling volgt, is dat al deze sensors een constante toevoer van energie vragen. Tot nu toe worden alle sensors beperkt door leeglopende batterijen. Bedrijven als Qualcomm, Texas Instruments en vele anderen zijn dan ook hard aan het zoeken naar oplossingen. Een van deze oplossingen is het maken van sensors die in staat zijn energie uit hun omgeving op te nemen en deze energie op te slaan voor later gebruik.
De volgende stap in smart homes: sensors die hun eigen energievoorraad verzamelen
Tesla could be big disruptor, says GM – no kidding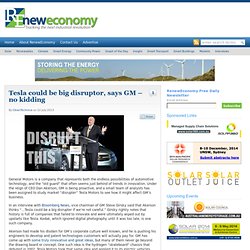 General Motors is a company that represents both the endless possibilities of automotive technology, and the "old guard" that often seems just behind of trends in innovation. Under the reign of CEO Dan Akerson, GM is being proactive, and a small team of analysts has been assigned to study market "disrupter" Tesla Motors to see how it might affect GM's business. In an interview with Bloomberg News, vice chairman of GM Steve Girsky said that Akerson thinks "…Tesla could be a big disrupter if we're not careful."
Prototype #6 Ampyx Power develops a novel wind energy technology, that will be capable of realizing a paradigm shift in the electricity generation sector by allowing the production of renewable power at lower cost levels than fossil-fueled alternatives. more Learn more about our disruptive wind energy technology and see videos of test flights. PowerPlanes convert wind power into electricity using an autonomously controlled glider plane flying repetitive cross-wind patterns, attached with a cable to a ground-based generator. more
Ampyx Power Airborne Wind Energy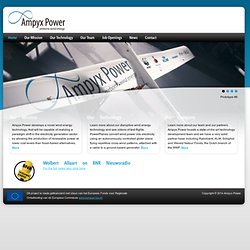 Zes Nederlandse oplossingen in duurzame top 100
MIT Develops 'GHG-Free Steel'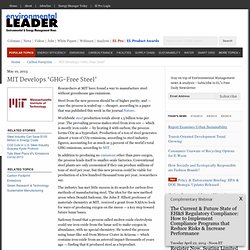 Researchers at MIT have found a way to manufacture steel without greenhouse gas emissions. Steel from the new process should be of higher purity, and — once the process is scaled up — cheaper, according to a paper that was published this week in the journal Nature. Worldwide steel production totals about 1.5 billion tons per year. The prevailing process makes steel from iron ore — which is mostly iron oxide — by heating it with carbon; the process forms CO2 as a byproduct. Production of a ton of steel generates almost 2 tons of CO2 emissions, according to steel industry figures, accounting for as much as 5 percent of the world's total GHG emissions, according to MIT. In addition to producing no emissions other than pure oxygen, the process lends itself to smaller-scale factories.
Dutch innovations in air quality
The environmental policy debate has been taken over by climate change for years. With some backlash lately because of climate denialism. Most discussion about climate change focus on reducing the emissions of carbon dioxide into the air.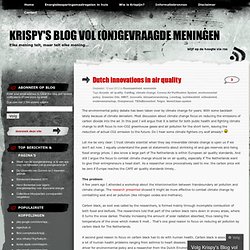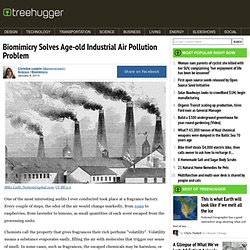 Mike Licht, NotionsCapital.com/CC BY 2.0 One of the most interesting audits I ever conducted took place at a fragrance factory. Every couple of steps, the odor of the air would change markedly, from roses to raspberries, from lavender to lemons, as small quantities of each scent escaped from the processing units. Chemists call the property that gives fragrances their rich perfume "volatility". Volatility means a substance evaporates easily, filling the air with molecules that trigger our sense of smell. In some cases, such as fragrances, the escaped chemicals may be harmless, or even pleasant -- although even fragrance factories must take caution with their air pollution equipment to ensure neighbors are not overwhelmed by a jungle of odors.
Biomimicry Solves Age-old Industrial Air Pollution Problem
If there's been one topic that has entirely dominated the post-election landscape, it's the fiscal cliff. Will taxes be raised? Which programs will be cut?
How Corruption Is Strangling U.S. Innovation - James Allworth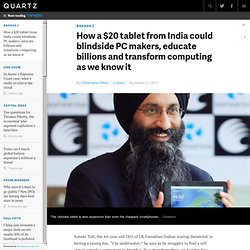 Suneet Tuli, the 44-year-old CEO of UK/Canadian/Indian startup Datawind, is having a taxing day. "I'm underwater," he says as he struggles to find a cell signal outside a restaurant in Mumbai. Two days from then, on Sunday Nov. 11, the president of India, Pranab Mukherjee, will have unveiled the seven-inch Aakash 2 tablet computer Tuli's company is selling to the government for distribution to 100,000 university students and professors. (If things go well, the government plans to order as many as 5.86 million.) In the meantime, Tuli is deluged with calls from reporters, and every day his company receives thousands of new orders for the commercial version of the Aakash 2. Already, he's facing a backlog of four million unfulfilled pre-orders.
How a $20 tablet from India could blindside PC makers, educate billions and transform computing as we know it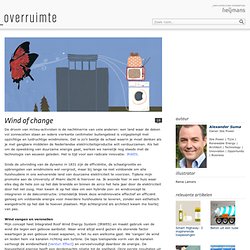 IRWES: Wind of change
De droom van milieu-activisten is de nachtmerrie van vele anderen: een land waar de daken vol zonnecellen staan en iedere vierkante centimeter buitengebied is volgeplempt met opzichtige en luidruchtige windmolens. Dat is zo'n beetje de schaal waarin je moet denken als je met gangbare middelen de Nederlandse elektriciteitsproductie wilt verduurzamen. Als het om de opwekking van duurzame energie gaat, werken we namelijk nog steeds met de technologie van eeuwen geleden. Het is tijd voor een radicale innovatie: IRWES. Sinds de uitvinding van de dynamo in 1831 zijn de efficiëntie, de schaalgrootte en opbrengsten van windmolens wel vergroot, maar bij lange na niet voldoende om alle huishoudens in ons welvarende land van duurzame elektriciteit te voorzien. Tijdens mijn promotie aan de University of Miami dacht ik hierover na.
Clean tech is broeinest van innovatie - Vincent wil zon
Brabant krijgt glow-in-the-dark wegbelijning
Door: redactie 1-11-12 - 08:43 bron: AD © Studioroosegaarde.net. Lichtgevende wegbelijning, die lantaarnpalen langs de weg overbodig maakt. Virtuele ijskristallen die oplichten op het wegdek om te waarschuwen voor gladheid. Aparte rijstroken waarop elektrische auto's automatisch opladen als ze er overheen rijden.
www.detechniekachternederland.nl
De installatiebranche is voortdurend in beweging. Vooruitkijken zit in ons DNA. Dat maakt de sector tot een voorbeeld van innovatie. De installatiebranche is een innovatiebranche!
Energienulwoningen met een huurprijs inclusief energie
Energienulwoningen zijn een nieuwe innovatie op de woningmarkt. Bijzonder aan deze woningen is dat ze evenveel of meer energie opleveren als dat ze verbruiken en dat de huurprijs inclusief energie is. Het eerste project met energienulwoningen komt nu van de grond in het Brabantse Uden. "We gaan woningen realiseren die zo zuinig zijn dat ze geen energie meer gebruiken", vertelt Aris de Groot, de bedenker van het concept.
Banks in Danger of Becoming the "Dumb Pipes" of the Mobile Payments Industry
The industry movement created of any disruptive technology will create winners and losers. What entities create value out of disruption in the early stages will set a base for future success. In the mobile payments sector we have talked a lot about the confluence of technology companies with payment processors and debated who will ultimately emerge as winners. One sector that is often forgotten in this discussion is the fact that banks already play a central role in the day-to-day lives of consumers.
As Movies Debut on Facebook, the Era of Social Cinema Begins
If anybody could pull it off, it would be Tim Heidecker and Eric Wareheim. The comedy duo and stars of the often demented Tim and Eric Awesome Show Great Job! have a rabid and loyal enough fan base that releasing their new movie in an experimental new way just might work. Tomorrow night, Tim and Eric's Billion Dollar Movie will debut on Facebook, a full two weeks before it arrives in theaters.
Raspberry Pi, a Tiny But Powerful $25 PC, Coming Soon [VIDEO]
City Windmills Enables Clean Energy And Unique Advertising Opportunites
Making Solar Panels As Ubiquitous And Efficient As Leaves
Apple Wins Europe-Wide Blockade Of Samsung Tablets; Guess Which Tablet Apple Is Scared Of Most?
Innovatie vergt meer durf dan nu
Oracle Deletes Jonathan Schwartz's Old Blog; Which Excitedly Celebrated Google's Use Of Java In Android
How The Patent System Is Like A Broken Web Cache
Patents As Theft: How Oracle & Microsoft Seek To Profit From Android Despite Having Nothing To Do With It
Europe's Silicon Allee: Berlin on the Road to Becoming a Start-Up Mecca - SPIEGEL ONLINE - News - International
Break Down Bureaucracy to Get Breakthrough Technologies
Innovatiebeleid is obstakels opruimen
Europe Enacts Trillion-Euro Energy Accord, But It Ain't Totally Green
Chemie ageert tegen bezuiniging innovatie
The New Dutch Economy: Innovative, International and Involving | InnovationManagement
ICT werkt alleen als je investeert in mensen
The Hybrid Tuk Tuk Battle
Ambtenaar 2.0 breekt uit stolp • Binnenlands Bestuur
unnamed pearl
nrc.nl - Economie - Innovatieplatform is mislukking