Antropologie
Picture if you will, a collaborative site that runs on two servers, is managed by four people, and has attracted a third of its target demographic within six months of launch. A site that has had 800,000 posts submitted by its users in its short lifetime and has 16 million pageviews/month - and growing. This is the story of Stack Overflow, a free question and answer site built by developers for developers that has fostered a strong and committed online community in under one year. How? Easy, according to founder Joel Spolsky; all it takes is an understanding of anthropology and a lot of determination.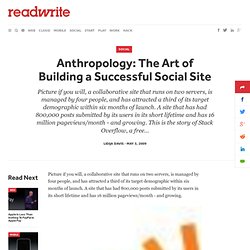 Anthropology: The Art of Building a Successful Social Site - Re
Holy Cow, The White House Has a Digg Clone - ReadWriteWeb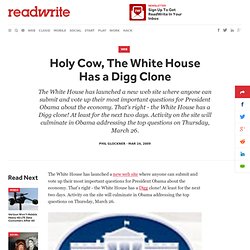 The White House has launched a new web site where anyone can submit and vote up their most important questions for President Obama about the economy. That's right - the White House has a Digg clone! At least for the next two days. Activity on the site will culminate in Obama addressing the top questions on Thursday, March 26.
From blogs and Wikipedia to Facebook and Twitter, each new wave of digital communications generates more upheaval for businesses.
Buzzwatch : Wisdom on Crowds: What CEOs Need to Know About the S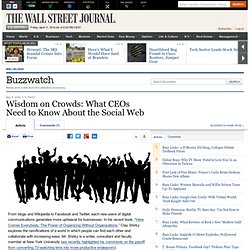 Wij bouwen een wijk