Web Comics
(un)Death and Taxes. This comic is one small step for happle tea and one giant leap for all mankind.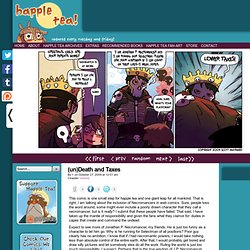 That is right, I am talking about the inclusion of Necromancers in web comics. Sure, people toss the word around, some might even include a poorly drawn character that they call a necromancer, but is it really? I submit that these people have failed. That said, I have taken up the mantle of responsibility and given the fans what they clamor for: dudes in capes that create and command the undead. Pizza. Www.heart-comics.com • Robotion [•   •] Www.heart-comics.com • volume iii. Jolly Jack's Collected Curios. BEAR AND FOX COMICS. The Home Of Broken Saints. A softer world: 6. Emily Joey and I started making news posts in early 2008, but we didn't have archives for them until now!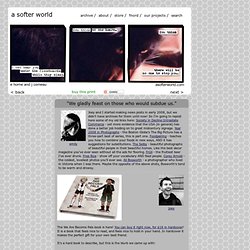 So I'm going to repost here some of my old links here: Society in Decline:Intrastate Commerce - yet more evidence that the USA (in general) has done a better job holding on to great midcentury signage. Year 2008 in Photographs - the Boston Globe's The Big Picture has a three-part best of series, this is part one. Foodpairing - teaches you how to combine your foods in new ways, AND it has suggestions for substitutions. Tiny ghosts. Daily Lessons in Science, Literature, Love and Life . . . Updated Seven Days A Week. Questionable Content: New comics every Monday through Friday. Octopus pie » Archive » #413 – i hate hipsters. Sequential Art.
Archive » Doctor Venn. Comics and Cartoons by Ryan Hudson - Life is a gamble. Adler's Revenge. The team. Lackadaisy Introduction 1. Hourly Comics Day 2011.
---