Web Comics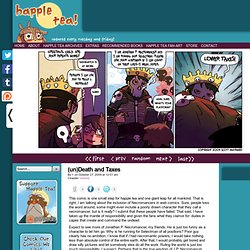 (un)Death and Taxes
This comic is one small step for happle tea and one giant leap for all mankind. That is right, I am talking about the inclusion of Necromancers in web comics. Sure, people toss the word around, some might even include a poorly drawn character that they call a necromancer, but is it really? I submit that these people have failed. That said, I have taken up the mantle of responsibility and given the fans what they clamor for: dudes in capes that create and command the undead.
Pizza
www.heart-comics.com • Robotion [•   •]
www.heart-comics.com • volume iii
Jolly Jack's Collected Curios
BEAR AND FOX COMICS
The Home Of Broken Saints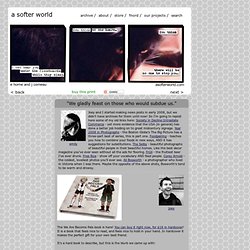 joey The We Are Become Pals book is here! You can buy it right now, for $16 in hardcover! It is a book that feels nice to read, and feels nice to hold in your hand. In hardcover it makes the perfect gift for your own best friend.
a softer world: 6
tiny ghosts
Daily Lessons in Science, Literature, Love and Life . . . Updated Seven Days A Week
Questionable Content: New comics every Monday through Friday
octopus pie » Archive » #413 – i hate hipsters
Sequential Art
Archive » Doctor Venn
Comics and Cartoons by Ryan Hudson - Life is a gamble.
Adler's Revenge
The team
Lackadaisy Introduction 1
Hourly Comics Day 2011