Web Comics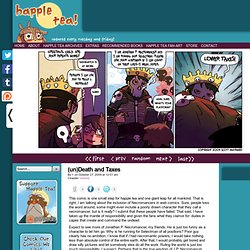 (un)Death and Taxes
This comic is one small step for happle tea and one giant leap for all mankind. That is right, I am talking about the inclusion of Necromancers in web comics. Sure, people toss the word around, some might even include a poorly drawn character that they call a necromancer, but is it really? I submit that these people have failed. That said, I have taken up the mantle of responsibility and given the fans what they clamor for: dudes in capes that create and command the undead.
Pizza
www.heart-comics.com • Robotion [•   •]
www.heart-comics.com • volume iii
10th January 2014New Sequential Art strip. 6th January 2014OK....this is the part where I sheepishly try to creep back into the house without anyone noticing, despite A) the ungodly hour, B) I've spent the past 15 minutes trying to open the door with my car keys and C) I'm wearing a turkey on my foot and 2 party hats on my chest.No updates over December due to people continually giving me food to eat, prezzies to open and small children to amuse (Things I learned at Christmas: Put a bucket on a toddler's head and they leave you alone. I'll have to remember that if I ever have kids. I'll save a fortune on toys)But now I'm back, and normal service will resume! Hope you all had a great Christmas and that 2014 brings everyone joyous highs and low taxes.The first Sequential Art strip of 2014 is up.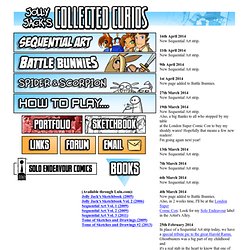 Jolly Jack's Collected Curios
BEAR AND FOX COMICS
The Home Of Broken Saints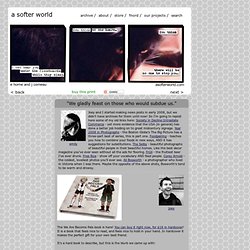 emily Joey and I started making news posts in early 2008, but we didn't have archives for them until now! So I'm going to repost here some of my old links here: Society in Decline:Intrastate Commerce - yet more evidence that the USA (in general) has done a better job holding on to great midcentury signage. Year 2008 in Photographs - the Boston Globe's The Big Picture has a three-part best of series, this is part one. Foodpairing - teaches you how to combine your foods in new ways, AND it has suggestions for substitutions.
a softer world: 6
tiny ghosts
Daily Lessons in Science, Literature, Love and Life . . . Updated Seven Days A Week
Questionable Content: New comics every Monday through Friday
octopus pie » Archive » #413 – i hate hipsters
Sequential Art
Archive » Doctor Venn
Comics and Cartoons by Ryan Hudson - Life is a gamble.
Adler's Revenge
The team
Lackadaisy Introduction 1
Hourly Comics Day 2011