E Books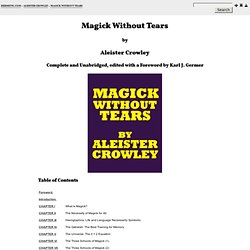 Magick Without Tears -- Contents
Contents Note: This hypertext edition of Magick Without Tears is based on a plaintext edition entered in 1988 by Bill Heidrick from the 1954 first edition, with a foreword by the original editor Karl J. Germer.
Liber CC - Resh vel Helios
Sacred texts Thelema 0.
In 1453, Constantinople fell to the Turks, ending the Byzantine empire. This date also marks the beginning of the Renaissance, since the waves of Greek refugees spread knowledge of Greek throughout Europe.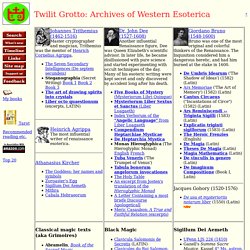 Practice this operation as long as you like, however about twenty minutes time is necessary to get an effective circulation going in the initial stages.
Alchemy Journal Vol. 2 No. 5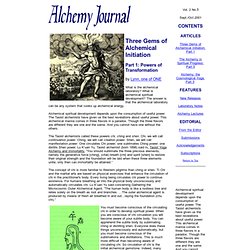 The Magical Athenaeum is the largest collection of magickal PDF books on the internet, with several hundred files. The resource is maintained by Asiya's Shadows.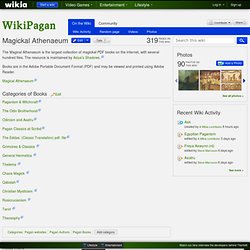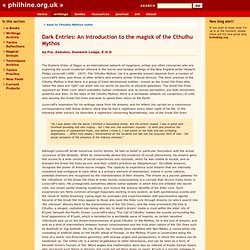 Dark Entries: An Introduction to the magick of the Cthulhu Mytho
The Esoteric Order of Dagon is an international network of magicians, artists and other visionaries who are exploring the occult mysteries inherent in the horror and fantasy writings of the New England writer Howard Philips Lovecraft (1890 - 1937). The 'Cthulhu Mythos' (as it is generally known) depends from a number of Lovecraft's tales, plus those of other writers who employ similar fictional devices.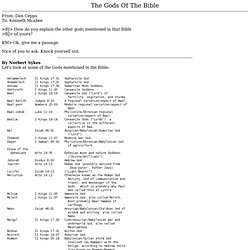 The Gods Of The Bible
The Gods Of The Bible From: Dan Ceppa To: Kenneth Mcabee >BJ> How do you explain the other gods mentioned in that Bible >BJ> of yours?