Web 2.0 / Apps
WIRED App Guide at The Condé Nast Store.
Entreprise Apps
Mobile Apps, Software & Games for Windows Mobile, Symbian, Blackberry, Android, Palm and Java devices! PocketGear Pockets $15 Million B Round From Trident, Blackberry Partners, And Eric Schmidt. When it comes to mobile app stores, there's iTunes and then there is everyone else.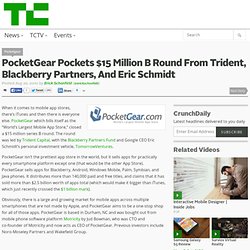 PocketGear which bills itself as the "World's Largest Mobile App Store," closed a $15 million series B round. The round was led by Trident Capital, with the Blackberry Partners Fund and Google CEO Eric Schmidt's personal investment vehicle, TomorrowVentures. PocketGear isn't the prettiest app store in the world, but it sells apps for practically every smartphone platform except one (that would be the other App Store). PocketGear sells apps for Blackberry, Android, Windows Mobile, Palm, Symbian, and Java phones. It distributes more than 140,000 paid and free titles, and claims that it has sold more than $2.5 billion worth of apps total (which would make it bigger than iTunes, which just recently crossed the $1 billion mark).
Social Gaming. Community Management. Social Networks. Social web business models. Q&A. Customer Sharing Experience. Micropayments. Deals. In Store Apps. MyOpenID.
---