VC News
VCs say they'll invest, hire and sell more in 2011. Venture capitalists say they will invest more in 2011 as hiring in the sector heats up and selling begins to shake off the lingering woes of the financial crisis, according to a study released today by the National Venture Capital Association (NVCA) and Dow Jones VentureSource.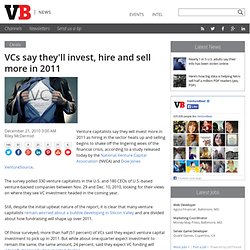 The survey polled 330 venture capitalists in the U.S. and 180 CEOs of U.S. -based venture-backed companies between Nov. 29 and Dec. 10, 2010, looking for their views on where they see VC investment headed in the coming year. Still, despite the initial upbeat nature of the report, it is clear that many venture capitalists remain worried about a bubble developing in Silicon Valley and are divided about how fundraising will shape up over 2011. VentureBeat | News About Tech, Money and Innovation. TechCrunchIT. VentureBeat Profiles - Discover find and share information about. Startup Exchange. Technology - Start-Up News. VCs And Super Angels: The War For The Entrepreneur.
It's a lot like the Cold War – most of the really interesting fights among startup investors – and there are lots of them – occur behind the scenes.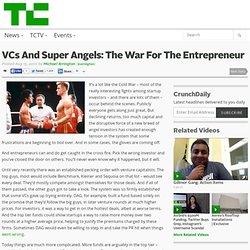 Publicly everyone gets along just great. But declining returns, too much capital and the disruptive force of a new breed of angel investors has created enough tension in the system that some frustrations are beginning to boil over. And in some cases, the gloves are coming off. And entrepreneurs can and do get caught in the cross fire.
---