Music
board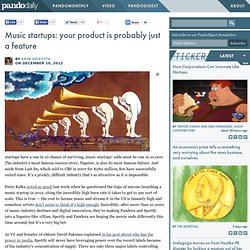 Music startups: your product is probably just a feature
By Erin Griffith On December 10, 2012 If startups have a one in 10 chance of surviving, music startups' odds must be one in 10,000.
Neneh Cherry + The Thing - Dream Baby Dream (Four Tet remix) by Four Tet on SoundCloud
9 Ways To Ditch Apple's iOS Music App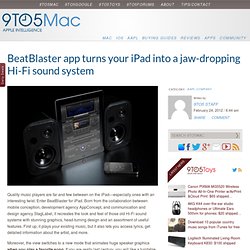 Quality music players are far and few between on the iPad—especially ones with an interesting twist. Enter BeatBlaster for iPad. Born from the collaboration between mobile conception, development agency AppConcept, and communication and design agency StagLabel, it recreates the look and feel of those old Hi-Fi sound systems with stunning graphics, head-turning design and an assortment of useful features.
BeatBlaster app turns your iPad into a jaw-dropping Hi-Fi sound system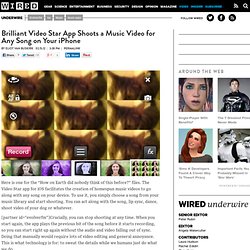 Here is one for the "How on Earth did nobody think of this before?" files. The Video Star app for iOS facilitates the creation of homespun music videos to go along with any song on your device. To use it, you simply choose a song from your music library and start shooting. You can act along with the song, lip sync, dance, shoot video of your dog or whatever.
Brilliant Video Star App Shoots a Music Video for Any Song on Your iPhone | Underwire
Broadcast Yourself
Arthur Russell - This Is How We Walk on the Moon
Facebook Launches 'Listen With,' Lets You DJ for Friends
In the beginning, music industry watchers hailed subscription streaming services such as Spotify, MOG, Rdio, and Rhapsody as saviors of the industry, an alternative for listeners and labels to the tyranny of the 99-cent iTunes download. But artists weren't singing the same happy song. There was the cautionary (and inaccurate) tale of Lady Gaga earning a mere $167 from a million streams of her hit single "Poker Face." Then came scores of complaints and horror stories related to shockingly minuscule streaming artist payouts, as low as $0.004 per play. Last week, Wired reported that more than 200 labels had withdrawn from Spotify over "poor revenues."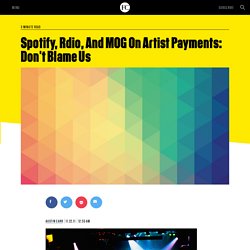 Spotify, Rdio, And MOG On Artist Payments: Don't Blame Us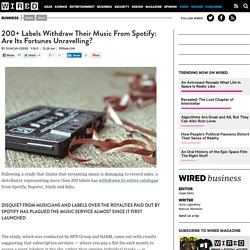 Following a study that claims that streaming music is damaging to record sales, a distributor representing more than 200 labels has withdrawn its entire catalogue from Spotify, Napster, Simfy and Rdio. Disquiet from musicians and labels over the royalties paid out by Spotify has plagued the music service almost since it first launched The study, which was conducted by NPD Group and NARM, came out with results suggesting that subscription services — where you pay a flat fee each month to access a giant jukebox in the sky, rather than owning individual tracks — is discouraging other forms of music purchasing. You can find the further details of that study over at Digital Music News. That prompted STHoldings, which focuses on techno, grime, dubstep and bass music, to contact the 238 labels that it has on its books to ask if they wanted it to keep distributing content to Spotify or withdraw it.
200+ Labels Withdraw Their Music From Spotify: Are Its Fortunes Unravelling? | Epicenter 
Google Music Store Screenshots
These could be screenshots of the long-awaited Google Music Store, reports The Verge. If genuine, these images offer a bit of what to expect in terms of appearance and functionality when the Music Store launches. Pricing per song will vary -- in the screens we can see both $0.99 and $1.29 price tags. The cost of a full album will vary on popularity. And we like the sound of a "Free Song of the Day" feature.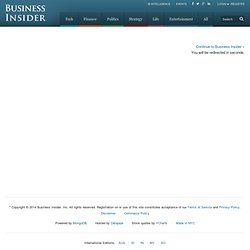 How Two Teenagers Broke In To Silicon Valley--And The Music Industry
YouTube Now Allows Music Partners To Sell Merchandise, Digital Downloads And Event Tickets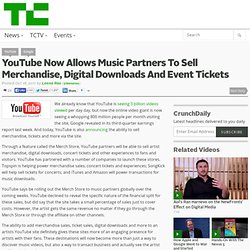 We already know that YouTube is seeing 3 billion videos viewed per day day, but now the online video giant is now seeing a whopping 800 million people per month visiting the site, Google revealed in its third-quarter earnings report last week. And today, YouTube is also announcing the ability to sell merchandise, tickets and more via the site. Through a feature called the Merch Store, YouTube partners will be able to sell artist merchandise, digital downloads, concert tickets and other experiences to fans and visitors.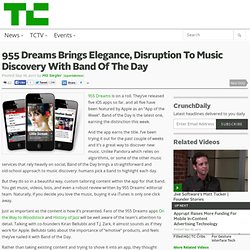 955 Dreams is on a roll. They've released five iOS apps so far, and all five have been featured by Apple as an "App of the Week". Band of the Day is the latest one, earning the distinction this week.
955 Dreams Brings Elegance, Disruption To Music Discovery With Band Of The Day