Music Blogs
2010: Favorite 50 Albums of 2010 | Staff Feature
Things were easier in 2009. Even before tallying the votes, we knew that Animal Collective's Merriweather Post Pavilion would place first and Dirty Projectors' Bitte Orca second. We knew that sunn 0)))'s Monoliths & Dimensions would be our top "metal" pick, Raekwon's Only Built 4 Cuban Linx… Pt. II our top hip-hop pick, and Oneohtrix Point Never's Zones Without People our top "experimental" pick. We knew Mount Eerie, Atlas Sound, and The Flaming Lips would place high, and we knew that TMT favorites like Graham Lambkin, Zu, and Emeralds would, you know, actually make a year-end list.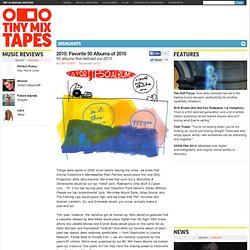 Sleazy Beats Recordings
Electronica, Ambient, Minimal Techno, Modern Classical, Dubstep at futuresequence
Search First Word Shop
M_Patton's lists - Rate Your Music -
DiKSO - round and round, upside down...
Numinots