Obama
The Military and Those Strange Threats to Obama. By Russ Baker on Dec 13, 2011 The Salahis with Obama [pullquote]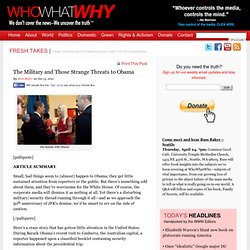 The Libya Secret: How West Cooked Up "People's Uprising" By Russ Baker on Aug 31, 2011 As I write this, a new day is dawning in Libya.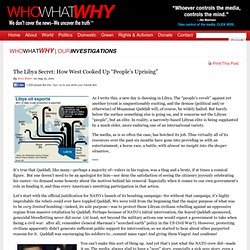 The "people's revolt" against yet another tyrant is unquestionably exciting, and the demise (political and/or otherwise) of Muammar Qaddafi will, of course, be widely hailed. But barely below the surface something else is going on, and it concerns not the Libyan "people", but an elite. In reality, a narrowly-based Libyan elite is being supplanted by a much older, more enduring one of an international variety.
The media, as is so often the case, has botched its job. Doubts On "Official Story" of Bin Laden Killing. By Russ Baker on Aug 17, 2011 Article Summary: When you look closely, nothing seems right about what will surely become the accepted account of the raid that nailed America's enemy number one.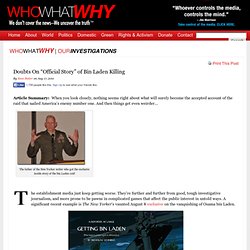 And then things get even weirder… CIA Helped Bush Senior In Oil Venture. By Russ Baker on Jan 7, 2007 Newly released internal CIA documents assert that former president George Herbert Walker Bush's oil company emerged from a 1950′s collaboration with a covert CIA officer.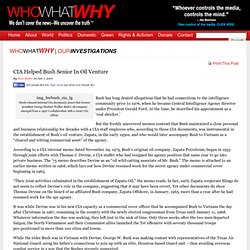 Bush has long denied allegations that he had connections to the intelligence community prior to 1976, when he became Central Intelligence Agency director under President Gerald Ford. At the time, he described his appointment as a 'real shocker.' What Obama Is Up Against. By Russ Baker on Mar 10, 2010 We Americans harbor a quaint belief that a new president takes charge of a government that eagerly awaits his next command.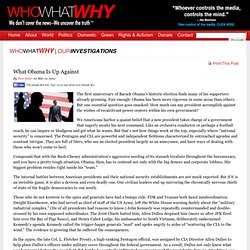 Like an orchestra conductor or perhaps a football coach, he can inspire or bludgeon and get what he wants.
---