Koutahikichi
KOUTAHIKICHI
Creative Director Art Director Photographer クリエイティブディレクター アートディレクター 写真家 http://fotologue.jp/k-hikichi http://vimeo.com/user3886064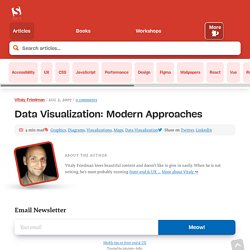 Advertisement Data presentation can be beautiful, elegant and descriptive. There is a variety of conventional ways to visualize data – tables, histograms, pie charts and bar graphs are being used every day, in every project and on every possible occasion. However, to convey a message to your readers effectively, sometimes you need more than just a simple pie chart of your results. In fact, there are much better, profound, creative and absolutely fascinating ways to visualize data. All 1,943 Cornell Faculty were asked to respond to the following question: Of the many charts (graph, map, diagram, table and 'other') you have seen in your life, which has been the most important, remarkable, meaningful or valuable? On the archival paper provided, they were asked to create a copy of the chart and in the remaining space annotate notable attribute of the data and the image, describe what they remembered about first seeing this image and comment on why they chose this image. All other Cornell community members are invited to share their favorite chart by visiting the display table in Mann Library near the reference desk on the first floor. This project has been funded in part by a grant from the Cornell Council for the Arts, New York Foundation for the Arts and a slew of CALS Departments!
Pantheon, a project from the Macro Connections group at The MIT Media Lab, explores cultural influences across countries and domains. To make our efforts tractable, Pantheon will not focus on culture, as it is understood in its broadest sense, but on cultural production. In a broad sense, culture can be understood as all of the information that humans—or animals [1]—generate and transmit through non-genetic means [2]. At Pantheon, however, we do not focus on the entire range of cultural information, but in a subset of this information that we define narrowly as cultural production. That is, we do not focus on cultural information such as passed on family values or societal trust [3], but on cultural production as proxied by the biographies of notable historical characters. Moreover, we focus on the subset of cultural production that we can identify as global culture, meaning the subset of cultural production that has broken the barriers of space, time and language.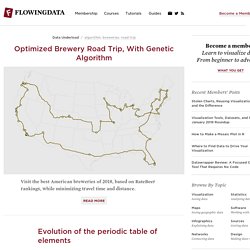 Radiohead - Creep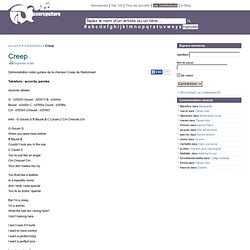 Imprimer la tab Démonstration vidéo guitare de la chanson Creep de Radiohead Tablature : accords, paroles Accords utilisés : G : 320003 Gsus4 : 320013 B : x2444x Bsus4 : x2445x C : x3555x Csus4 : x3556x Cm : x35543 Cmsus4 : x35363 Intro : G Gsus4,G B Bsus4,B C Csus4,C Cm Cmsus4,Cm
Radiohead –- Creep
Lupin III - Fire Treasure
It's one thing to read about individual Taliban attacks in WikiLeaks' trove of war logs. It's something quite different to see the bombings and the shootings mount, and watch the insurgency metastasize. NYU political science grad student (and occasional Danger Room contributor) Drew Conway has done just that, using an open source statistical programming language called R and a graphical plotting software tool. The results are unnerving, like stop-motion photography of a freeway wreck. Above is the latest example: a graph showing the spread of combat from 2004 to 2009. It's exactly what you wouldn't want to see as a war drags on.
WikiLeaks visualizations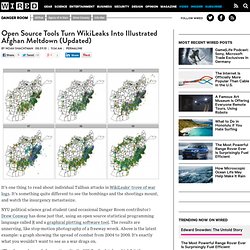 Le chateau de Cagliostro