Jewelry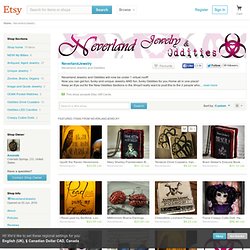 ♥ All items in my Shop are taking 4-7 days to be made. ✒I ship on SATURDAYS! ▬♥▬ Welcome to Neverland! You will find Unique, Fun and Funky Jewelry here in Neverland a place where you will Never Ever have to Grow- UP!
Neverland Jewelry Fun Funky Unique Jewelry by NeverlandJewelry
Delighted Momma: September 2011
Sometimes when I am feeling a little uninspired a trip down the kids craft aisle at Michaels can do the trick. I spotted these fusion beads and they brought back tons of memories from when I was a kid. I used to make all kinds of little iron designs with them. I bought them not having a clue what I was going to do with them. I tend to buy things hoping an idea will just pop in my head.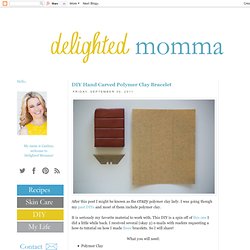 If you don't have means to solder use super glue. Otherwise: Secure the ring in a clamp for soldering. Place the paper clip ring over the seam of the coat hanger ring. Orient the paper clip ring so the opening lays over metal.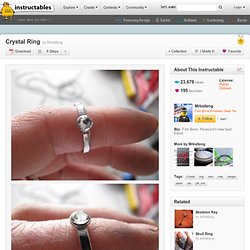 Crystal Ring
Using a hot glue gun, place a small glob of glue on a piece of CD. Make sure it's the same side you removed the silvering from. Place your keepsake on the glue and then add more glue on top of it. Use another piece of CD, silvering side on the inside, to sandwich it all together. Press the pieces together to remove air bubbles from the between the layers.
Keepsake Pendant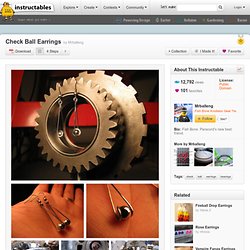 Check Ball Earrings
Extend a paper clip leaving the outside smaller bend intact. Use cone nose pliers to roll a loop at the bend. Make sure when you wrap the loop you use the longer of the two free ends. That way after the loop is complete the free ends will be the same length.
Boat People's vintage and DIY fashion blog - your daily source of OMG
This past weekend, I got lucky: I found, at my house, a forgotten bag of semi-precious polished stones and some metal wire. How convenient, and perfect to create stone pendants I thought! Making them required a bit of dexterity but besides that it's a quick, easy and fun DIY. Kvasten | Passions for Fashion
mandag, 7 juni 2010 Her får I så lige nogle billeder af min nye "kvast", som jeg også havde på i går! Jeg tror egentlig den er beregnet til at samle et gardin i en snor, men syntes den kunne se fin ud i en halskæde, so here it is! Hvad synes I? Here are some pics of my new "tassel", which I also wore yesterday!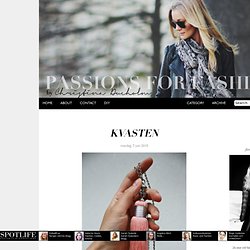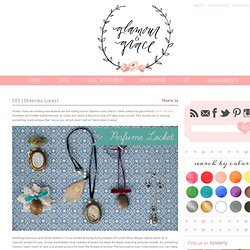 Today I have an exciting new feature we are rolling out on Glamour and Grace! I have asked my good friend Sarah Montes, illustrator and crafter extraordinaire, to come and share a fabulous new DIY idea each month! This month she is sharing something really unique that I know you all will love! I will let Sarah take it away! Greetings Glamour and Grace readers! I'm so excited to being doing today's DIY post!
(This giveaway has expired. Thank you all for joining!) Here is a treat for you: I am having my first giveaway! I made these fabulously cute necklaces and not only did I make a DIY, I am also giving you the opportunity to win one in case you are feeling less crafty! To enter, follow the Lana Red Facebook page and leave a comment on my blog telling me which necklace you would like the most and why. Please include your email address so I'll be able to contact the winner.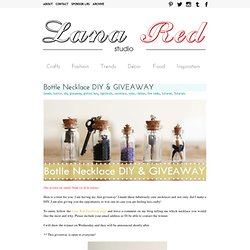 Bottle Necklace DIY & GIVEAWAY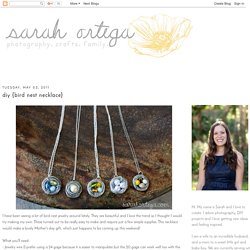 I have been seeing a lot of bird nest jewelry around lately. They are beautiful and I love the trend so I thought I would try making my own. These turned out to be really easy to make and require just a few simple supplies. This necklace would make a lovely Mother's day gift, which just happens to be coming up this weekend! What you'll need: - Jewelry wire (I prefer using a 24 gage because it is easier to manipulate but the 20 gage can work well too with the help of some round nose pliers) - pearls or glass beads - necklace chain - jump ring and a clasp
Eggs, yogurt and honey are, at first glance, all components of a tasty breakfast—but they also happen to be hair treatment ingredients, and affordable, all-natural ones at that. And they're not the only ones. Did you know, for instance, that the oils in avocados more closely resemble our own skin's oils than any product in the beauty aisle does? Or that the mild acidity in lemon is an effective—and gentler—alternative to chemical-laden products? Next time your locks need a lift, save money by using one of these kitchen fixes.
Ch5 Vintage Paper Earrings Discover the by VintageOoakDesigns
Once upon a time there was a beautiful book that was read everyday. The book could hardly wait until dinner was over and the smell of coffee filled the air. The book knew soon enough it was going to be read well into the night. What a happy, peaceful , relaxing, time. Over the years, things began to change and his owner soon became too busy. He chose rather to watch a loud box over enjoying a quiet evening reading.
Copper Mustache Necklace by ArmageddonArt on Etsy
Feather Necklace by KellyStahley on Etsy
Tim Burton inspired house miniature polymer clay by UraniaArt
Product - Octopus Creature Cup by creaturecups · Storenvy
Iron Fist Zombie Stomper Flats - Black/Green (Vegan) - Punk.com
mandalay patchwork chair by couch gb | notonthehighstreet.com
Silver cat ring by Menelanie on Etsy
Pastel Blue Enamel Rose Stud Earrings by meltemsem on Etsy
Snow Chubby Owlette Owl Necklace
anchor and bow slave bracelet <3
Monster Shark for your Soda Can Silver Grey was by HandaMade
Curse of Ezekiel Skeleton Hand Bracelet
ShanaLogic.com - Anatomical Heart Necklace
Vanilla CupCake Earrings Studs With Bling by Bitsofbling on Etsy
Hades- oxford by TucheBoutique on Sense of Fashion
Moustache/Mustache Stud Earrings, Nickel Free, Black, Movember
Camera Earrings by Bitsofbling on Etsy