GlassBottles
Potion Bottles
These are some of the potion bottles I use to decorate for Halloween. I made them from glass containers decorated with polymer clay, paint, flat glass marbles, corks, rubber stamps, egg shells, twine, beads, paper, and candle wax. Many of the original plastic or screw-on lids were easily be replaced with corks. Corks can be purchased in a hardware store in the bulk bins. Either bring your bottles with you for fitting or else measure them carefully and then select corks of the right size. You can also find a variety of rubber stoppers there which work well for some bottle styles or decorating themes.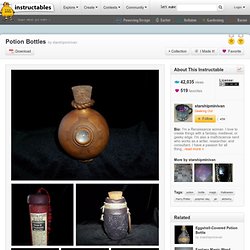 DIY Make-up Brush Holder - henry happenedHenry Happened
Glass cutting with only yarn and fingernail polish remover- Here is what you do: -wrap the cotton yarn around your bottle 5-6 times, tie and cut ends. -slide yarn off of the bottle -dip in nail polish remover -slide the wet yarn back onto the bottle---NOT
Draw Simple Patterns On Painted Bottles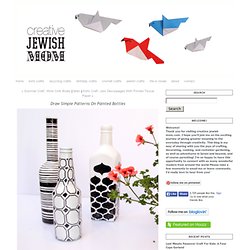 Here's a super simple way to turn painted wine bottle vases (namely the ones I wrote about here) into something a little more bold and decorative. With just a permanent black marker, we had fun applying designs and illustrations to our painted bottles. And the results really are so much fun, and perfect for a casual summer party, or even something more sophisticated if you spend the time to draw with precision. Have a favorite geometric pattern that you'd like to see in your home?
Wow. I was just blown away when I came across Boots N Gus! I mean, how completely awesome are their collection of upcycled mason jar lights and chandeliers?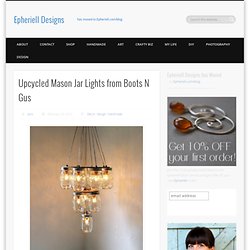 These transformed mason jars are a fun way to both decorate an outdoor table for a 4th of July celebration or a safe way to entertain the kids during fireworks. Red spray paint Mason Jars Star stickers Newspaper Scatter star stickers onto the mason jar, make sure they're stuck on very tight Screw on the mason jar lid and cap and place on top of a table covered in newspaper in a well ventilated area Spray with the paint from a nice distance around the entire jar until it's coated well but without drips.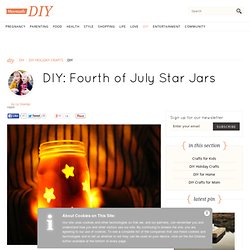 Crafting is near and dear to my heart and I realize that it is shamefully under represented here at The Apple Crate. So today I bring you a project that has long been in the making, recycled jars and bottles as vases! I have Martha Stewart to thank for the idea.
Painted Bottle Vases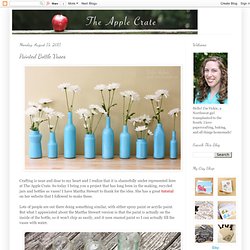 One thing that we get a lot of envy of over in the Land Beyond Beyond, are the beautiful little mason jars. These beauties are ubiquitous when it comes to the expectations that we have of weddings Americana style. But, well the closest that we come to here are the Robinson's marmalade jars – which really don't do it for us – we love the look and feel of the lovely Mason's. They have this chunky solid feel that we just love. So, of course you could colour us happy when we happened upon the Pure and Noble blog (check it out there are a whole load of lovely finds up in there). And we love that Brooke has repurposed some Mason Jars with spray paint – it tis rather epic.
A Mason of One's Own - Beyond Beyond | Beyond Beyond
Some glass bottles are just too pretty and colorful to toss into the recycling bin. Instead of discarding them, I "etch" them for my own use and to give away as gifts. They're beautiful with flower stems tucked inside, and they make handy containers for bath salts and infused oils or vinegars. Materials: Contact paper—clear or light color Glass bottles or jars, washed, rinsed and completely dried