Books
Books on Infographics : un album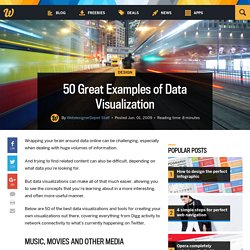 Wrapping your brain around data online can be challenging, especially when dealing with huge volumes of information. And trying to find related content can also be difficult, depending on what data you're looking for. But data visualizations can make all of that much easier, allowing you to see the concepts that you're learning about in a more interesting, and often more useful manner. Below are 50 of the best data visualizations and tools for creating your own visualizations out there, covering everything from Digg activity to network connectivity to what's currently happening on Twitter. Music, Movies and Other Media Narratives 2.0 visualizes music.
Organizational Behavior: Using Film to Visualize Principles and Practices (9780324048568): Joseph E. Champoux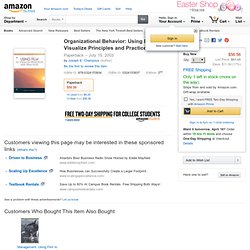 FREE Two-Day Shipping is available to Amazon Prime members. To join, select "Yes, I want FREE Two-Day Shipping with Amazon Prime" above the Add to Cart button and confirm your Amazon Prime free trial sign-up during checkout. Amazon Prime members enjoy: Unlimited Free Two-Day Shipping Instant streaming of over 40,000 movies and TV episodes A Kindle book to borrow for free each month - with no due dates
Review "Process Visualization gives executives the opportunity to 'behold' their business, much like watching good theatre. The processes unfold like a plot, giving business leaders a deep understanding of the changes being planned. What a great way to build trust and support."John LeavittVice President OperationsIrwin Toy Limited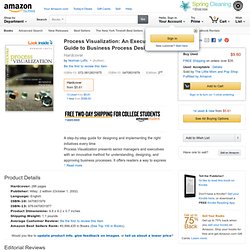 Process Visualization: An Executive Guide to Business Process Design (0723812831975): Norman Lofts
Now You See It: Simple Visualization Techniques for Quantitative Analysis (9780970601988): Stephen Few
Book Description Publication Date: July 28, 2000 | ISBN-10: 0324053592 | ISBN-13: 978-0324053593 | Edition: 1 Management: Using Film to Visualize Principles and Practices presents the first truly structured system for using popular and classic film clips to illustrate and reinforce key management concepts. A comprehensive manual of teaching resources illustrates how film can easily be integrated into any course, provides detailed analyses of all film scene selections, and describes other innovative ways to use film (e.g. as cases, as experiential exercises, as visual metaphors). For the student, a complete workbook provides an introduction to the management topic under review, detailed scene setups, points for discussion, plus opportunities for scene analysis and for recording personal reactions - perfect for assignments or class discussion.
Management: Using Film to Visualize Principles and Practices (9780324053593): Joseph E. Champoux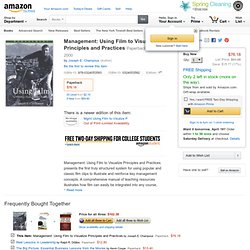 Visualizing Elementary Social Studies Methods (VISUALIZING SERIES) (9780471720669): John Lee (is from North Carolina State)