Le trône de Fer
Retour à la bibliothèque SF et Fantasy La Glace et le Feu Titre original : - A Song of Ice and Fire - - Le Trône de Fer - Le Donjon Rouge - La Bataille des Rois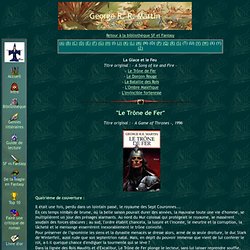 George R. R. Martin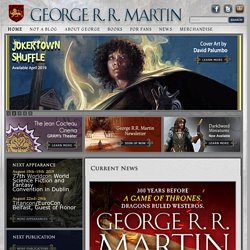 Westeros Pack Charity Auction FEB 19th – 26th February 17, 2014 Help the Wild Spirit Wolf Sancturay build a new home for THE WESTEROS PACK, a pack of ten rescued Arctic hybrid Wolves named after characters in A Song of Ice and Fire series.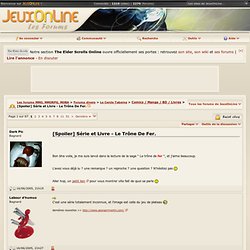 [Livre] Le Trône De Fer. - Forums divers
Citation: Envoyé par LooSHA J'ai accroché tout de suite, le style est riche et lumineux, et on est pas dans la niaiserie propre aux derniers courants de l'heroic fantasy. L'auteur maîtrise et l'histoire et ses personnages. En parallèle, je lisais l'Assasin Royal (que Martin aime bien) qui fait franchement pâle figure à côté du Trône, voire fade. J'ai d'ailleurs laissé tombé Hobb et son héros immature.
[HBO] Une série sur Le Trône de Fer à la télévision ! - Forums d