Más allá del LMS
SCORM Cloud « E-Learning 24/7 Blog. Cled2010 Tutorials. Social media stats (version 2) Modelos pedagógicos y Jordi Adell | desire. Del Blog al PLE y a las Redes Sociales: hacia un Entorno de Apre. En el marco del presente seminario, y como miembro de la mesa POSIBILIDADES Y BARRERAS DEL USO DE LOS BLOGS EN LA FORMACIÓN, me corresponde introducir el tema: Del Blog al PLE y a las Redes Sociales: hacia un Entorno de Aprendizaje Personal y autogestionado.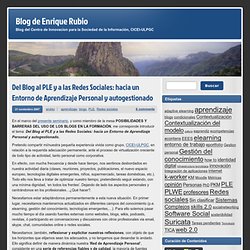 Pretendo compartir mi/nuestra pequeña experiencia vivida como grupo, CICEI-ULPGC, en relación a la requerida adecuación permanente, ante el proceso de virtualización creciente de todo tipo de actividad, tanto personal como corporativa. En efecto, con mucha frecuencia y desde hace tiempo, nos sentimos desbordados en nuestra actividad diaria (clases, reuniones, proyectos, publicaciones, el nuevo espacio europeo, tecnologías digitales emergentes, niños, supermercado, tareas domésticas, etc.). Todo ello nos lleva a tratar de optimizar nuestro tiempo, pretendiendo seguir estando, con una mínima dignidad, 'en todos los frentes'. Dejando de lado los aspectos personales y centrándonos en los profesionales…¿Qué hacer?. We Learn ~ Stephen's Web ~ by Stephen Downes. Stephen Downes Stephen's Web My eBooks Ed Radio OLDaily Stream - The Cranberries - Complete Concert Current song: The Cranberries - Complete Concert Bit rate: 128 Kbps Current listeners: 0 Maximum listeners: 100 Server status: Online AutoDJ status: Online Source connected: Yes Station time: Apr 16, 2014 07:24 AM Track details: The Cranberries - Complete Concert - Unknown Raw metadata: The Cranberries - Complete Concert ( Live In Paris DVD ) Album image: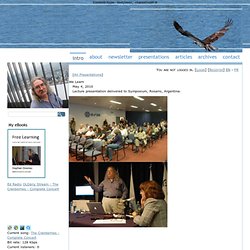 Elearningpapers. Conectivismo: El estudiante en red. Wendy y Alex Drexler, inspirados por los vídeos de Lee LeFever y Common Craft [realmente más por el tono que por la técnica], crearon hace un par de años un vídeo para explicar, atendiendo a las bases del conectivismo, las habilidades que un/a estudiante del siglo XXI debería tener.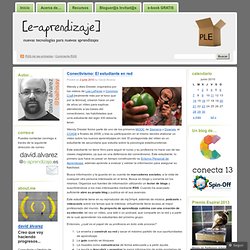 Wendy Drexler formó parte de uno de los primeros MOOC de Siemens y Downes, el CCK08 a finales de 2008, y tras su participación en el mismo decidió elaborar un vídeo sobre los nuevos aprendizajes en red. El protagonista del vídeo es un estudiante de secundaria que estudia sobre la psicología estadounidense. Este estudiante no tiene libro para seguir el curso y su profesora no hace uso de las clases magistrales, ya que es una defensora del conectivismo. Este estudiante, lo primero que hace es pasar un tiempo construyendo su Entorno Personal de Aprendizaje, además aprende a evaluar y validar la información para asegurar su fiabilidad.
LMS is no longer the centre of the universe. OK, so here's the deal – if learning is work and work is learning, why is organizational learning controlled by a learning management systems (LMS) that isn't connected to the work being done in the enterprise?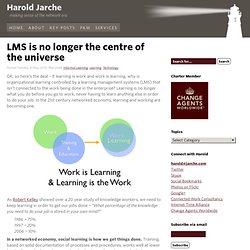 Learning is no longer what you do before you go to work, never having to learn anything else in order to do your job. In the 21st century networked economy, learning and working are becoming one. As Robert Kelley showed over a 20 year study of knowledge workers, we need to keep learning in order to get our jobs done – "What percentage of the knowledge you need to do your job is stored in your own mind?" In a networked economy, social learning is how we get things done. Training, based on solid documentation of processes and procedures, works well at lower levels of complexity and we can develop best practices.
Facebook vs The LMS: Can Someone. Here are some numbers from the Facebook press room: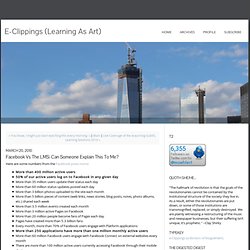 The Importance of Elgg in the Future of Learning. When I survey the landscape of educational tools, I come to the following conclusion: Elgg is the most important tool, currently available, in shaping the future of learning.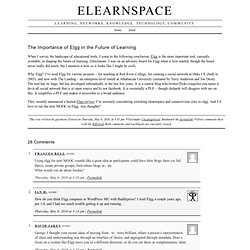 (Disclaimer: I was on an advisory board for Elgg when it first started, though the board never really did much, but I mention it now so it looks like I might be cool). Why Elgg? I've used Elgg for various projects – for teaching at Red River College, for running a social network at Duke CE (both in 2005), and now with The Landing – an enterprise-level install at Athabascau University (initiated by Terry Anderson and Jon Dron). Learning or Management Systems? Jon Mott recently published an article in EDUCAUSE Quarterly on Envisioning the Post-LMS Era .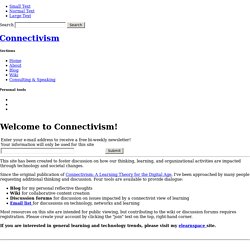 Jim Groom captures the reactions of individuals who have been exploring the link between learning management systems and personal learning environments. There is a sense – and I'll admit I felt it as well in reading the article – that many long-time contributors to the discussion were not referenced in the article. La enseñanza usando Redes Sociales y Tecnológicas | desire. Traducción del original publicado en el 16/02/2010 [ Descargar en PDF ] Las Redes tecnológicas han transformado empresas punteras de muchos sectores: música, televisión, financieras,manufactureras.
Las redes sociales, impulsadas por las redes tecnológicas, también han transformado la comunicación, las noticias, y las interacciones personales. The networked enterprise and learning support. Would you rather go to a doctor who is in the band-aid business or the healing business?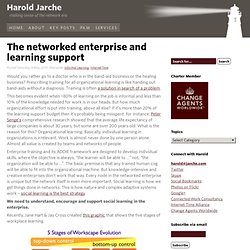 Prescribing training for all organizational learning is like handing out band-aids without a diagnosis. Training is often a solution in search of a problem. This becomes evident when ~80% of learning on the job is informal and less than 10% of the knowledge needed for work is in our heads. But how much organizational effort is put into training, above all else? The Holy Trinity: Leadership Framework, Learning 2.0 & Enterpris. I find myself in the center of an intellectual tempest.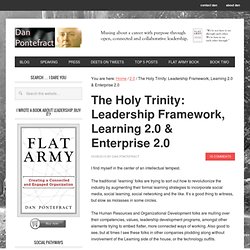 The traditional 'learning' folks are trying to sort out how to revolutionize the industry by augmenting their formal learning strategies to incorporate social media, social learning, social networking and the like. It's a good thing to witness, but slow as molasses in some circles. Learning it is getting a little too personal...just what I wante. Stephen Downes face to face is just Downes, but better. I like very much when people do and are what they say, other way we are in lie-land and I hated there. Downes is just Downes, that is to say he is really what he talks about, that is pretty awesome and not so common: the expert as someone who is learning it is a rupture, a totally new way.
The connectivist way! Downes talks about personal learning environments and that is the way he learns, in a personal way. When to LMS. Dave Wilkins, who I admire, has taken up the argument for the LMS in a long post, after a suite of posts (including mine). I know Dave 'gets' the value of social learning, but also wants folks to recognize the current state of the LMS, where major players have augmented the core LMS functions with social tools, tool repositories, and more. Without doing a point-by-point argument, since Dan Pontefract has eloquently done so, and also I agree with many of the points Dave makes.
HootCourse and CloudCourse. Two interesting new items I came across today - they actually each deserve a posting on separate days, but I already have another one scheduled for tomorrow, so am going to put them into one posting here. First, HootCourse. I came across this in a comment on one of my postings on the C4LPT Facebook page. The way that HootCourse is described intrigues me - and I think we may see many more course-related resources appearing like this. Choosing the right social and collaborat. Yesterday I gave a short webinar to the Learning & Skills Group. Don Taylor, Chairman, asked me to talk about how you choose a social and collaboration platform, as he thought this would be a topical discussion in the light of some people's concerns with the changes at Ning.
So this webinar looked at 10 criteria for considering such a platform (and used Ning as my benchmark), then I gave a tour of 3 very different platforms, and finally compared them against the 10 criteria I had listed up front. The first question that was asked after the presentation was how it all fits together with other systems in the organisation, and in particular the LMS, but it also seemed clear to me that many participants were still focusing entirely on creating and managing e-courses , rather than thinking about how they could support learning in all forms that take place in the organisation. Elliott Masie's Learning TRENDS - Learning TRENDS - 625 - Google. SCORM Cloud Pricing. Debate y Conocimiento: Eventos.
Learning Management System (LMS) Innovative Learning Technology. Technological Pedagogical Content Knowledge - TPCK. A Learning Portal is Not an LMS | Velocity Made Good. Share your Top 10 Tools for Learning 2010. Moodle 2.0 Preview 1 is now available! Why bash the LMS? eLearn: Opinions. AulaVirtual de EducaMadrid. Computer Using Educators of BC. Moodle Tool Guide for Teachers - Cat's Pyjamas. Trends: moodle, webct. Watch A Brief Tour Of Moodle 2.0 Online. These 12 Tutorials Teach You How to Build an Interactive E-Learn. A Teacher's Guide To Web 2.0 at School - Remezclando ....... que.
Make it Blended! What makes a great Moodle course? Part 1 – What is a course? « H. A Defense of the LMS (and a case for the future of Social Learni. Enseñanza Virtual de Extremadura. Standalone LMS is Still Dead (rebutting & agreeing w/ Dave Wilki. Saffron Interactive » Blog Archive How to make courses SCORM com. Free as in Freedom: Changing our 'Trainer' Mindsets. Skype Introduces Group Calling. Week 5: Data Sources | Open Course in Education Futures. Todo cambia siempre y siempre nos resistimos | desire. Tomándonos en solfa a la filosofía y en serio a todo lo demás — Proyecto Facebook, edupunk, Downes y Arina. Uno, varios, muchos Jenkins estuvieron en la Argentina. Y unos n.
LMS or Learning 2.0 with koldomadariaga. Can training departments learn from zoos? - Social Media In Lear. 20+ open access college prep courses from the University of Cali. The relevance of the learning profession. Grupo de Tecnología Educativa - Universidad de Sevilla. The Landing (beta): George Siemens's blog: Moving the social net.
Techno Constructivist / FrontPage.
---