Más allá del LMS
SCORM Cloud « E-Learning 24/7 Blog
Cled2010 Tutorials
What is the future of the LMS? - Social Media In Learning
The Learning Management System has been with us for just 10 years or so, and yet for many it is now seen as the core system required for delivering e-learning in an organisation.
Jane Hart, cuya página es emblemática resume la discusión by koldomadariaga May 4
The Internet Time Alliance LMS discussion thread - Social Media
5 Stages of Workplace Learning - Social Media In Learning
I interrupt my series of postings on Collaboration Platforms, to talk a little about the stages of Workplace Learnng
Last week we shared our visions on using Google services (such as Analytics) as an alternative to expensive LMS software ( link ). Judging from the many responses, re-blogs and re-tweets we received, this topic struck a vibe in the e-Learning community. Some readers (amongst which George Aston) wonder how you can determine which users have actually passed the courses.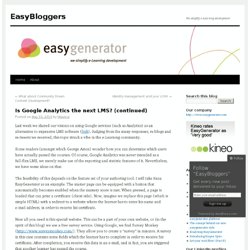 Is Google Analytics the next LMS? (continued) | Sana EasyBlogger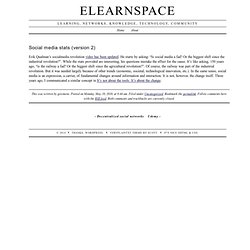 Social media stats (version 2)
Erik Qualman's socialmedia revolution video has been updated . He starts by asking: "Is social media a fad? Or the biggest shift since the industrial revolution?".
Modelos pedagógicos y Jordi Adell | desire
In January I released the first version of my State of Workplace Learning Today piece, and have tinkered with it over the last few months. I am giving two big presentations this week about it (one as a keynote speaker at the ILTA, EdTech 2010 conference in Athlone, Ireland which I hope I am going to make as the volcanic cloud is closing British and Irish airspace again today) so I thought I would update it with some of the resources I have been mentioning here on this blog.
The SMARTER Approach to Workplace Learning - Social Media In Lea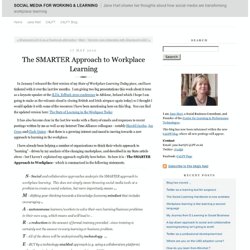 Del Blog al PLE y a las Redes Sociales: hacia un Entorno de Apre
En el marco del presente seminario , y como miembro de la mesa POSIBILIDADES Y BARRERAS DEL USO DE LOS BLOGS EN LA FORMACIÓN , me corresponde introducir el tema: Del Blog al PLE y a las Redes Sociales: hacia un Entorno de Aprendizaje Personal y autogestionado.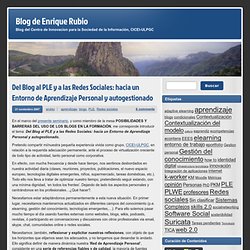 We Learn ~ Stephen's Web ~ by Stephen Downes
elearningpapers
Today's youth are growing up in a world very different from that of their teachers or parents. Ubiquitous access to social media, tools and knowledge resources is taken for granted, while passive teacher-directed work often dominates life at school. In fact, the impossibility of controlling the use of mobile devices has led some schools to prohibit their use.
Conectivismo: El estudiante en red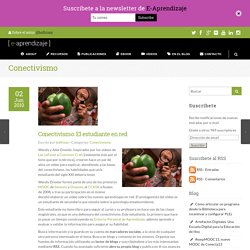 Wendy y Alex Drexler, inspirados por los vídeos de Lee LeFever y Common Craft [realmente más por el tono que por la técnica], crearon hace un par de años un vídeo para explicar, atendiendo a las bases del conectivismo, las habilidades que un/a estudiante del siglo XXI debería tener. Wendy Drexler formó parte de uno de los primeros MOOC de Siemens y Downes , el CCK08 a finales de 2008, y tras su participación en el mismo decidió elaborar un vídeo sobre los nuevos aprendizajes en red.
OK, so here's the deal – if learning is work and work is learning, why is organizational learning controlled by a learning management systems (LMS) that isn't connected to the work being done in the enterprise? Learning is no longer what you do before you go to work, never having to learn anything else in order to do your job.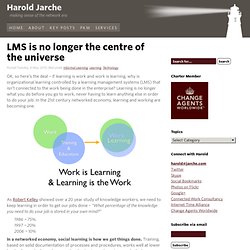 LMS is no longer the centre of the universe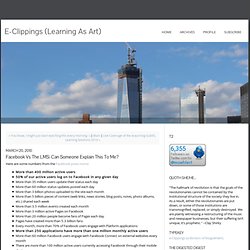 Here are some numbers from the Facebook press room : More than 400 million active users 50% of our active users log on to Facebook in any given day More than 35 million users update their status each day More than 60 million status updates posted each day More than 3 billion photos uploaded to the site each month More than 5 billion pieces of content (web links, news stories, blog posts, notes, photo albums, etc.) shared each week More than 3.5 million events created each month More than 3 million active Pages on Facebook More than 20 million people become fans of Pages each day Pages have created more than 5.3 billion fans Every month, more than 70% of Facebook users engage with Platform applications More than 250 applications have more than one million monthly active users More than 60 million Facebook users engage with Facebook Connect on external websites every month There are more than 100 million active users currently accessing Facebook through their mobile devices.
Facebook vs The LMS: Can Someone
When I survey the landscape of educational tools, I come to the following conclusion: Elgg is the most important tool, currently available, in shaping the future of learning.
The Importance of Elgg in the Future of Learning
Learning or Management Systems?
Jon Mott recently published an article in EDUCAUSE Quarterly on Envisioning the Post-LMS Era . Jim Groom captures the reactions of individuals who have been exploring the link between learning management systems and personal learning environments. There is a sense – and I'll admit I felt it as well in reading the article – that many long-time contributors to the discussion were not referenced in the article.
A Transition Path to the Future - Social Media In Learning
Yesterday I wrote a posting about the future of the LMS , and in particular about moving towards a more collaborative approach to learning and working in an organisation- and one which supports the big picture of "learning", rather than the tiny, 20% of learning, that takes place in classrooms or online courses. Since the posting went live early yesterday morning, there have been thousands of hits on my blog - which has convinced me that this topic has hit a major nerve!
Traducción del original publicado en http://www.connectivism.ca/?
La enseñanza usando Redes Sociales y Tecnológicas | desire
Una traducción imprescindibe de un largo artículo de George Siemenes by koldomadariaga May 4
The networked enterprise and learning support
The Holy Trinity: Leadership Framework, Learning 2.0 & Enterpris
Learning it is getting a little too personal...just what I wante
When to LMS
HootCourse and CloudCourse
Choosing the right social and collaborat
Elliott Masie's Learning TRENDS - Learning TRENDS - 625 - Google
SCORM Cloud Pricing
Debate y Conocimiento: Eventos
Technological Pedagogical Content Knowledge - TPCK
A Learning Portal is Not an LMS | Velocity Made Good
Share your Top 10 Tools for Learning 2010
Moodle 2.0 Preview 1 is now available!
Why bash the LMS?
eLearn: Opinions
AulaVirtual de EducaMadrid
Computer Using Educators of BC
Trends: moodle, webct
Watch A Brief Tour Of Moodle 2.0 Online
These 12 Tutorials Teach You How to Build an Interactive E-Learn
Tom Kulhmann sigue con sus trece construyendo buen e-learning muy tradicional by koldomadariaga May 4
A Teacher's Guide To Web 2.0 at School - Remezclando ....... que
Make it Blended!
What makes a great Moodle course? Part 1 – What is a course? « H
A Defense of the LMS (and a case for the future of Social Learni
Enseñanza Virtual de Extremadura
Standalone LMS is Still Dead (rebutting & agreeing w/ Dave Wilki
Saffron Interactive » Blog Archive How to make courses SCORM com
Free as in Freedom: Changing our 'Trainer' Mindsets
Skype Introduces Group Calling
Week 5: Data Sources | Open Course in Education Futures
Todo cambia siempre y siempre nos resistimos | desire
Tomándonos en solfa a la filosofía y en serio a todo lo demás —
Tomatazos a los teloneros de Jenkins en el VI Foro Latinoamerica
Proyecto Facebook, edupunk, Downes y Arina
Uno, varios, muchos Jenkins estuvieron en la Argentina. Y unos n
LMS or Learning 2.0 with koldomadariaga
Can training departments learn from zoos? - Social Media In Lear
20+ open access college prep courses from the University of Cali
The relevance of the learning profession
Grupo de Tecnología Educativa - Universidad de Sevilla
Google Apps Education Training Center: Module 2: Mail
The Landing (beta): George Siemens's blog: Moving the social net
Techno Constructivist / FrontPage