Saving money
With This One Item, You'll Never Have to Buy Swiffer Refills Again - DailyFinance Savings Experiment. Swiffer Sweepers are convenient, but the pad refills can cost a pretty penny over time.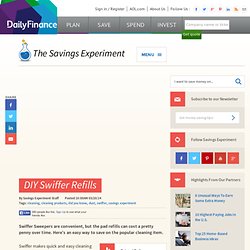 Here's an easy way to save on the popular cleaning item. Swiffer makes quick and easy cleaning tools, but they're also quick to cost you money. The Sweeper pads and WetJet cleaning fluid refills aren't cheap, but there are ways to replace them and tidy up your home for less. Get it for Free: Freebie Sites You Can Use. Last week, we looked at how you could get some free samples at various sites.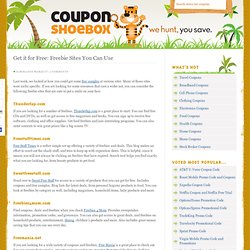 Many of those sites were niche specific. If you are looking for some resources that cast a wider net, you can consider the following freebie sites that are sure to put a smile on your face: Where to buy items confiscated by the TSA. The TSA doesn't just throw out the items confiscated at security checkpoints.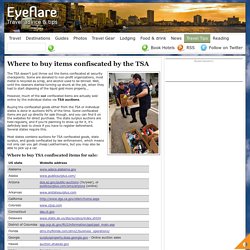 Some are donated to non-profit organizations, most metal is recycled as scrap, and alcohol used to be binned. Well, until the cleaners started turning up drunk at the job, when they had to start disposing of the liquid gold more properly... However, much of the loot confiscated items are actually sold online by the individual states via TSA auctions. 11 Ways to Fund Your Holidays without Wrecking Your Budget. Christmas is still a few months away but with a few money saving and money earning tips you can cover your holiday costs.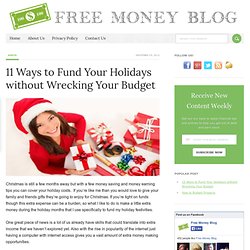 If you're like me than you would love to give your family and friends gifts they're going to enjoy for Christmas. If you're tight on funds though this extra expense can be a burden, so what I like to do is make a little extra money during the holiday months that I use specifically to fund my holiday festivities. One great piece of news is a lot of us already have skills that could translate into extra income that we haven't explored yet. Also with the rise in popularity of the internet just having a computer with internet access gives you a vast amount of extra money making opportunities. Amazon discount codes at ProBargainHunter.com.
Ever since I wrote about Amazon shopping tips and hacks last November the article has been the most visited page on ProBargainHunter.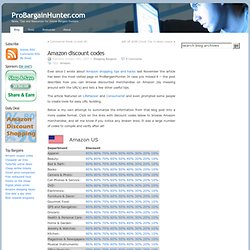 In case you missed it -- the post describes how you can browse discounted merchandise on Amazon (by messing around with the URL's) and lists a few other useful tips. The article featured on LifeHacker and Consumerist and even prompted some people to create tools for easy URL building. Below is my own attempt to summarize the information from that blog post into a more usable format. Click on the links with discount codes below to browse Amazon merchandise, and let me know if you notice any broken links.
How to Get Free Money - These 17 Companies Will Give You $1,820.25. Who says there's no such thing as a free lunch?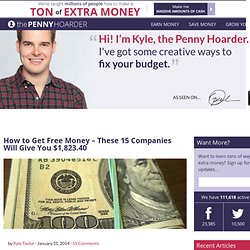 Every year businesses give away thousands of dollars in free money and gift cards as a way of promoting their websites/products. We've put together a list of 15 of them who will give you a ridiculous $1,823.40 in free cash right now. LIFX: The Light Bulb Reinvented by Phil Bosua. LIFX is the smartest light bulb you've ever experienced.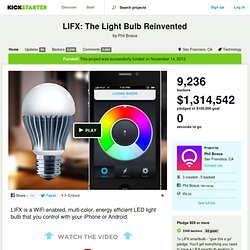 It's a wifi-enabled, energy efficient, multi-colored bulb that you control with your iPhone or Android. LIFX gives you unprecedented control of your lights, reduces your energy costs, lasts up to 25 years and delivers an amazing range of experiences we think you'll love. LIFX is incredibly easy to set-up. Five Ways To Get The Better Of A Car Dealer. 1.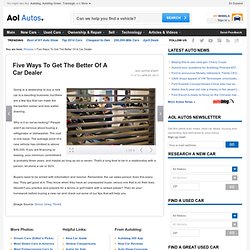 Don't provide a budget At some point, the sales-person will ask you, "So, what is your monthly budget? " Do not give them this information. How I Can Afford My Life Of Constant Travel. I'm confused.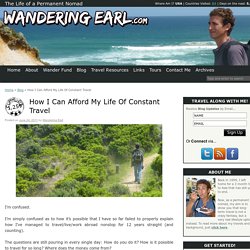 I'm simply confused as to how it's possible that I have so far failed to properly explain how I've managed to travel/live/work abroad nonstop for 12 years straight (and counting). The questions are still pouring in every single day: How do you do it? How is it possible to travel for so long? Where does the money come from? And while I thoroughly enjoy communicating with readers (I'm being completely serious and encourage you all to continue sending your emails to me as often as you wish), the fact that these very questions are on the minds of so many of you out there has led me to believe that I need to do a better job at providing the answers. Frugal Village | Frugal Living by Sara Noel.
Free Things to Do - Free Tips on Saving Money at WomansDay. As much as I love the word, I have to admit it makes me suspicious.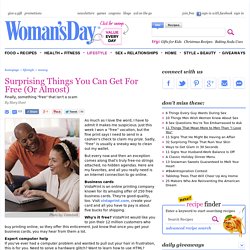 Just this week I won a "free" vacation, but the fine print says I need to send in a cashier's check to claim my prize. Sadly, "free" is usually a sneaky way to clean out my wallet. After Ditching Auctions, Mobile Marketplace EggDrop Hits Half A Million Downloads. EggDrop, essentially a mobile app alternative to Craigslist, is starting to pick up steam. The company now boasts half a million downloads of its app on iOS and Android, with $8 million in listings from across the 50 U.S. states and the U.K. (EggDrop's top two markets). 8 weird ways to make extra money. It is very sad that none of you know how important is to donate plasma. For patients with primary immunodeficiency...y​​ou are born with a genetic disorder that can not fight any infection.
A minor cold would be life-threatening. Savings Experiment: Cutting the Cord on Cable TV's Pricey Monthly Bill. OK, so you can't stand to miss Bravo'sThe Real Housewives of Atlanta or those great documentaries on The History Channel (we admire your eclectic tastes), but are those steep cable bills making you want to pull out your hair along with the cable wires? Take a deep breath. The era of digitized content is ushering in a new wave of cost-saving viewing: From streaming-video websites to digital media providers, these alternatives to cable TV might prompt you to chuck the cable box for good.
---