Jokes
Incredibly Offensive Jokes Just... don't read these, okay? If you do read them, don't fucking complain. What do you call a homosexual in a wheelchair? Rolaids. What's the difference between a joke and two dicks?
Incredibly Offensive Jokes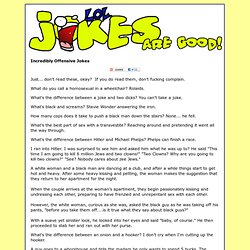 Some Useful Condescending Phrases
You can't read this and stay in a bad mood!1. How Do You Catch a Unique Rabbit?Unique Up On It.2. How Do You Catch a Tame Rabbit?Tame Way.3.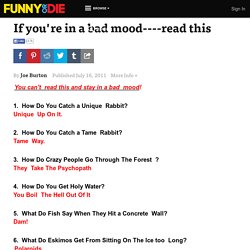 If you're in a bad mood----read this from Joe Burton
World's funniest joke
The "world's funniest joke" is a term used by Richard Wiseman of the University of Hertfordshire in 2002 to summarize one of the results of his research. For his experiment, named LaughLab, he created a website where people could rate and submit jokes.[1] Purposes of the research included discovering the joke that had the widest appeal and understanding among different cultures, demographics and countries.[citation needed]