Webservices
by Srinath Perera, Ajith Ranabahu 07/27/2005 Until recently, web service interactions were solely synchronous and request-response in nature.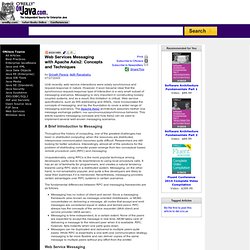 Web Services Messaging with Apache Axis2: Concepts and Technique
Making Sense of all these Crazy Web Service Standards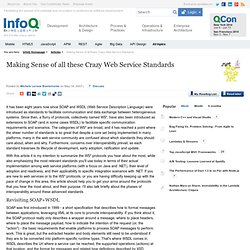 It has been eight years now since SOAP and WSDL (Web Service Description Language) were introduced as standards to facilitate communication and data exchange between heterogeneous systems.
Today's shift toward composite application deployment and development techniques, including SOA, BPM, Cloud and SaaS applications, along with the popularity of agile development techniques, has had the unintended consequence of increasing application environment costs and risks due to increasing complexity and frequent unavailability of needed systems. Delivery solutions from CA Technologies — which include service virtualization, continuous delivery and data mining — address these challenges with innovative technology for optimizing application development and testing, increasing the velocity of enterprise application delivery, while simultaneously driving quality and reducing the cost of innovation. Understanding Service Virtualization Why CA LISA® Release Automation
SOA Testing, Validation & Virtualization - iTKO LISA softwar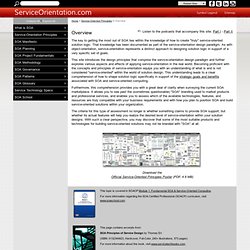 Listen to the podcasts that accompany this site: Part I - Part II The key to getting the most out of SOA lies within the knowledge of how to create "truly" service-oriented solution logic. That knowledge has been documented as part of the service-orientation design paradigm.
Tuscany - Tuscany
An Approach to Web Services Non-Functional Requirements Using WS