Webservices
Jmeter
Web Services Messaging with Apache Axis2: Concepts and Technique. By Srinath Perera, Ajith Ranabahu 07/27/2005 Until recently, web service interactions were solely synchronous and request-response in nature.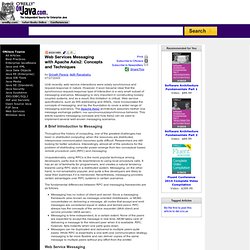 However, it soon became clear that the synchronous request-response type of interaction is a very small subset of messaging scenarios. Messaging is very important in constructing loosely coupled systems, and as a result, this limitation is critical. Web service specifications, such as WS-addressing and WSDL, have incorporated the concepts of messaging, and lay the foundation to cover a wider range of messaging scenarios. The Apache Axis2 architecture assumes neither one message exchange pattern, nor synchronous/asynchronous behavior. Making Sense of all these Crazy Web Service Standards. It has been eight years now since SOAP and WSDL (Web Service Description Language) were introduced as standards to facilitate communication and data exchange between heterogeneous systems.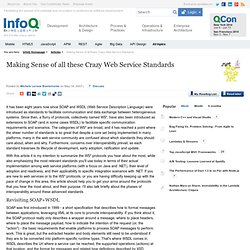 Since then, a flurry of protocols, collectively named WS*, have also been introduced as extensions to SOAP (and in some cases WSDL) to facilitate specific communication requirements and scenarios. The categories of WS* are broad, and it has reached a point where the sheer number of standards is so great that despite a core set being implemented in many platforms, many in the web service community are confused about which standards they should care about, when and why.
Furthermore, concerns over interoperability prevail, as each standard traverses its lifecycle of development, early adoption, ratification and update. SOA Testing, Validation & Virtualization - iTKO LISA softwar. SOA Principles. Listen to the podcasts that accompany this site: Part I - Part II The key to getting the most out of SOA lies within the knowledge of how to create "truly" service-oriented solution logic.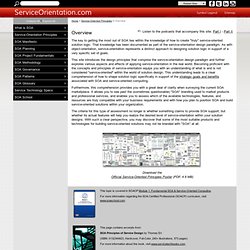 That knowledge has been documented as part of the service-orientation design paradigm. Tuscany - Tuscany. Best practices for Web services versioning. An Approach to Web Services Non-Functional Requirements Using WS.
---