jquery
Get flash to fully experience Pearltrees
This Project Has Moved! For the latest version and awesome documentation, please head over to:
For freelancing designers, the online portfolio is one the best ways to get some work.
With the advent of JavaScript/web application libraries and frameworks, it's become much easier to build interactive components for a site.
This is my second posts about jQuery Tips and Tricks. If you missed my first post, you might want to read it now useful and handy jQuery Tips and Tricks .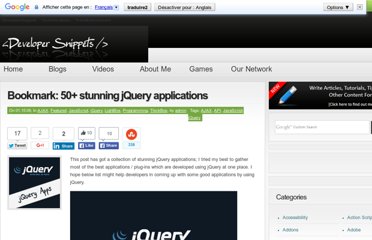 Advertisement This post has got a collection of stunning jQuery applications; I tried my best to gather most of the best applications / plug-ins which are developed using jQuery at one place. I hope below list might help developers in coming up with some good applications by using jQuery.
I've been coding using jQuery since shortly after it came out, and well — I've been using it almost every work day. Here is a few tips that have saved me time. #1: Use data method instead of storing data inside the DOM .