Games
Free MMORPG Games List
Click here for more free MMORPG >> Massively multiplayer online role-playing game (MMORPG) is a type of game genre. An MMORPG is a computer based RPG which takes place in an online virtual world with millions of other players via the Internet. In an MMORPG, like any RPG, the user controls a character represented by an avatar, which he directs to fight monsters for experience, acquire items, interact with other characters, and so on. In this list you will find the best free to play 2D, and 3D, MMORPGs to download.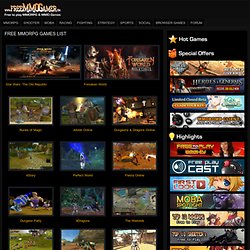 Games Careers | Video Games Jobs in China - Shanghai, Chengdu, Beijing and Shenzhen
Home of SNES Music ~ SNESmusic.org
Gateways playthrough
QWOP
From Noobgrammer to Programmer - Part 1 -
Greetings and welcome to the first of a many-part tutorial series designed to take you from a "hello world" jabroni to a game programmer with the confidence to tackle any challenge that might be foolish enough to face you. This series will be targeted at people who have a small amount of programming experience (those who understand functions, variables, and objects) and are having a hard time making the leap to something more complex.. As I was in this category not but a few years ago, I vividly remember the difficulties moving from basic comp-sci projects to full games and I hope to make your transition easier than mine. If you don't feel that you belong in this category, despair not! Check out my upcoming "education roadmap" entry for a guide to get you from noobgrammer to programmer. If you find yourself confused by a tutorial or would like me to cover a specific subject, shoot me an email at john.hayden@roarigami.com or leave a comment and I'll be happy to oblige.
Singapore-MIT GAMBIT Game Lab