Games
Free MMORPG Games List
Click here for more free MMORPG >> Massively multiplayer online role-playing game (MMORPG) is a type of game genre. An MMORPG is a computer based RPG which takes place in an online virtual world with millions of other players via the Internet. In an MMORPG, like any RPG, the user controls a character represented by an avatar, which he directs to fight monsters for experience, acquire items, interact with other characters, and so on. In this list you will find the best free to play 2D, and 3D, MMORPGs to download.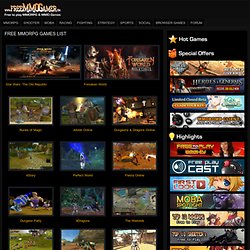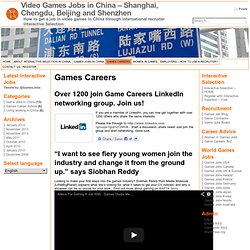 Games Careers | Video Games Jobs in China - Shanghai, Chengdu, Beijing and Shenzhen
Meet Susan Gold, Founder of Global Game Jam – the world's largest hackathon focused on game development. Game Careers recently had the chance to speak with Susan Gold, professor of game design at Full Sail University and president of the Global Game Jam. Susan joined the faculty of Full Sail University's Graduate in 2009, after founding the annual Global Game Jam, an experiment in creativity and innovation in game development. With more than 16,000 game developers participating in 2013, Susan is the developer of the world's largest collaborative interactive video game development event. Susan's frequent conference talks and consistent outreach efforts has extended the Global Game Jam to over 58 countries, effectively changing the course of game development around the world. Susan served as the chairperson of the IGDA Education SIG from 2006-2010, and continues to develop tools and resources for educator professional development.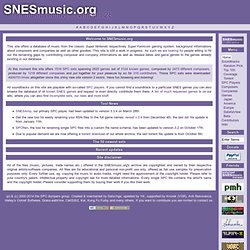 Welcome to SNESmusic.org This site offers a database of music from the classic Super Nintendo respectively Super Famicom gaming system, background informations about composers and companies as well as other goodies. This site is still a work in progress. As such we are looking for people willing to fill out the remaining gaps by contributing composer and company informations as well as release dates and game genres to the games already existing in our database.
Home of SNES Music ~ SNESmusic.org
Gateways playthrough
QWOP
From Noobgrammer to Programmer - Part 1 -
Greetings and welcome to the first of a many-part tutorial series designed to take you from a "hello world" jabroni to a game programmer with the confidence to tackle any challenge that might be foolish enough to face you. This series will be targeted at people who have a small amount of programming experience (those who understand functions, variables, and objects) and are having a hard time making the leap to something more complex.. As I was in this category not but a few years ago, I vividly remember the difficulties moving from basic comp-sci projects to full games and I hope to make your transition easier than mine. If you don't feel that you belong in this category, despair not! Check out my upcoming "education roadmap" entry for a guide to get you from noobgrammer to programmer. If you find yourself confused by a tutorial or would like me to cover a specific subject, shoot me an email at john.hayden@roarigami.com or leave a comment and I'll be happy to oblige.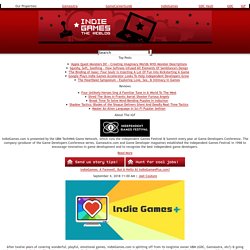 A landmark moment for video game broadcasting company Twitch today: You can now buy Vlambeer's latest game Nuclear Throne directly through Twitch, the first game to be available for purchase through the service. If you connect your Twitch account up to the Nuclear Throne website, you can then choose to purchase the game via Twitch. Buying the game through Twitch grants you the ability to chat during subscriber-only mode, says Twitch. "If you're interested in learning about game development, this is where you should buy the game," reads the blurb. According to the website, 60 percent of the revenue goes to Vlambeer via the purchase -- this compares to 70 percent through Steam, and 90 percent via Humble Bundle.
Singapore-MIT GAMBIT Game Lab
The Singapore-MIT GAMBIT Game Lab was a collaboration between the Massachusetts Institute of Technology and the government of Singapore created to explore new directions for the development of games as a medium. GAMBIT set itself apart by emphasizing the creation of video game prototypes to demonstrate our research as a complement to traditional academic publishing. The MIT Game Lab continues the GAMBIT mission, bringing together scholars, creators, and technologists to teach, conduct research, and develop new approaches for applied game design and construction. We have released our final report, outlining 6 years of experimentation, innovation, achievement, and original research! We've learned from the experience of running this international collaboration, in how to conduct research, how to bring together students and researchers to create interesting and innovative new games, and how to bring our discoveries to outside groups like industry and government.