Sweets
Tres Leches (Milk Cake) Recipe. Cake Batter Pizzert. From what I can tell, a successful kids' birthday party has three components: 1.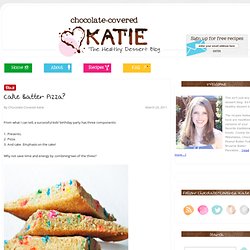 Presents. 2. Pizza. 3. And cake. Cake Batter Pancakes. I'm fairly convinced that the world would be a better place if more sprinkles were involved.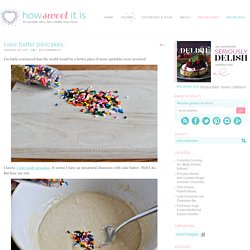 I know. I just made pancakes. It seems I have an unnatural obsession with cake batter. Well I do. Strawberry Shortcake Cookies. 2 Stews: Cheesecake In A Mug. I was telling a friend about my 1-2-3 Chocolate Microwave Mug Cake and kept thinking there had to be equally easy and delicious alternatives.
I had some cream cheese and sour cream in the refrigerator and played around with a microwave cheesecake. The first time I overcooked it, but the second time was a charm. It was creamy and delicate from the first bite. This cake is great for people at work, in dorms or if you just want cheesecake...fast! Homemade Samoas « Yeah, that's right.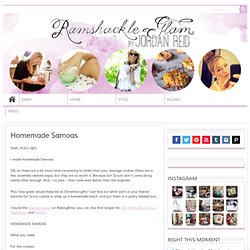 I made homemade Samoas. OK, so these are a bit more time-consuming to make than your average cookies (there are a few assembly-related steps), but they are so worth it. JustJENN recipes » Ice Cream Jello. I remember eating this as a kid, the fun part is the magical Jello separation.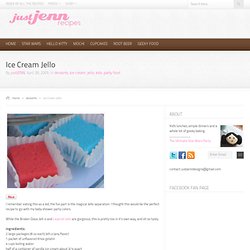 I thought this would be the perfect recipe to go with my baby shower party colors. While the Broken Glass Jell-o and Layered Jello are gorgeous, this is pretty too in it's own way, and oh so tasty. ingredients: 2 large packages (6 oz each) Jell-o (any flavor) 1 packet of unflavored Knox gelatin 4 cups boiling water half of a container of vanilla ice cream about 3/4 quart In a large bowl combine the Jell-o, unflavored gelatin and the boiling water. Whisk until dissolved. Easy Chocolate Ganache Recipe | How To Make Ganache | Ganache Frosting. As much as I love American fudge frosting, nothing beats the decadent, indulgent taste and texture of chocolate ganache.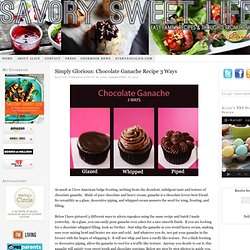 Made of pure chocolate and heavy cream, ganache is a chocolate lovers best friend. Its versatility as a glaze, decorative piping, and whipped cream answers the need for icing, frosting, and filling. Below I have pictured 3 different ways to adorn cupcakes using the same recipe and batch I made yesterday. Cake batter blondies. | girl meets life. I don't say this very often.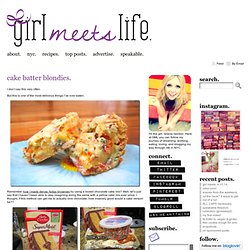 But this is one of the most delicious things I've ever eaten. Remember how I made dense, fudgy brownies by using a boxed chocolate cake mix? Well, let's just say that I haven't been able to stop imagining doing the same with a yellow cake mix ever since. I thought, if this method can get me to actually love chocolate, how insanely good would a cake version be?? How to Make Marshmallow Fondant. This time I decided to make it with those mini fruit flavored marshmallows.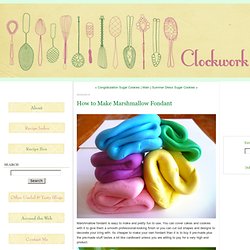 I had to sort them by colour first. I figured they would add a little bit of flavor to the fondant so I wouldn't have to add much flavoring oil. I use gel colours to dye my fondant but regular food colouring will work too. You won't be able to get really dark colours without making your fondant sticky, but for lighter colours you can just even it out with more icing sugar. Apple Turnovers Recipe.
---