Technologies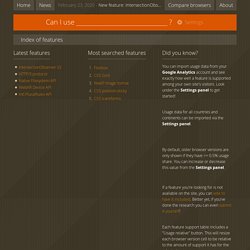 # CSS inline-block - Recommendation Method of displaying an element as a block while flowing it with text. Only supported in IE6 and IE7 on elements with a display of "inline" by default. Alternative properties are available to provide complete cross-browser support.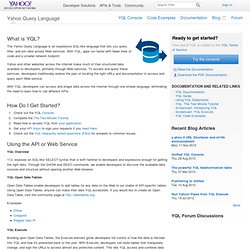 What is YQL? The Yahoo Query Language is an expressive SQL-like language that lets you query, filter, and join data across Web services. With YQL, apps run faster with fewer lines of code and a smaller network footprint. Yahoo and other websites across the Internet make much of their structured data available to developers, primarily through Web services.
Octopress is a framework designed by Brandon Mathis for Jekyll, the blog aware static site generator powering Github Pages. To start blogging with Jekyll, you have to write your own HTML templates, CSS, Javascripts and set up your configuration. But with Octopress All of that is already taken care of. Simply clone or fork Octopress, install dependencies and the theme, and you're set.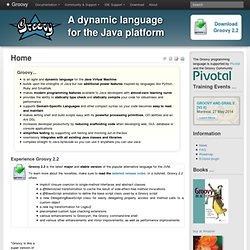 Quick page lookup A dynamic language for the Java platform ★ Groovy Home Groovy...
4.12.4 The canvas element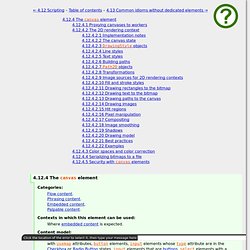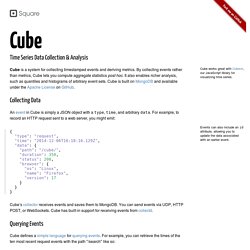 Time Series Data Collection & Analysis Cube is a system for collecting timestamped events and deriving metrics. By collecting events rather than metrics, Cube lets you compute aggregate statistics post hoc. It also enables richer analysis, such as quantiles and histograms of arbitrary event sets. Cube is built on MongoDB and available under the Apache License on GitHub. Collecting Data
Rending your XML as HTML with XSLT in Rails
I had a need to convert XML services that my rails app was providing into customizable html widgets tht could then be in-jested by some sort of server side includes(like NGINX's SSI). So I needed to use XSLT. When the W3C wrote the XML specification they also developed the Extensible Stylesheet Language for Transformations.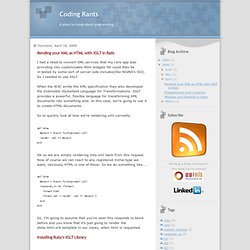 Rails on XML, Part 1: Background
[Part of the Rails on XML series.] I'm sure the first question in many readers' minds is "Why bother?". The intersection between the XML community and the Ruby community is very small. A rubyist might use XML to implement a RESTful web service, but that's going far enough, thank you very much. However, if you've been paying attention to the pure XML workflow for creating web applications, it has some interesting ideas, and some exuberant followers.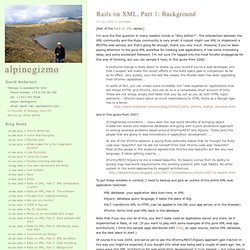 You are here: Home Dive Into HTML5 Diving In HTML 5 defines the <canvas> element as "a resolution-dependent bitmap canvas which can be used for rendering graphs, game graphics, or other visual images on the fly." A
Canvas - Dive Into HTML5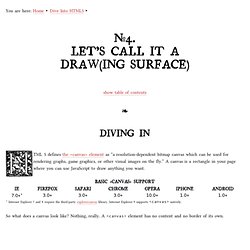 Since we're using JavaScript to control <canvas> elements, it's also very easy to make (interactive) animations. Doing more complex animations can take a little extra work; we hope to introduce a new article to help with that soon. Probably the biggest limitation is that once a shape gets drawn it stays that way. If we need to move it we have to redraw it and everything that was drawn before it. It takes a lot of time to redraw complex frames and the performance depends highly on the speed of the computer it's running on. Basic animation steps
Basic animations - MDN Docs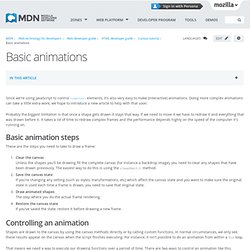 There are cheat sheets for just about anything out there but I couldn't find one for the HTML5 canvas element, so I decided to do something about that, mostly for my own sake but if other people find it useful that's just all the better. The information is pretty much just a copy of what is found in the WHATWG specs, just condensed and hopefully a bit easier to read. There are virtually no explanations, however, and no examples other than some graphics for compositing values and a few other things (the appearance of which is very much inspired by those found in Mozilla's examples). So, it's basically just a listing of the attributes and methods of the canvas element and the 2d drawing context. Choose between a 2 page PDF document or a PNG file.
Create a Drawing App with HTML5 Canvas and JavaScript { William Malone }
by William Malone This tutorial will take you step by step through the development of a simple web drawing application using HTML5 canvas and its partner JavaScript. The aim of this article is to explore the process of creating a simple app along the way learn: How to draw dynamically on HTML5 canvas The future possiblities of HTML5 canvas The current browser compatibility of HTML5 canvas Each step includes a working demo; if you want to skip ahead: Define Our Objective
Five Things You Should Know About HTML5 - Dive Into HTML5
You are here: Home Dive Into HTML5 1. It's not one big thing
Save time. Create with confidence. ★ Analytics, icons, and more
Home The French revolution was an era of extreme political and social change. Revolutionary fervor was applied to time itself. For a brief period, the French Republic introduced a decimal time system, with each day divided into ten hours and each hour divided into one hundred minutes.
HTML5 For Web Designers, Chapter 2
4.6 Text-level semantics — HTML5