Discovery Sites!
Ferro Fluid Tests - Magnetic Liquid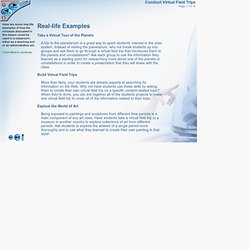 Real-life Examples Take a Virtual Tour of the Planets A trip to the planetarium is a great way to spark students' interest in the solar system. Instead of visiting the planetarium, why not break students up into groups and ask them to go through a virtual field trip that introduces them to the planets and constellations?
Conduct Virtual Field Trips - itc20201
eFieldTrips.org | Class Trips, Educational Field Trips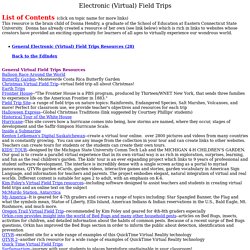 Virtual Field Trips
Electronic (Virtual) Field Trips List of Contents (click on topic name for more links) This resource is the brain child of Donna Hendry, a graduate of the School of Education at Eastern Connecticut State University. Donna has already created a resource of her own (see link below) which is rich in links to websites whose creators have provided an exciting opportunity for learners of all ages to virtually experience our wondrous world. General Electronic (Virtual) Field Trips Resources (28) Back to the EdIndex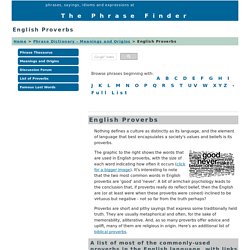 Nothing defines a culture as distinctly as its language, and the element of language that best encapsulates a society's values and beliefs is its proverbs. The graphic to the right shows the words that are used in English proverbs, with the size of each word indicating how often it occurs (click for a bigger image). It's interesting to note that the two most common words in English proverbs are 'good' and 'never'. A bit of armchair psychology leads to the conclusion that, if proverbs really do reflect belief, then the English are (or at least were when these proverbs were coined) inclined to be virtuous but negative - not so far from the truth perhaps?
Dagger [India] (1985.58a,b) | Heilbrunn Timeline of Art History | The Metropolitan Museum of Art - StumbleUpon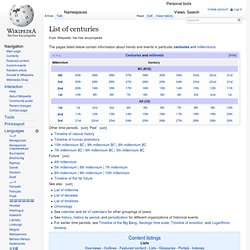 List of centuries
List of centuries From Wikipedia, the free encyclopedia Jump to: navigation, search The pages listed below contain information about trends and events in particular centuries and millenniums. Other time periods[edit]
I know, I know. I said I would discuss organic greenhouses and food preparation next, but I began thinking about what exactly has fueled my vision for starting my own school. Even greater, what has fueled my vision for starting a blog about my hopes and dreams for constructing an excellent place for kids to learn.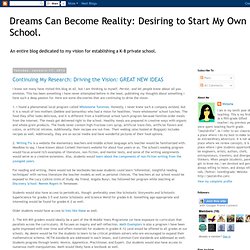 Dreams Can Become Reality: Desiring to Start My Own School.
The Most Bizarre Fish on Earth | Scribol