Misc Tools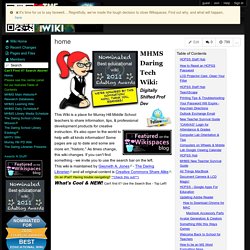 MHMS Daring Tech Wiki: Digitally Shifted Prof Dev This Wiki is a place for MHMS teachers to share information & professional development products for creative instruction.There's no need for you to join it to enjoy it's wiki-awesomeness!This wiki is maintained by Gwyneth A. Jones - The Daring Librarian and all original content is Creative Commons Share Alike.What's Cool & NEW! Can't find it?
Mobile Learning Resource Posters | Mobile 2012
A 1st of its kind Innovation means Faster Conversions for You Express Conversion Options More about CCN Cometdocs is growing by leaps and bounds thanks to you, our loyal users.