Cooking Tips
Cooking 101 - CookingLight.com
How to Zest a Lemon Learn how to get delicious lemon zest to add flavor to your favorite dishes.watch How to Make Scones Learn the tips and secrets to serving sweet scones that are melt-in-your-mouth good. Personalize them with your favorite ingredients.more How to Toast Nuts This technique for toasting nuts will impart a delicious warm flavor to your favorite dishes.watch How to Make Baguettes Fluffy on the inside, crunchy on the outside, baguettes are the perfect addition to your meal.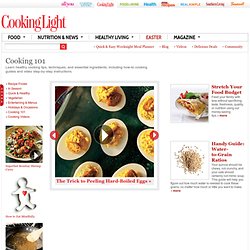 Cooking Tips - food cooking tips, kitchen tips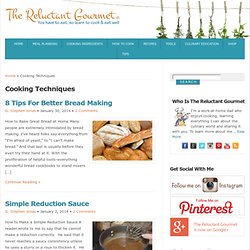 8 Tips For Better Bread Making How to Bake Great Bread at Home Many people are extremely intimidated by bread making. I've heard folks say everything from "I'm afraid of yeast," to "I can't make bread." And that last is usually before they even try their hand at it.
Simply Recipes: How To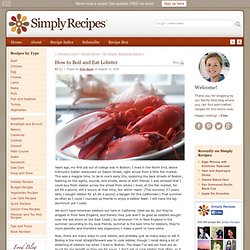 How to Boil Lobster First consider the size of your pot for boiling the lobsters. An 8-quart pot will easily take one lobster, a 16-quart pot, 2 or 3 lobsters. If you are cooking a lot of lobsters you'll either need to cook them in stages or have more than one pot of water boiling. 1 Fill a large pot 3/4 full of water. Add 2 Tbsp of salt for every quart of water.
Cooking Advice, Kitchen Tips & Chef Videos from Epicurious
Favorite Collections let you organize your favorite ATK content. Are you building a menu for an upcoming birthday dinner? You can keep those recipes in a collection called "John's 50th Birthday," for example. Your collections can include more than just recipes, too.
Equipment Reviews