Cooking Tips
Cooking 101 - CookingLight.com
How to Frost a Cake Properly frosting a cake is no longer a mystery with these five simple steps and strategies that will give your cake a sweet makeover. more How to Make Baguettes Fluffy on the inside, crunchy on the outside, baguettes are the perfect addition to your meal. Follow these three steps and learn how easy they are to make. more How to Make Composed Salads Individually prepared composed salads make a beautiful presentation to any meal, be it a usual weeknight or entertaining special guests. more 10 Secrets to Cake Baking Toss boxed cake mixes to the side and conquer your fear of homemade cakes with our secrets to baking the perfect cake. more Easy, Homemade Vinaigrette Vinaigrette may be easy to prepare, but there is a method to its magic.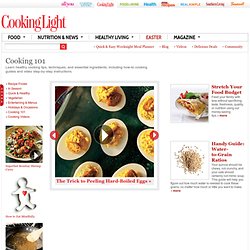 Cooking Tips - food cooking tips, kitchen tips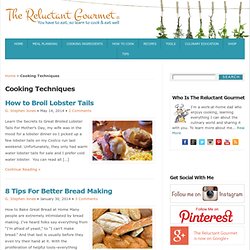 "It's my belief that the best way to become a good cook is to learn these basic cooking techniques."
Appetizer Recipes You Can Make at Home
60s Appetizers Mini Reubens My food related memories of the '60s also include cocktail parties, where my parents and their friends consumed mysterious drink concoctions with enticing names like "manhattan" or "rob roy."
Simply Recipes: How To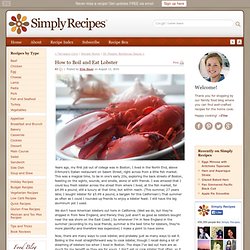 How to Boil Lobster First consider the size of your pot for boiling the lobsters.
Cooking Advice, Kitchen Tips & Chef Videos from Epicurious
Equipment Reviews