Cooking Tips
Cooking 101 - CookingLight.com. How to Make Salsa Learn how to make salsa in a flash, which yields a delicious side packed with fresh produce and bold ingredients.watch How to Cook Kale Learn the Cooking Light way to cook kale for a tender, delicious, and healthy side.watch Blanching Vegetables Blanching vegetables is a great technique to use before freezing vegetables or to preserve the bright color during cooking.watch How to Cook Bacon in the Oven Cooking bacon in the oven yields perfect, crispy slices and allows it to sit above its rendered fat.watch How to Brown Butter We use deliciously nutty browned butter in our recipes because a little goes a long way.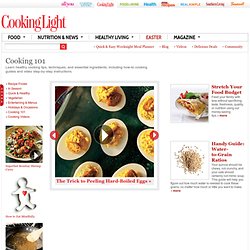 Cooking Tips - food cooking tips, kitchen tips. Please feel free to link to any pages of FoodReference.com from your website.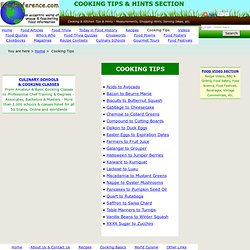 For permission to use any of this content please E-mail: james@foodreference.comAll contents are copyright © 1990 - 2014 James T. Ehler and www.FoodReference.com unless otherwise noted.All rights reserved. You may copy and use portions of this website for non-commercial, personal use only.Any other use of these materials without prior written authorization is not very nice and violates the copyright. Please take the time to request permission. Cooking Techniques for Beginner and Intermediate Cooks. 8 Tips For Better Bread Making How to Bake Great Bread at Home Many people are extremely intimidated by bread making.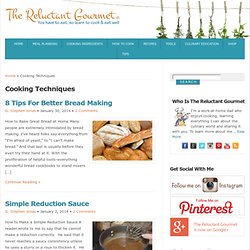 I've heard folks say everything from "I'm afraid of yeast," to "I can't make bread." And that last is usually before they even try their hand at it. Appetizer Recipes You Can Make at Home. Also called hors d'oeuvres and used to start a meal to get your appetite excited about what's to come.
Cheese Fondue Recipe A Classic Cheese Fondue We typically don't eat much fondue in our house, maybe a couple times a year but in the past few weeks I've enjoyed three fondue nights so I thought it must be time to do a little research and write about preparing a delicious fondue at home. One of our fondue […] Simply Recipes: How To. How to Boil Lobster First consider the size of your pot for boiling the lobsters.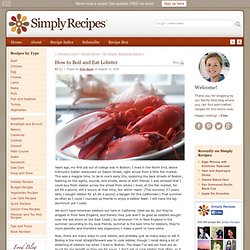 An 8-quart pot will easily take one lobster, a 16-quart pot, 2 or 3 lobsters. If you are cooking a lot of lobsters you'll either need to cook them in stages or have more than one pot of water boiling. 1 Fill a large pot 3/4 full of water. Add 2 Tbsp of salt for every quart of water. Cooking Advice, Kitchen Tips & Chef Videos from Epicurious. Equipment Reviews. Favorite Collections let you organize your favorite ATK content.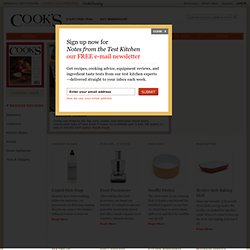 Are you building a menu for an upcoming birthday dinner? You can keep those recipes in a collection called "John's 50th Birthday," for example. Your collections can include more than just recipes, too.
---