Learn
Get flash to fully experience Pearltrees
Edit Edited by james_uk, Waited, Jack Herrick, Krystle C. and 82 others Whether you're hitting the textbooks in philosophy class, reading long-winded emails from co-workers, or just reading the morning newspaper, chances are at one time or another you've wished you could read a little faster.
Project management and motivation series How can you motivate yourself ? With this exercise, try to recognize your sense of discovery take responsibility for your learning accept the risks inherent in learning with confidence, competence, and autonomy recognize that "failure" is success : learning what doesn't work is on the same path as learning what does work celebrate your achievement in meeting your goals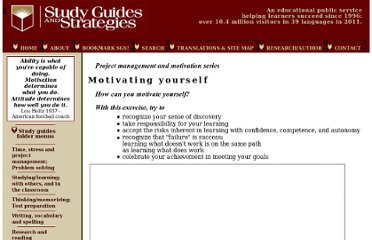 You've decided you want to improve your handwriting and you're probably hoping a fountain pen will do the trick -- maybe a friend told you it would. Maybe you're just adventurous and you want to try your hand at calligraphy (or you might, once your handwriting improves). Good for you! A fountain pen may make your writing look a bit better, but if your writing looks as if frenzied chickens got loose on the page, chances are this won't be enough. Most likely, you'll need to retrain your arm and hand.
The elbow lever is a position where the body is held up horizontal to the ground. But unlike the planche (where there is NO support along the length of the body), the elbow lever uses one's elbows as a resting and balancing point for the body. This makes the skill much easier than a planche. An elbow lever - It's a fairly simple skill really. There's just several key points in order to find the correct position.۬