Recipes
I promised something a bit more "booty-friendly" and here it is! These are high in protein, low in carbs and absolutely delicious. Now, if you're not fond of green things.. stick around. I have something pink and fluffy later. spinach burgers Mix well in a bowl like this: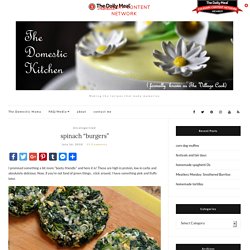 Cardamom Baked Pears Recipe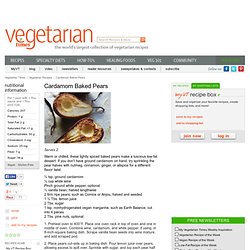 nutritional information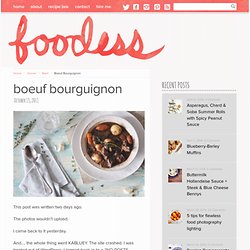 This post was written two days ago.
Boeuf Bourguignon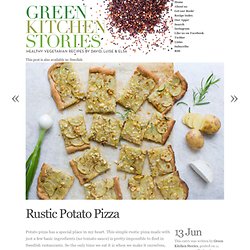 Potato pizza has a special place in my heart. This simple rustic pizza made with just a few basic ingredients (no tomato sauce) is pretty impossible to find in Swedish restaurants.
Rustic Potato Pizza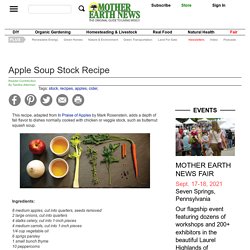 Apple Soup Stock Recipe - Relish Blog
This recipe, adapted from In Praise of Apples by Mark Rosenstein, adds a depth of fall flavor to dishes normally cooked with chicken or veggie stock, such as butternut squash soup. Ingredients:
Fall Recipe: Gluten-Free Pumpkin Pie With Coconut Crust
It's officially fall. I can tell because most of our counter space is covered with ripening tomatoes and drying bean pods, and shoveling out enough space for a mixing bowl or a chopping block is nearly impossible.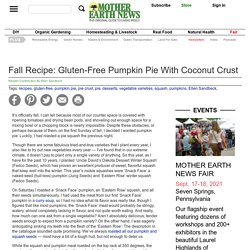 Bamboo Shoot, Mushroom, and Long Bean Stir-Fry Recipe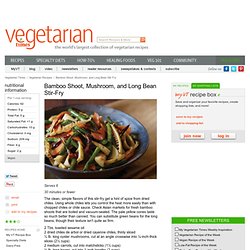 nutritional information Serves 6 30 minutes or fewer The clean, simple flavors of this stir-fry get a hint of spice from dried chiles. Using whole chiles lets you control the heat more easily than with chopped chiles or chile sauce. Check Asian markets for fresh bamboo shoots that are boiled and vacuum-sealed.
A high protein breakfast that that you won't be able to stop making. Earlier this year, pictures of eggs baked in avocado were the darling of the online food porn world.
Sunday Recipe: Baked Egg in an Avocado with Parsley and Goat Cheese
Easy home made mayonnaise | Drizzle and Dip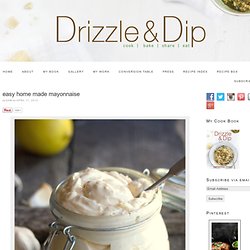 very delicious easy peasy home made mayonnaise Once you start making your own mayonnaise, and realise just how simple and tasty it is, you wont be interested in the preservative-laden shop-bought options anymore. I recently did some experimenting with making aioli and adding a variety of flavours which led into making this very quick and easy mayonnaise.
Salted Chocolate-Peanut Butter Marshmallow Squares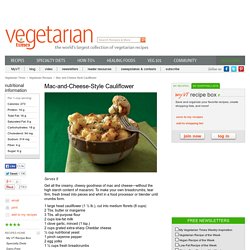 nutritional information Serves 8 Get all the creamy, cheesy goodness of mac and cheese—without the high starch content of macaroni. To make your own breadcrumbs, tear firm, fresh bread into pieces and whirl in a food processor or blender until crumbs form. 1 large head cauliflower (1 ½ lb.), cut into medium florets (8 cups) 2 Tbs. butter or margarine 3 Tbs. all-purpose flour 2 cups low-fat milk 1 clove garlic, minced (1 tsp.) 2 cups grated extra-sharp Cheddar cheese ½ cup nutritional yeast 1 pinch cayenne pepper 2 egg yolks 1 ½ cups fresh breadcrumbs
Mac-and-Cheese-Style Cauliflower Recipe
Vegan Shaved Fennel and Apple Salad
Home | I Wanna Nom
When I first saw this recipe I was intrigued by the fact that these have NO sugar, butter, eggs or anything that can be considered unhealthy. Always on the hunt for things to throw at my kids at feeding time, I gave them a whirl. They are amazing, surprisingly light, incredibly filling and tasty, you can mix and match the ingredients to get a different result each time, adding different seeds fruits or nuts.You can freeze them wrapped individually and have a easy breakfast on the go. 1 1/2 cups regular rolled oats (use whatever type of oats you like) 1 cup coconut flakes 1/2 teaspoon salt 1 teaspoon cinnamon 1/2 teaspoon allspice 1/4 cup of almond meal (or nutmeal of your choice) ( If you want to make it nut free you could use a flour, just adjust the wet ingredients to get the right consistency) 1/2 cup mixed nuts, finely chopped 1 cup dried fruit (of your choice or chocolate chips or berries)
Recipe: single-ingredient ice cream Administrative news: The amount of spam accumulating in my filter is increasing and the amount of time I have to glance through and fish out the occasional legitimate comment is all but nil at this point. From now on, I'm deleting the hundreds of spam caught each day without a second glance.
CHERRY UPSIDE DOWN TART
Brown-Bag Salad Recipes - Martha Stewart Food
Recipes
4 Minute Green Microwave Breakfast Muffin 60 Second Chocolate Chip Muffin-(Vegan option if you use a flax egg) Acai Parfait. Apple Cider Quinoa Breakfast Cereal-Overnight-Vegan options Apple Cinnamon Breakfast Snack Cake Bars-Vegan Apple Maple Cinnamon Quinoa Parfait-Vegan(if using soy yogurt)
Kale Salad with Quinoa, Tangerines and Roasted Almonds
Blackberry and Apple Cobbler
Make Newsletter - Healthy Recipes - goop.com
Recipe Index