Math
Addition Activity. Counting By Twos Song. Counting By Fives Song. First Grade Number Worksheets << Math Worksheet Wizard. Grade 1 Number Worksheets In First Grade, we're focusing on counting numbers 0-30 forwards and backwards, recognizing and counting in even and odd numbers.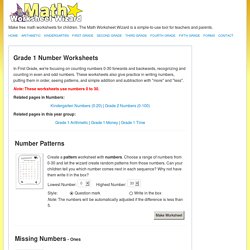 These worksheets also give practice in writing numbers, putting them in order, seeing patterns, and simple addition and subtraction with "more" and "less". Note: These worksheets use numbers 0 to 30. Related pages in Numbers: Login. Pearson SuccessNet Your Personalized Path to Classroom Success New Year Rollover This year, the New Year Rollover process for Pearson SuccessNet is scheduled for July 11-12, 2014.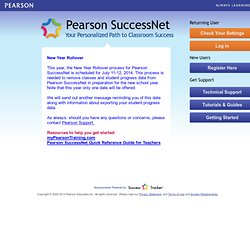 This process is needed to remove classes and student progress data from Pearson SuccessNet in preparation for the new school year. Note that this year only one date will be offered. FunBrain.com - The Internet's #1 Education Site for K-8 Kids and Teachers. Ten Frame.
---