Social Media
World-Class Engagement Tools Reach your audience across networks and promptly reply to your customers. Sprout makes it easy for teams to keep tabs on conversations and effectively engage at all times. More on Engagement » Unified Inbox Assign Tasks See who is available now & route messages to the appropriate person or department.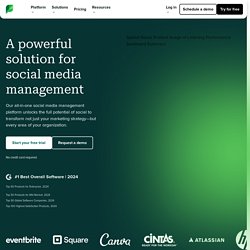 Robust real-time monitoring dashboard that collects all relevant online conversations and reveals insights through detailed metrics and intuitive graphics. Discover Sysomos Heartbeat Tools for reaching out to key influencers, providing customer support, finding new sales leads, managing workflow and more. See all Sysomos features Comprehensive research and analytics solution with automated sentiment, demographics, influencer identification, historical analysis and smart reporting. Explore Sysomos MAP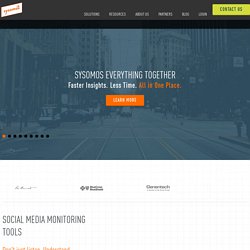 Yes, B2B companies should be using social media. In fact, it is easy to make the argument that B2B companies are better suited for social media marketing than B2C companies. Think about it: with a relationship-based sales cycle, core subject matter expertise and a legacy of content creation, most B2B companies are a great fit to leverage social media as part of an inbound marketing strategy. In a world in which 60% of the sales cycle is over before a lead ever talks to a salesperson , it has never been more important for marketing to be involved early in the buying process. Social media, when used for B2B lead generation and education, can help attract, educate, and qualify leads. Regardless of your ninja level of experience with using social media for B2B, many mistakes are commonly made during the journey to becoming a superstar marketer.
9 Common and Costly B2B Social Media Marketing Mistakes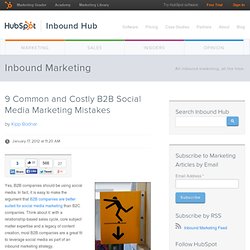 Marketers and business owners rely on social media to communicate many things about their brand. But there are also some dangers inherent in communicating with a large, diverse audience who you don't know on a personal level. Oh, and by the way, you are limited to getting your point across in only a few sentences (or characters!), and must achieve a tone that simultaneously entertains but does not offend.
10 Taboo Topics to Take Off Your Social Media Account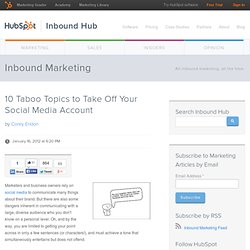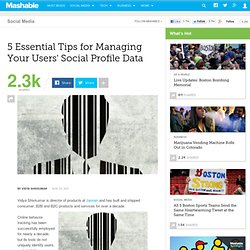 5 Essential Tips for Managing Your Users' Social Profile Data
Vidya Shivkumar is director of products at Janrain and has built and shipped consumer, B2B and B2C products and services for over a decade. Online behavior tracking has been successfully employed for nearly a decade, but its tools do not uniquely identify users, and rightfully so. Tracking was only designed to group users into audience segments; for example, golden retriever owners who live in San Francisco, CA, or baseball and wine enthusiast females in their 30s who live in Seattle, WA.
For many news organizations developing digital strategies, the conversation has moved beyond questioning whether Twitter and Facebook presences are necessary. Instead, social media has become a driving force for reporting initiatives and is seen as imperative for content distribution. Now media companies don't just want to have a presence on the social web — they want to make the most of it.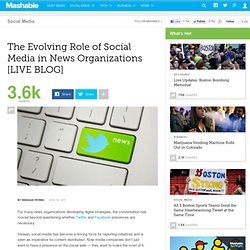 The Evolving Role of Social Media in News Organizations [LIVE BLOG]
Now On Google+ | DigitalSherpa.com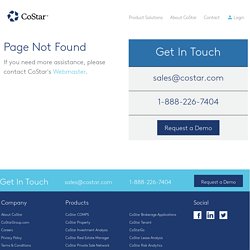 Yesterday, Google announced that businesses and brands may now create profiles on Google+. This comes in the wake of the announcement that Google+ would become available for Google Apps. What is Google+? Google+ is a social networking service provided by Google. Google is one of the largest tech companies in the world and currently enjoys a dominant share of the search marketplace. Google+ was the long-awaited product to rival other popular networks like Facebook and Twitter .
This is Part 2 in a series introducing and discussing Tumblr and how it applies in our social media efforts. See part 1 here. Now that we've become familiar with Tumblr (and this is all a learning process for me too), it's time to set up an account. If you've been on other social networks you know this can be either an arduous or simple process. Well Tumblr makes this part REAL easy. When you visit www.tumblr.com, you'll notice on the front page a very simple design with three fields.
Setting Up Your Tumblr Account and Getting Started | DigitalSherpa.com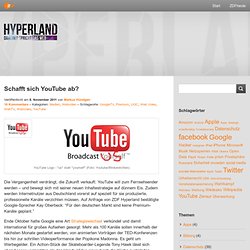 YouTube Logo - "us" statt "yourself" (Foto: Youtube/Blinkenlichten) Die Vergangenheit verdrängt, die Zukunft verkauft: YouTube will zum Fernsehsender werden – und bewegt sich mit seiner neuen Inhaltestrategie auf dünnem Eis. Zudem werden Internetnutzer aus Deutschland vorerst auf speziell für sie produzierte, professionelle Kanäle verzichten müssen.
Schafft sich YouTube ab?
How Social Media changed the ad game
Would you like to combine forces with another company in a collaborative promotion? Want to know why this is wise and how to do it? Keep reading… Going Beyond the Customer Many marketers have a relentless focus on a single dimension of social interaction: the brand-consumer relationship.
How to Use Social Partnerships to Amplify Your Marketing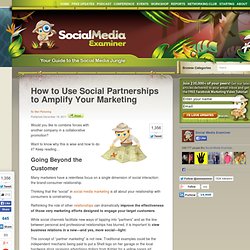 Klout Influence Report
Participation in social media should be a staple for any business leveraging inbound marketing. Social media expands the reach of content, offers a valuable communication platform between businesses and their prospects/customers, and helps to nurture existing leads into a position where they're more ready to buy. One of the critical social media best practices we discuss often is regularly publishing content and updates to the social networks in which your business participates. But what exactly does an optimized and effective social media update look like, and what are its key characteristics? Surely it would vary from social network to social network, right? After all, each social media site has its own little nuances to understand and adhere to.
The Ultimate Guide to Optimized Social Media Updates
We Heart It Believe, Feel, Love, Be, Create, Inspire. Join We Heart It What's this all about? About We Heart It • Terms of Service • Privacy Policy Hearting Hint
Do you have a social media strategy? Does it involve content? Should it? The other day I drove past a local convenience store that makes most of its profit from beer, Slush Puppies and beef jerky (not that there's anything wrong with that).
The Paralyzing Side Effects of Form Field Phobia [Cartoon]
Community managers are becoming an increasingly important role for all types of businesses, and we're seeing the role appear everywhere from tech startups to major corporate brands. Most commonly, community managers are responsible for engaging current and potential customers via social media and growing vibrant, enthusiastic communities around their products and services. Some community managers even facilitate conversations in private online forums, work with internal company intranets, and act as customer support. Community managers must strike a balance. Externally, community managers are the voices of their brands in social media, serving as social media strategists, customer service managers, content creators, product managers, and evangelists. Internally, they are the voice of their communities at their own companies.
10 Fundamental Tips for Social Media Community Managers
Plus Friend Finder - Google Plus - Artist