Things to think about
Get flash to fully experience Pearltrees
This is the first post in our Kill Your TV series, designed to help you navigate your television-less existence for the next 30 days. (You didn't think we'd spring it on you and then leave you hanging, did you?) Today's post is all about helping you through the first week without your beloved plug-in drug – and filling those hours with something meaningful . While it may seem obvious to those of you who have been without cable for a few years now, we're here to present the rest of you Kill Your TV participants with 174,203 (almost) things you can do with your life instead of watching TV. (We're also giving you links to products we like in our newly opened Amazon store , to help get you started.) Take back those hours this month and do something productive, fun, enriching or restorative.
Learn more about the science of success with Heidi Grant Halvorson's HBR Single , based on this blog post. Why have you been so successful in reaching some of your goals, but not others? If you aren't sure, you are far from alone in your confusion. It turns out that even brilliant, highly accomplished people are pretty lousy when it comes to understanding why they succeed or fail.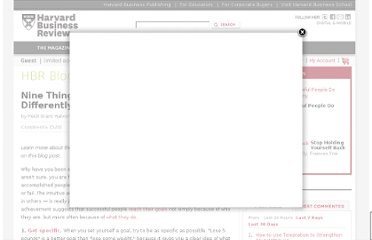 Top Ten Argument Mapping Tutorials . Six online tutorials in argument mapping, a core requirement for advanced critical thinking. The Skeptic's Dictionary - over 400 definitions and essays. The Fallacy Files by Gary Curtis. Best website on fallacies.
1. FAULTY CAUSE: ( post hoc ergo propter hoc ) mistakes correlation or association for causation, by assuming that because one thing follows another it was caused by the other. example: A black cat crossed Babbs' path yesterday and, sure enough, she was involved in an automobile accident later that same afternoon. example: The introduction of sex education courses at the high school level has resulted in increased promiscuity among teens. A recent study revealed that the number of reported cases of STDs (sexually transmitted diseases) was significantly higher for high schools that offered courses in sex education than for high schools that did not. 2. SWEEPING GENERALIZATION: ( dicto simpliciter ) assumes that what is true of the whole will also be true of the part, or that what is true in most instances will be true in all instances.