Shopping
Green, Healthy, &Safe Product Ratings &Reviews | GoodGuide - StumbleUpon. Women's. Indie, Retro, Vintage, Dresses, & Cute Clothing | ModCloth. How To Style a Side Braid - A Beautiful Mess - StumbleUpon.
Here's a brand new, extra magical hair how-to by Katie of Skunkboy. 1.Start with a dramatic side part. 2.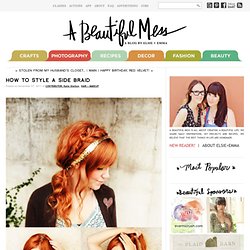 Separate a small section of hair on the side. This will be the beginning of your braid. 3.Taking that section, separate it into two smaller sections. 4. Using a fishtail braid method, begin braiding. 5. How to Braid Hair - Learn How to Braid Your Own Hair.
---