Student Success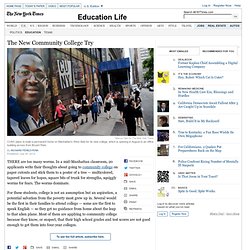 For these students, college is not an assumption but an aspiration, a potential salvation from the poverty most grew up in. Several would be the first in their families to attend college — some are the first to speak English — so they get no guidance from home about the leap to that alien plane.
The New Community College, CUNY's Multimillion-Dollar Experiment in Education
Learning Communities, Student Success, and Real Pizza
The Benefits of Making It Harder to Learn - Do Your Job Better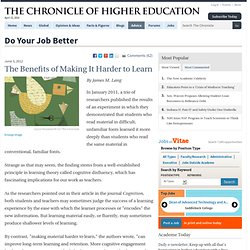 By James M.
By The horse race of international rankings in education is based on misconceptions that can lead countries such as the United States to consider sweeping reforms that probably won't improve academic achievement, according to a new report. The 2012 Brown Center Report on American Education released yesterday by the Brookings Institution makes a case against Common Core standards – arguing that California's current standards are superior – and cautions against placing too much weight on the National Assessment of Educational Progress (NAEP) and international comparisons.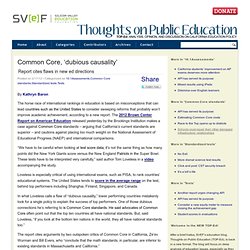 Common Core, 'dubious causality' | Thoughts on Public Education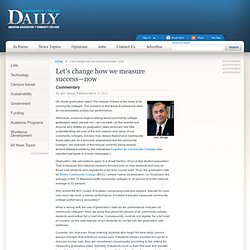 Let's change how we measure success—now
​Oh, those graduation rates! The misuse of them is the bane of all community colleges. The problem is that these troublesome rates do not accurately portray our performance.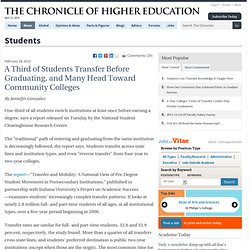 By Jennifer Gonzalez One-third of all students switch institutions at least once before earning a degree, says a report released on Tuesday by the National Student Clearinghouse Research Center. The "traditional" path of entering and graduating from the same institution is decreasingly followed, the report says.
A Third of Students Transfer Before Graduating - Students
PB_AccessMatters_Exec_summary
The 2012 Brown Center Report on American Education
This article addresses the broad-based reform movement led by state and federal policy makers and designed to increase dramatically the number of students graduating from our nation's colleges and universities. This movement—known as "the completion agenda"—aims to collect more and better data about students' educational progress toward degrees, to enact new policies that incentivize increased graduation rates and improve the efficiency of degree production, and to tie funding to increased completion rates. Rooted in the increasingly tight linkage between educational attainment and success in the global economy, external pressure on higher education to increase the numbers of college graduates has been building for decades. As part of this pressure, President Obama (2009) set an ambitious goal in his very first State of the Union address: "By 2020, America will once again have the highest proportion of college graduates in the world."
Liberal Education | Winter 2012 | What's Wrong with the  Completion Agenda—And What We Can Do About It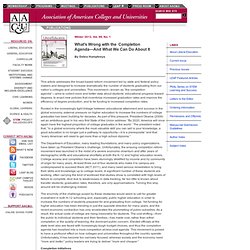 CCCSE - Center for Community College Student Engagement
The Center for Community College Student Engagement, a research and service initiative of the Community College Leadership Program in the College of Education at The University of Texas at Austin, provides important information about effective educational practice in community colleges. The Center assists institutions and policymakers in using information to promote improvements in student learning, persistence, and attainment. Surveys & Related Projects The Center conducts a collection of national surveys: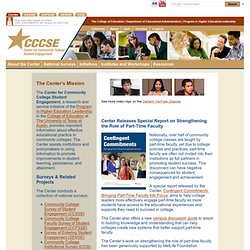 A_Matter_of_Degrees_02-02-12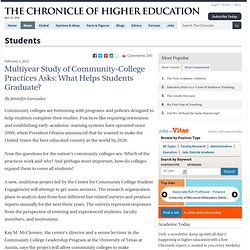 By Jennifer Gonzalez Community colleges are brimming with programs and policies designed to help students complete their studies. Practices like requiring orientation and establishing early-academic-warning systems have sprouted since 2009, when President Obama announced that he wanted to make the United States the best-educated country in the world by 2020. Now the questions for the nation's community colleges are: Which of the practices work and why? And perhaps most important, how do colleges expand them to cover all students? A new, multiyear project led by the Center for Community College Student Engagement will attempt to get some answers.
Community-College Study Asks: What Helps Students Graduate? - Students
committing%20to%20quality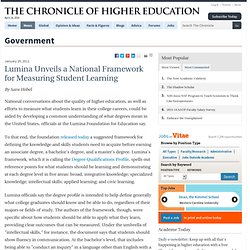 By Sara Hebel National conversations about the quality of higher education, as well as efforts to measure what students learn in their college careers, could be aided by developing a common understanding of what degrees mean in the United States, officials at the Lumina Foundation for Education say. To that end, the foundation released today a suggested framework for defining the knowledge and skills students need to acquire before earning an associate degree, a bachelor's degree, and a master's degree. Lumina's framework, which it is calling the Degree Qualifications Profile, spells out reference points for what students should be learning and demonstrating at each degree level in five areas: broad, integrative knowledge; specialized knowledge; intellectual skills; applied learning; and civic learning. Lumina officials say the degree profile is intended to help define generally what college graduates should know and be able to do, regardless of their majors or fields of study.
Lumina Unveils a National Framework for Measuring Student Learning - Government
Community college association releases voluntary accountability measures
Community colleges have long argued they are fundamentally different from four-year institutions and should be judged by different yardsticks. Now the sector has created what it says are fair measures of its members' performance, with the release Wednesday of the Voluntary Framework of Accountability from the American Association of Community Colleges. The accountability standards are a starting point for a "common language" on what works at community colleges, said Kent Phillippe, associate vice president for research and student success at the association.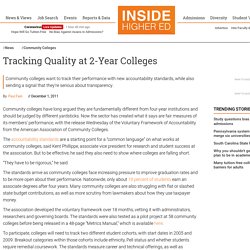 New National Accountability Measures Drill Down on Unique 2-Year Mission WASHINGTON, Dec. 1, 2011 /PRNewswire-USNewswire/ -- Following 18 months of intensive research, analysis and pilot testing, the American Association of Community Colleges (AACC) and its partners today launch the first-ever custom framework to measure how 2-year colleges perform in serving their more than 13 million students. The Voluntary Framework of Accountability (VFA), along with its newly-minted Metrics Manual v. 1.0 (www.aacc.nche.edu/vfa), will give community colleges what many believe has long been lacking in reporting their successes to the public and policymakers: specific metrics that assess how they do in areas such as student progress and achievement, implementation of career and technical education programs (credit and noncredit) and transparency in reporting outcomes.
Community Colleges Take Major Step in Defining Role, Effectiveness -- WASHINGTON, Dec. 1, 2011 /PRNewswire-USNewswire/ --
Nuancing of Access and Success
Because the nation is rightly fixed on improving degree completion rates, the discussion about America's higher education agenda is at risk of becoming so pedestrian that terms like access and success lose their meaning. In similar fashion, once everyone and everything became "green" it was less clear to me what was meant by a "green economy," "green jobs" or "green politics." Presently about 39% of the nation's adult population has a college degree. Yet, the two fastest growing populations (Latinos and African Americans) remain the least likely to earn a college degree. If America has any chance of returning to number one in the world for the proportion of college-educated adults its higher education system must produce approximately 40 million new degree holders over the next 15 years. This is virtually impossible without dramatically improving access and completion rates among low-income and minority students who collectively face the greatest difficulties completing college.
Steve Hebert for The New York Times A study found profound effects on students whose teachers helped them raise their test scores. The paper, by Raj Chetty and John N. Friedman of Harvard and Jonah E. Rockoff of Columbia, all economists, examines a larger number of students over a longer period of time with more in-depth data than many earlier studies, allowing for a deeper look at how much the quality of individual teachers matters over the long term. "That test scores help you get more education, and that more education has an earnings effect — that makes sense to a lot of people," said Robert H.
Big Study Links Good Teachers to Lasting Gain
Study on Teacher Value Uses Data From Before Teach-to-Test Era
Six years later, in 2004, our daughter was in fourth grade.
Report suggests approach to improving graduation rates
Colleges may be able to improve their graduation rates by gaining a better understanding of the students they enroll, according to a report being released today. The report, from the Higher Education Research Institute at the University of California at Los Angeles, brings together data from the "freshman survey" by UCLA's Cooperative Institutional Research Program and graduation numbers from the National Student Clearinghouse and aims to help colleges determine if they have actually improved retention rates or if they have simply attracted better students. Linda DeAngelo, assistant director for research at UCLA's Cooperative Institutional Research Program, said the study could eventually help in improving graduation rates.
Physicists Seek To Lose The Lecture As Teaching Tool
NCAT Homepage
Khan Academy ponders what it can teach the higher education establishment
A 'Moneyball' Approach to College - Technology
community_college_summit_report
A culture of assessment promotes student success
AspenCCPrizeOverview
White_House_Summit_on_Community_Colleges_Fact_Sheet
CUNY Offers Intensive Remediation Program
Colleges Err in Placing Many on Remedial Track, Studies Find