Posiedon's Children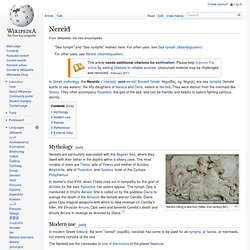 Nereid
Nereid riding a sea-bull (latter 2nd century BC) In Greek mythology , the Nereids ( pron.: / ˈ n ɪər i ɪ d z / NEER -ee-idz ; Ancient Greek : Νηρηΐδες , sg. Νηρηΐς ) are sea nymphs (female spirits of sea waters), the fifty daughters of Nereus and Doris , sisters to Nerites . They were distinct from the mermaid-like Sirens .
ELEKTRA (or Electra) was the Okeanid Nymph wife of the sea god Thaumas, and the mother of Iris the Rainbow and the storm-wind Harpyiai (Harpies). She was perhaps the Nephele (Cloud-Nymphe) of the amber-trim, êlektron , of storm-clouds illuminated by the returning sun. Her other name Ozomene, suggests the cloudy source of the rainbow shooting down to the sea. Hesiod, Theogony 346 ff (trans.
ELECTRA : Oceanid Nymph | Greek mythology, Elektra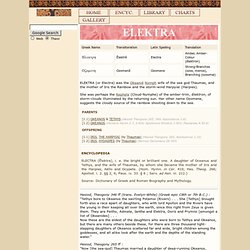 Oceanus
Oceanus ( pron.: / oʊ ˈ s iː ə n ə s / ; Ancient Greek : Ὠκεανός (Ōkeanós) ; [ 2 ] pronounced [ɔːkeanós] ) was a pseudo-geographical feature in classical antiquity , believed by the ancient Greeks and Romans to be the divine personification of the World Ocean , an enormous river encircling the world. Strictly speaking, Oceanus was the ocean - stream at the Equator in which floated the habitable hemisphere (οἰκουμένη, oikoumene ). [ 3 ] In Greek mythology , this world-ocean was personified as a Titan , a son of Uranus and Gaea . In Hellenistic and Roman mosaics, this Titan was often depicted as having the upper body of a muscular man with a long beard and horns (often represented as the claws of a crab) and the lower body of a serpent (cf. Typhon ).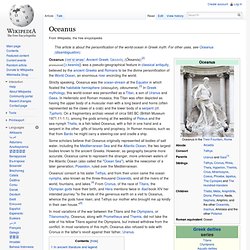 Thaumas
THAUMAS : God of the Wonders of the Sea | Greek mythology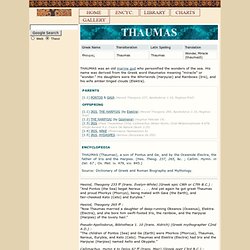 THAUMAS was an old marine god who personified the wonders of the sea. His name was derived from the Greek word thaumatos meaning "miracle" or "wonder." His daughters were the Whirlwinds (Harpyiai) and Rainbows (Iris), and his wife amber tinged clouds (Elektra). Hesiod, Theogony 233 ff (trans. Evelyn-White) (Greek epic C8th or C7th B.C.) : "And Pontos (the Sea) begat Nereus . . . .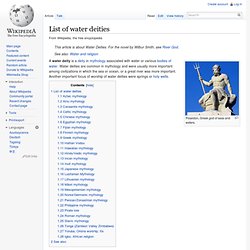 Poseidon, Greek god of seas and waters. A is a deity in mythology associated with water or various bodies of water . Water deities are common in mythology and were usually more important among civilizations in which the sea or ocean, or a great river was more important.
Water deity
Kelaeno, Greek Goddess of Storms and One of the Harpiesn art cards