Technology Blogs
Microsoft's Cracked Windows: How The World's Technology Juggernaut Lost Its Buzz And Became The 'Underdog' Facebook's chief executive Mark Zuckerberg recently took the stage at a joint press conference alongside another large technology company.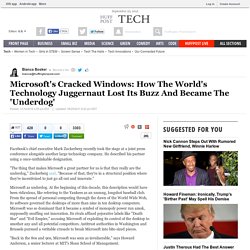 He described his partner using a once-unthinkable designation. "The thing that makes Microsoft a great partner for us is that they really are the underdog," Zuckerberg said. "Because of that, they're in a structural position where they're incentivized to just go all out and innovate. " Osborne 1 celebrates its 30th birthday, and that of the portable computing revolution. On April 3rd, 1981 -- thirty years ago today -- Adam Osborne unveiled the Osborne 1 at the West Coast Computer Faire in San Francisco.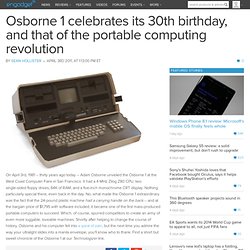 It had a 4 MHz Zilog Z80 CPU, two single-sided floppy drives, 64K of RAM, and a five-inch monochrome CRT display. Nothing particularly special there, even back in the day. E-Books: The New Frontier for Content Farms. Recent changes to Google's search algorithm have sought to reduce the rankings of what Google has described as "low quality" and "low value add" sites.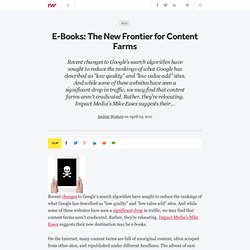 And while some of these websites have seen a significant drop in traffic, we may find that content farms aren't eradicated. Rather, they're relocating. "Condor" Supercomputer Made Of 1,716 PS3s Now Online. Supercomputers are expensive to make no matter how you look at it.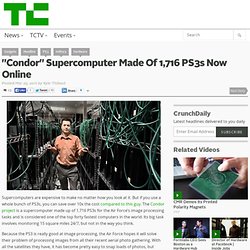 But if you use a whole bunch of PS3s, you can save over 10x the cost compared to this guy. The Condor project is a supercomputer made up of 1,716 PS3s for the Air Force's image processing tasks and is considered one of the top forty fastest computers in the world. Its big task involves monitoring 15 square miles 24/7, but not in the way you think. Because the PS3 is really good at image processing, the Air Force hopes it will solve their problem of processing images from all their recent aerial photo gathering. Dot Obits: First Woman to Design Computer. Betty Jean Jennings Bartik, one of the first women in the IT industry, has passed away at the age of 86.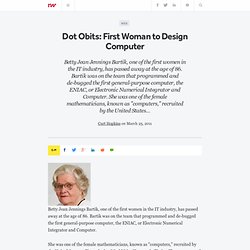 Bartik was on the team that programmed and de-bugged the first general-purpose computer, the ENIAC, or Electronic Numerical Integrator and Computer. She was one of the female mathematicians, known as "computers," recruited by the United States military during World War II to test ballistics. The Great Language Land Grab.
Microsoft is suing Apple, and Apple is suing Amazon, all over the right to use a simple two-word phrase: "app store."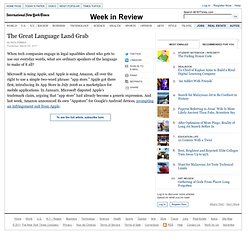 Apple got there first, introducing its App Store in July 2008 as a marketplace for mobile applications. In January, Microsoft disputed Apple's trademark claim, arguing that "app store" had already become a generic expression. And last week, Amazon announced its own "Appstore" for Google's Android devices, prompting an infringement suit from Apple. It's not the first time the tech industry has claimed commonplace language as its own. Facebook has been notorious in this regard, filing trademarks on an array of common four-letter words: "like," "wall," "poke" and, naturally, "face" and "book." Advanced SimpleNote: Collaborating, Blog posts, and Advanced Applications. Beyond the Basics of SimpleNote By this point you should be pretty comfortable using SimpleNote and the various apps that you can use it with.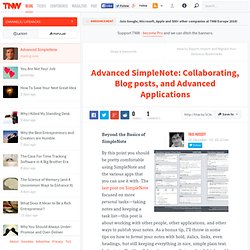 The last post on SimpleNote focused on more personal tasks—taking notes and keeping a task list—this post is about working with other people, other applications, and other ways to publish your notes. As a bonus tip, I'll throw in some tips on how to format your notes with bold, italics, links, even headings, but still keeping everything in nice, simple plain text. Let's start off with collaboration, a new feature that I think could prove to be one of SimpleNote's most powerful tools Sharing your notes, with a twist. Report: Playstation Phone Is Based On the PSPgo, Will Go On Sale This Spring. We've spent quite a few posts on Sony's Playstation Phone in the last few months, and today the Asahi Shimbun (one of Japan's biggest newspapers) is reporting [JP] that the device will be released in spring next year.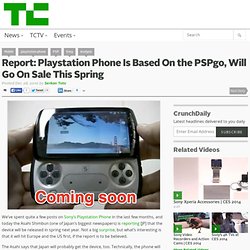 Not a big surprise, but what's interesting is that it will hit Europe and the US first, if the report is to be believed. The Asahi says that Japan will probably get the device, too. Technically, the phone will be based on the PSPgo but will have a smaller form factor. The PSPgo is sized at 69 mm (2.7 in) x 128 mm (5.0 in) x 16.5 mm (0.65 in). Kin Studio Closing On January 31st: Kin Will Really Die Now. Is Yahoo Shutting Down Del.icio.us? [Update: Yes] For a couple of days now, we've been hearing rumors that the Yahoo layoffs included the entire Delicious team.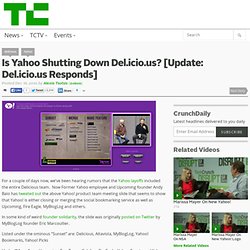 Now Former Yahoo employee and Upcoming founder Andy Baio has tweeted out the above Yahoo! Product team meeting slide that seems to show that Yahoo! Is either closing or merging the social bookmarking service as well as Upcoming, Fire Eagle, MyBlogLog and others. In some kind of weird founder solidarity, the slide was originally posted on Twitter by MyBlogLog founder Eric Marcoullier. Listed under the ominous "Sunset" are: Delicious, Altavista, MyBlogLog, Yahoo! Technology Review: How to Hack the Power Grid for Fun and Profit. The decades-old technology used to manage the power grid is vulnerable to manipulation or sabotage, according to a study revealed this week.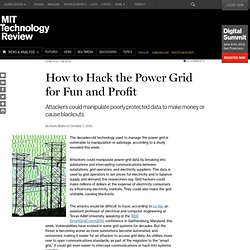 Attackers could manipulate power-grid data by breaking into substations and intercepting communications between substations, grid operators, and electricity suppliers. This data is used by grid operators to set prices for electricity and to balance supply and demand, the researchers say. Windows Phone Newsroom: Live Press Conference. HP Buying Palm for $1.2 Billion - Palm - Gizmodo. Smarter grids, appliances, and consumers. More and more utilities are beginning to realize that building large power plants just to handle peak daily and seasonal demand is a very costly way of managing an electricity system. Existing electricity grids are typically a patchwork of local grids that are simultaneously inefficient, wasteful, and dysfunctional in that they often are unable, for example, to move electricity surpluses to areas of shortages.
The U.S. electricity grid today resembles the roads and highways of the mid-twentieth century before the interstate highway system was built. What is needed today is the electricity equivalent of the interstate highway system. The inability to move low-cost electricity to consumers because of congestion on transmission lines brings with it costs similar to those associated with traffic congestion. The lack of transmission capacity in the eastern United States is estimated to cost consumers $16 billion a year in this region alone.
PC Perspective - The #1 Choice for PC Hardware Reviews and Infor. Ars Technica. Flaws in Tor anonymity network spotlighted. At the Chaos Computer Club Congress in Berlin, Germany on Monday, researchers from the University of Regensburg delivered a new warning about the Tor anonymizer network, a system aimed at hiding details of a computer user's online activity from spying eyes. The attack doesn't quite make a surfer's activity an open book, but offers the ability for someone on the same local network—a Wi-Fi network provider, or an ISP working at law enforcement (or a regime's) request, for example—to gain a potentially good idea of sites an anonymous surfer is viewing. "Developers have to be aware of this kind of attack, and develop countermeasures," said Dominik Herrmann, a Regensburg PhD student studying profiling and fingerprinting attacks.
ZDNet: Tech News, Blogs and White Papers for IT Professionals.
Linux
The End Of Hand Crafted Content. Old media loves nothing quite so much as writing about their own impending death. And we always enjoy adding our own two cents – the AP not knowing what YouTube is, the NYTimes guys reading TechCrunch every day, etc. Speaking broadly, I like what Reuters, Rupert Murdoch and Eric Schmidt are saying: the industry is in crisis, and the daring innovators will prevail.
Personally, I still think the best way forward for the best journalists, if not the brands they currently work for, is to leave those brands and do their own thing. The Revolution Will Not Be Intermediated. So I just followed this tweet by Chris Messina to Mike Arrington's The End of Hand Crafted Content. The tweet-bite: "The rise of fast food content is upon us, and it's going to get ugly." Meaning that FFC "will surely, over time, destroy the mom and pop operations that hand craft their content today. Inventor of Frisbee Dies at 90 - Fred Morrison - Gizmodo. Scobleizer/Tech News Brands... Technology: The data deluge. The Seven Needs of Real-Time Curators. I keep hearing people throw around the word "curation" at various conferences, most recently at SXSW.
The thing is most of the time when I dig into what they are saying they usually have no clue about what curation really is or how it could be applied to the real-time world. So, over the past few months I've been talking to tons of entrepreneurs about the tools that curators actually need and I've identified seven things. First, who does curation? Bloggers, of course, but blogging is curation for Web 1.0.
Mac
---