Space
The Battle for Biodiversity: Monsanto and Farmers Clash - Anna Lappé - Life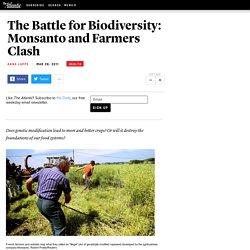 Does genetic modification lead to more and better crops? Or will it destroy the foundations of our food systems? French farmers and activists reap what they called an "illegal" plot of genetically modified rapeseed developed by the agribusiness company Monsanto. Robert Pratta/Reuters Two weeks ago, Monsanto announced the latest genetically engineered crop it hopes to bring to market: a soybean rejiggered to resist the herbicide dicamba.
Skip to main content Loading ... Events Images

Time is running out for NASA's stuck Mars rover Spirit as engineers prepare to make their final attempts to rescue the hard-luck robot from its Martian sand trap. Spirit spun its wheels extremely slowly Tuesday in yet another attempt to extricate itself from the wheel-deep sand it has been stuck in since May 2009. Engineers are studying the results of that drive to decide which of the few remaining options to try next.
For stuck Mars rover, time is running out - LiveScience- msnbc.c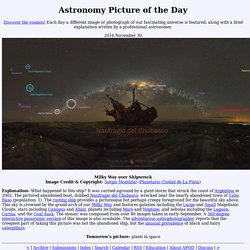 Discover the cosmos! Each day a different image or photograph of our fascinating universe is featured, along with a brief explanation written by a professional astronomer. 2014 April 17 Waterton Lake Eclipse Image Credit & Copyright: Yuichi Takasaka / TWAN / www.blue-moon.ca Explanation: Recorded on April 15th, this total lunar eclipse sequence looks south down icy Waterton Lake from the Waterton Lakes National Park in Alberta, Canada, planet Earth.
pesaretabrizi pesaretabrizi Architecture of IRAN during Islamic times pesaretabrizi November 26th, 2009 Although much of Iran's architecture during the Islamic period has been destroyed over the years, even those of the legendary cities of Nishapur, Ghazni and Tabriz, due to earthquakes or barbarian invading armies, there is still a number of very impressive buildings to show.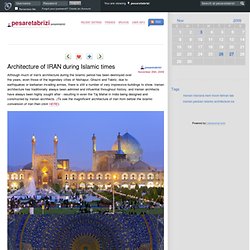 pesaretabrizi - Architecture of IRAN during Islamic times
Rare Photos of Saturn's Aurorae Captured For The Last Time By Hu
Apollo 11 Saturn V Launch (HD) Camera E-8 on Vimeo