Rice
Skinny Chicken Tikka Masala. Tender chunks of boneless chicken breast cooked in an aromatic creamy tomato sauce.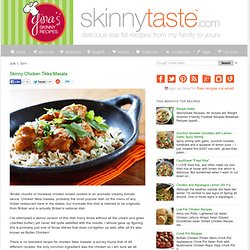 Chicken tikka masala, probably the most popular dish on the menu of any Indian restaurant here in the states, but ironically this dish is claimed to be originally from Britain and is actually Britain's national dish. I've attempted a skinny version of this dish many times without all the cream and ghee (clarified butter) yet never felt quite satisfied with the results. I almost gave up figuring this is probably just one of those dishes that does not lighten up well, after all it's also known as Butter Chicken! Spicy Thai Beef and Jasmine Rice. I love a good rice dish, and I love spicy beef so this recipe sounded like something I would enjoy.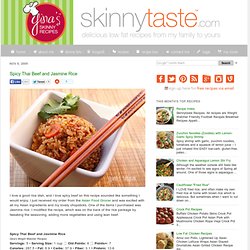 I just received my order from the Asian Food Grocer and was excited with all my Asian ingredients and my lovely chopsticks. One of the items I purchased was Jasmine rice. I modified the recipe, which was on the back of the rice package by tweaking the seasoning, adding more vegetables and using lean beef. Spicy Thai Beef and Jasmine RiceGina's Weight Watcher RecipesServings: 5 • Serving Size: 1 cup • Old Points: 6 • Points+: 7Calories: 287.5 • Fat: 8.9 • Carbs: 37.9 • Fiber: 3.1 • Protein: 13.6. Quinoa "Fried Rice"
Quinoa males a great alternative to rice.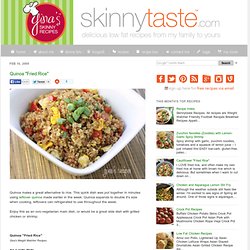 This quick dish was put together in minutes using leftover quinoa made earlier in the week. Quinoa expands to double it's size when cooking, leftovers can refrigerated to use throughout the week. Thai Fried Rice. There is a great Thai restaurant in Williamsburg, Brooklyn called Sea that we love.
It's a cute trendy spot with a great vibe and a DJ. When I go, I always get the fried rice, because it's just amazing. We don't go that often because it's about a 50 minute car ride without traffic, so I was on a mission to make this myself, and after researching and experimenting, I managed to get very close. Thai fried rice gets it's unique flavor from the fish sauce, soy sauce and chili peppers. The jasmine rice is a must!
---