Alcohol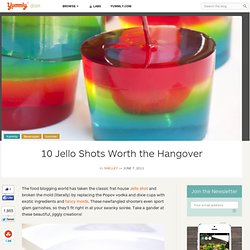 10 Jello Shots Worth the Hangover
About Yummly Yummly is building the digital kitchen platform and mapping the food genome...making life better/easier/more fun for everyone who cooks.
Have fun with The Webtender's collection of drinking games, but be extremely careful if you play any these games, especially the ones with high buzz factors. The collection was created as an aid to responsible adults who know their limits (and not to cross them) when it comes to drinking, and not to promote this kind of drinking behavior. You should of course be of legal drinking age if you want to play these games with beer or drinks, but anyone can play these games with non-alcoholic beverages as well. To view an entire collection of Drinking Games and more visit The Webtender : http://www.webtender.com/ And remember, always drink responsibly!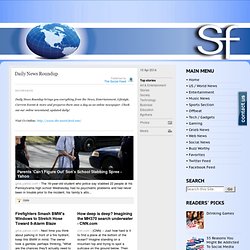 Infusing vodka with Skittles is a very popular trend right now. There are a couple of different ways to do it. My way involves separating all the Skittles into their separate flavors and making five different bottles of Skittles vodka. For this project, you'll need: One 1.75 liter bottle of vodka (I used Stoli – you don't need the most expensive vodka, but do avoid the cheap ones) Five 8.5 ounce flasks or bottles (buy them from Amazon – here's another that looks like a retro milk jug .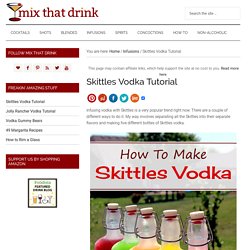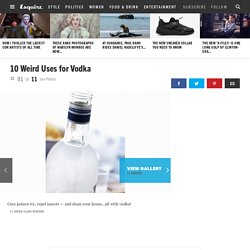 Vodka has been enjoyed since at least the early Middle Ages, and is well known as one of the world's most popular spirits. Its versatility in mixing and high alcohol content have made it extremely popular in cocktails, and it is still widely enjoyed 'neat' (straight up) in much of Eastern and Northern Europe. Vodka also has a long history of use as medicine, having been sold by druggists to cure everything from infertility to colic and the plague. While some of those historic promoters were half-cocked, it's true that vodka has a wide range of potential uses beyond serving as a relaxer and social lubricant. Why would you want to do anything else with vodka but drink it?