Recipies Food
Get flash to fully experience Pearltrees
These apple pies come in a tiny package, but they have a BIG flavor. Only 5 ingredients & you can have them ready to gobble up in 30 minutes too, and that's probably my favorite part.
The idea of these mini Oreo cheesecakes came to me several years ago when reading a recipe that called for a vanilla wafer as the base of the cheesecakes. I thought, 'Wow, I bet an OREO would be awesome in a recipe like this'.
So, after being gone all last week, this has been catch up on the house week. Mostly laundry actually. Man, who knew that a weeks worth of laundry from 5 people could be so daunting. Yikes!! But I am kind of behind on my cooking and baking as well since I've been gone and cleaning.
Just like "on a stick", everything gets infinitely cuter when layered inside a mason jar and tied with a simple ribbon or tag . Favors are no exception! So make these delicious fruity pies in mini mason jars (or regular size!) then sit back and listen to your guests "ooh" and "aah" over how darn cute you are!
If you enjoy cheesecake, then you will love these cupcakes. They consist of cheesecake with a graham cracker crust, a layer of homemade raspberry jelly, and are topped with cream cheese whipped cream. Can you say yum?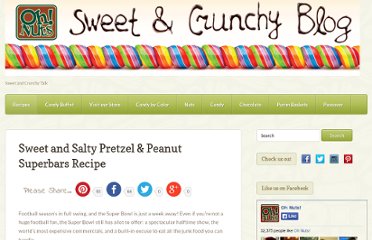 Football season's in full swing, and the Super Bowl is just a week away! Even if you're not a huge football fan, the Super Bowl still has a lot to offer: a spectacular halftime show, the world's most expensive commercials, and a built-in excuse to eat all the junk food you can handle. Chips, dip, and other salty foods usually rule Super Bowl menus, but what if you're also craving something sweet? These Sweet and Salty Superbars have an addicting blend of game-day favorites like salty peanuts and pretzels, mixed with a sweet, chewy caramel on top of a buttery crust. They're about three different snacks in one, and they are the perfect accompaniment to your game day festivities.
by April MacKinnon, Anointment Natural Skin Care and Nurtured With the holidays around the corner and cold, dry winter weather upon us here in eastern Canada, I wanted to share a nice sugar scrub to make a great handcrafted gift for family and friends on your gift list this year. This scrub will tame the dry, flaky skin winter brings, and makes an excellent stocking stuffer.
It seems crazy to think that with over three years worth of recipes here on Brown Eyed Baker, that this the first-ever recipe for something involving blackberries. I'm seriously astonished. You'd think that I had cast them off into the land of unfit berries.
A while ago, I posted another recipe for artichoke dip , but let me tell you – this one blows that one out of the water. This one is thicker and richer, thanks to the cream cheese, and it also has a zing of flavor from the seasonings I added. This one is also grain-free (the other one used flour as a thickener). Plus, it has yummy spinach swirled throughout it. Score!
Prep Time: 25 minutes Cook Time: 1 hour Total Time: 1 hour, 25 minutes Yield: 12 to 16 servings Ingredients: ---Cake--- 1 cup chopped, toasted pecans or walnuts 1 18-1/2 ounce yellow cake mix one 3.4 ounce package (4-serving size) instant vanilla pudding mix 4 eggs 1/2 cup cold milk* 1/2 cup vegetable oil 1/2 cup Bacardi dark rum ---Glaze--- 1/2 cup butter 1/4 cup water 1 cup sugar 1/2 cup Bacardi dark rum