Palm
What you can do with webOS – webOSdev – Palm
all things Palm Pre
A Simple How-to Guide for getting homebrew apps onto your Pre (a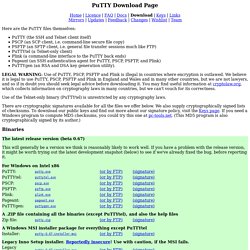 Home | Licence | FAQ | Docs | Download | Keys | LinksMirrors | Updates | Feedback | Changes | Wishlist | Team Here are the PuTTY files themselves: PuTTY (the Telnet and SSH client itself) PSCP (an SCP client, i.e. command-line secure file copy) PSFTP (an SFTP client, i.e. general file transfer sessions much like FTP) PuTTYtel (a Telnet-only client) Plink (a command-line interface to the PuTTY back ends) Pageant (an SSH authentication agent for PuTTY, PSCP, PSFTP, and Plink) PuTTYgen (an RSA and DSA key generation utility). LEGAL WARNING: Use of PuTTY, PSCP, PSFTP and Plink is illegal in countries where encryption is outlawed. I believe it is legal to use PuTTY, PSCP, PSFTP and Plink in England and Wales and in many other countries, but I am not a lawyer and so if in doubt you should seek legal advice before downloading it.
From WebOS Internals This guide assumes you have a rooted Pre, with SFTP access. If you don't, please follow the other guides on this wiki first. This guide also assumes that you have at least a basic knowledge of HTML, CSS, and maybe a little JavaScript. Note: All of this information was acquired via referencing the applications on the Pre, dissecting the Mojo sources available on the Pre, and possibly other publicly available information.
Tutorials webOS Hello World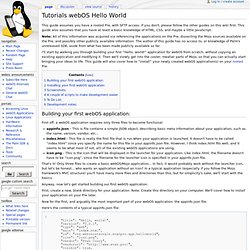 Latest Version: 2.0.1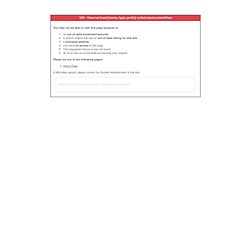 You may not be able to visit this page because of: an out-of-date bookmark/favourite a search engine that has an out-of-date listing for this site a mistyped address you have no access to this page The requested resource was not found. An error has occurred while processing your request. Please try one of the following pages:
Welcome to webOSdev - Palm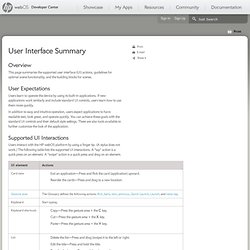 Overview This page summaries the supported user interface (UI) actions, guidelines for optimal scene functionality, and the building blocks for scenes. User Expectations Users learn to operate the device by using its built-in applications. If new applications work similarly and include standard UI controls, users learn how to use them more quickly. In addition to easy and intuitive operation, users expect applications to have readable text, look great, and operate quickly.
User Interface Summary – webOSdev – Palm