Sites of Interest
Jalapeno Popper Grilled Cheese Sandwich. April is National Grilled Cheese Sandwich month and that was all the excuse that I needed to try out some new grilled cheese sandwich recipes!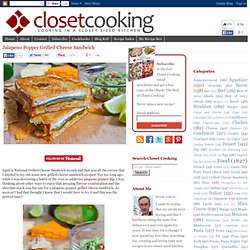 Not too long ago, while I was devouring a batch of the ever so addictive jalapeno popper dip, I was thinking about other ways to enjoy that amazing flavour combination and the idea that stuck was the one for a jalapeno popper grilled cheese sandwich. As soon as I had that thought I knew that I would have to try it and this was the perfect time! The basic idea was to incorporate the flavours and textures of jalapeno poppers in a grilled cheese sandwich and the first step was the jalapeno peppers themselves. I really could not see biting into a perfectly grilled sandwich with all of the melted gooey cheese and hitting hard raw jalapeno peppers and although pickled jalapeno peppers would likely have done the trick I decided to take the extra step and I roasted the peppers first. Mushroom Grilled Cheese Sandwich (aka The Mushroom Melt)
Mushrooms are one of my absolute favourite foods and it was long past time that I gave them the grilled cheese treatment!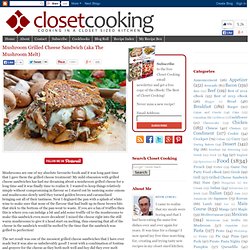 My mild obsession with grilled cheese sandwiches has had me dreaming about a mushroom grilled cheese for a long time and it was finally time to realize it. I wanted to keep things relatively simple without compromising in flavour so I stared out by sauteing some onions and mushrooms slowly until they turned golden brown and caramelized bringing out all of their tastiness. Next I deglazed the pan with a splash of white wine to make sure that none of the flavour that had built up in those brown bits that stick to the bottom of the pan went to waste. How to Make Ketchup. Imagine a world without ketchup: all those lonely French fries mourning the loss of their life partner, and dejected burgers in endless search for a saucy companion.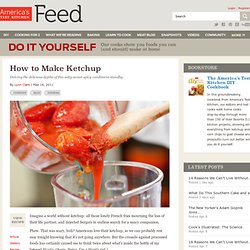 Phew. That was scary, huh? Americans love their ketchup, so we can probably rest easy tonight knowing that it's not going anywhere. But the crusade against processed foods has certainly caused me to think twice about what's inside the bottle of my beloved Hunt's. (Sorry, Heinz. Salsa Verde Chicken Enchiladas Recipe. The other day was packed with baking.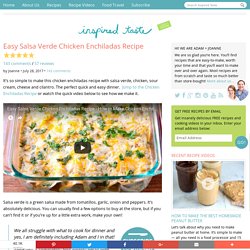 From cookies to cupcakes, we were inundated with flour and powdered sugar. By the end of the day, we were craving anything that didn't come on a baking sheet or that required frosting. (read: this feeling only lasted until we were ready for dessert, but before it, we were sugared OUT). What did we turn to? Crispy Bánh Mì Spring Rolls With Creamy Chili Mayo. Lay one spring roll wrapper down with a corner pointed towards you.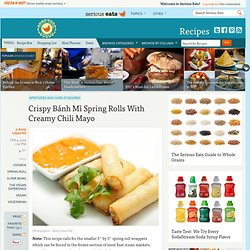 Cover remaining wrappers with plastic or a moist clean kitchen towel. Add a half dozen carrot/daikon sticks, 1 cucumber stick, 1 jalapeño stick, and a few leaves/stems of cilantro in a bundle in the lower third of the wrapper, keeping it in a nice, tight row. Roll from the bottom corner towards the top, keeping everything nice and tight. Roll until nearly half way up, then stop. Golden Potstickers Recipe. I'm writing this post from 35,000 feet.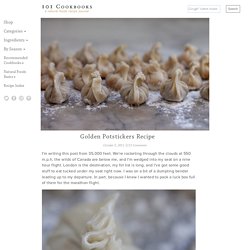 We're rocketing through the clouds at 550 m.p.h, the wilds of Canada are below me, and I'm wedged into my seat on a nine hour flight. London is the destination, my hit list is long, and I've got some good stuff to eat tucked under my seat right now. I was on a bit of a dumpling bender leading up to my departure. In part, because I knew I wanted to pack a luck box full of them for the marathon flight. Let me start off by saying, these aren't traditional in any way. How to Make The Perfect Grilled Cheese Sandwich. As many of you may know, I am completely obsessed with grilled cheese sandwiches!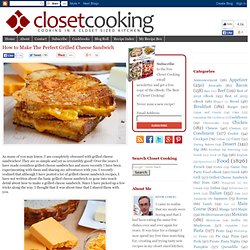 They are so simple and yet so irresistibly good! Over the years I have made countless grilled cheese sandwiches and more recently I have been experimenting with them and sharing my adventures with you. Mini Spring Rolls with Chicken Floss. One of the Chinese New Year goodies I love to eat is mini spring rolls filled with bits of pork, chicken, or shrimp floss.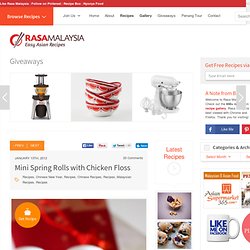 They are the crispiest munchies for the festivities and my nieces love making them as they always have so much fun assembling, rolling, frying, and then eating the mini spring rolls. I am happy that my contributor Siew Loon volunteered to share her recipe. The best time to make them is now so they remain crunchy for the New Year. Enjoy! It is 2 weeks before the we usher in the year of the Dragon. The Best Homemade Hummus. It's slow cooker week here on BGSK and SKC!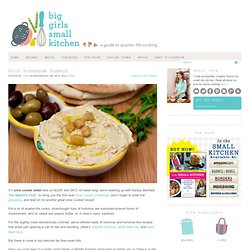 All week long, we're teaming up with Kelsey Banfield, The Naptime Chef , to bring you the first ever Slow Cooker Challenge. Don't forget to enter the giveaway, and read on for another great slow cooked recipe! For a lot of quarter-life cooks, store-bought tubs of hummus are subsistence-level forms of nourishment, akin to cereal and peanut butter, or, in Alex's case, sardines. For the slightly more domestically inclined, we've offered loads of hummus and hummus-like recipes that entail just opening a can or two and blending. (Here's chipotle hummus, white bean dip, and black bean dip.)
Spaghetti alla Carbonara, Pasta Carbonara Recipe. This recipe uses raw eggs, which are essentially cooked by tossing with hot pasta.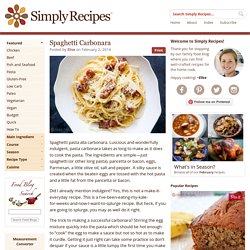 They are not cooked to the point of scrambled though, just enough to thicken the eggs into a sauce. The garlic is optional. It is not traditionally included in spaghetti alla carbonara, but I like the addition of it, so it's in my version. By the way, traditionally "guanciale", or pork jowl, is used in this dish, so if you can get it, by all means use it. Skinny Chicken Pot Pie Recipe. Creamy Brussels Sprouts Gratin with Blue Cheese.
Boreks. Recipe These small cigar-shaped cheese pastries from Turkey are seen on Middle Eastern menus all over the world. Good with Middle Eastern dishes as part of a meze platter. Yield : Makes 24 Prep Time : 25 mins. Death By Oreo Cupcakes. They are probably the best Oreo cakes I have ever tried. A lot of cake's that I have experimented with before are like a vanilla cake with bits of Oreo in them, which didn't really give them enough Oreo flavor. But these were a lot better. Crispy Southwestern Wontons. I am a huge fan these crispy, restaurant-style wontons. They're such a fun treat for dinner, and so easy to whip up at home. Here's one of our favorite recipes for hot, lightly fried wontons stuffed with a cheesy southwestern ranch filling. Bite-sized Baked Brie. My hair is straight today.
My hair is straight today only because a woman spent about two hours pulling, tugging, blowing, and spraying my hair into this state. It's still curly on the bottom. It's also still frizzy on the top. It would appear as though the outside of my head is as stubborn as my inside brain. Stubborn! Growing Tips for Chillies. Plant into small pots or preferably into Jiffy coir (coconut husk) pellets. If you are using Jiffy pellets, soak them until they have swollen to size and put two seeds into each one, just below the surface. If you are planting into pots, fill one pot per seed type to about 2cm below the rim, firm down the compost and soak thoroughly. be aware that chilli seedlings quickly exhaust the nutrients in the coir. Place the seeds with a good space between them so that you do not harm the roots when you come to potting on and cover them with a fine layer of sieved compost and coir mix.
Use separate pots or trays for each variety and don't forget to label them or you will spend several frustrated months not knowing which plant is which. Pickled Vegetables & Chillies. Grits Cakes - Dirty Gourmet. The Chilli King | Growing Guides, Tips, Recipes & Chilli Pepper Information. CREAMY BACON CARBONARA. Creamy Garlic Alfredo Sauce. Herbie's Spices. Spicing up dishes for healthier meals. Ham & cheese pretzel bites. Mandu | Mandu Recipe. Farmer Cheese Pie. Potato and Cheese Sigara Burek. Zucchini Tots. Love Your Heart: Light Fettuccine Alfredo | Prevention RD. Recipe Collection: Dip Recipes. Slow Cooker Spaghetti Sauce. Evil Chilli Chutney recipe. South Indian Gunpowder Chutney - Molaha Podi - Aurora. 6 DIY Spice Combinations to Give Home Cooking a Facelift (Recipes Included) - Planet Green. Food - Recipes : Homemade chilli oil. Moussaka Recipe. Creamy, Three-Cheese Artichoke Dip. Bacon-Cheeseburger Pasta Bake. Lasagna Cupcakes Recipe.
How to Make Whole-Grain Mustard. Sippity Sup is Dark (Chocolate Truffle) Today. How to Make Crème Fraîche.
---