Kizz
Judy
Tim Tam Cake. Hiya!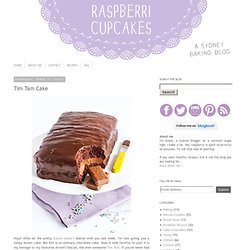 After all the pretty Eastertreats I shared with you last week, I'm now giving you a lumpy brown cake. But this is no ordinary chocolate cake. Does it look familiar to you? It is my homage to my favourite Arnott's biscuit, the ever-awesome Tim Tam. Twenty-five simple pasta sauces. Nice and easy ... pasta Nicoise is a classic quick meal.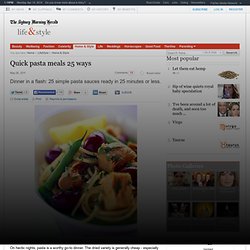 On hectic nights, pasta is a worthy go-to dinner. The dried variety is generally cheap - especially when it's on sale two-for-one - and an accompanying jar of prepared sauce can get dinner on the table in a snap.
Cathedral Windows | Quilt Patterns & Blocks | Angie's Bits 'n Pieces. Always an elegant quilt, Cathedral Windows are fun and very portable.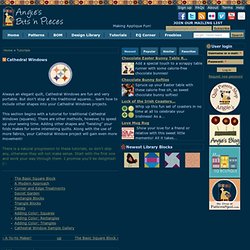 But don't stop at the traditional squares... learn how to include other shapes into your Cathedral Windows projects. This section begins with a tutorial for traditional Cathedral Windows (squares). There are other methods, however, to speed up your sewing time. How to make 3D Faux Cathedral Window Quilt Blocks. Sausage Rolls.
Scones. My ebook. Sewing Mannequin making. Candy Jubes Lollies. Easter. Gardening. Cathedral Window Quilts. Throughout history, churches and cathedrals have always been a huge inspiration for many styles of art, crafts and trades.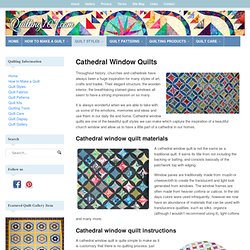 Their elegant structure, the wooden interior, the breathtaking stained glass windows all seem to have a strong impression on so many. It is always wonderful when we are able to take with us some of the emotions, memories and ideas and use them in our daily life and home. Cathedral window quilts are one of the beautiful quilt styles we can make which capture the inspiration of a beautiful church window and allow us to have a little part of a cathedral in our homes.
Cathedral window quilt materials A cathedral window quilt is not the same as a traditional quilt. How to Make a Cathedral Window Quilt Square. Crafty Stuff.
Wedding. Knowledge. Reception. Work Health & Safety. Getting started. Craft interests. Beyond Diet. Sites of Interest. Love the Kitchen.
---