Historic fashion
The Costumer's Manifesto: Your Free One-stop Site for Costume Information & Images Note: if you can't find what you're looking for, check out the categories under Old Nav! Tara Maginnis, Ph.D. The Costumer's Manifesto: (A statement of Purpose and Ethics for Costumers)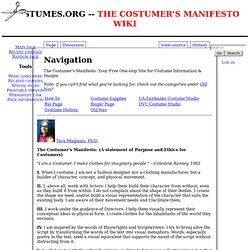 Your Free One-stop Site for Costume Information & Images
Antique and Vintage Clothing - Welcome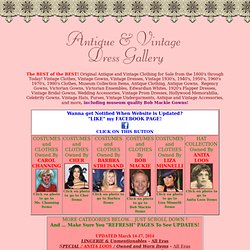 The BEST of the BEST! Original Antique and Vintage Clothing for Sale from the 1800's through Today! Vintage Clothes, Vintage Gowns, Vintage Dresses, Vintage 1930's, 1940's, 1950's, 1960's 1970's, 1980's Clothes, Museum Collection Items, Antique Clothing, Antique Gowns, Regency Gowns, Victorian Gowns, Victorian Ensembles, Edwardian Whites, 1920's Flapper Dresses, Vintage Bridal Gowns, Wedding Accessories, Vintage Prom Dresses, Hollywood Memorabilia, Celebrity Gowns, Vintage Hats, Purses, Vintage Undergarments, Antique and Vintage Accessories, and more, including museum quality Bob Mackie Gowns!
Inaugural dress of Fay Webb Gardner, 1928-29 Fuchsia Dress c. 1923-1925 Nasjonalmuseet for Kunst, Arketketur, og Design (via omgthatdress) Hi, this is Emily, and I know this isn't a dress, but I thought I would put up a link to this project all the same for folks that might be interested…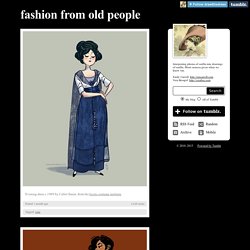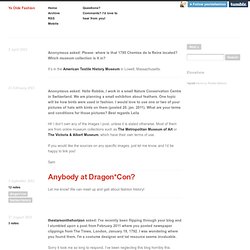 Ye Olde Fashion
thestarsonthehorizon asked: I've recently been flipping through your blog and I stumbled upon a post from February 2011 where you posted newspaper clippings from The Times, London, January 19, 1792. I was wondering where you found them. I'm a costume designer and tat resource seems invaluable.
Calanthe's Nightingale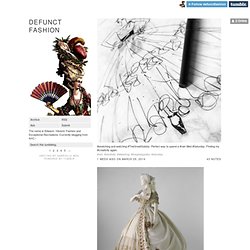 #sketching and watching #TheGreatGatsby. Perfect way to spend a #rain filled #Saturday. Finding my #creativity again.