Historic fashion
The Costumer's Manifesto: (A statement of Purpose and Ethics for Costumers) "I am a Costumer, I make clothes for imaginary people." ---Celestine Ranney, 1982 I. When I costume, I am not a fashion designer nor a clothing manufacturer, but a builder of character, concept, and physical movement. II. I, above all, work with Actors: I help them build their character from without, even as they build it from within.
Antique and Vintage Clothing - Welcome
fashion from old people
Suit by Bonnie Cashin, c. 1965 via The Met Fuchsia Dress c. 1923-1925 Nasjonalmuseet for Kunst, Arketketur, og Design (via omgthatdress) Hi, this is Emily, and I know this isn't a dress, but I thought I would put up a link to this project all the same for folks that might be interested…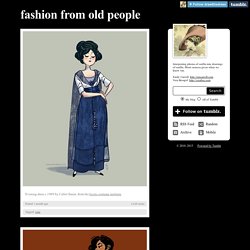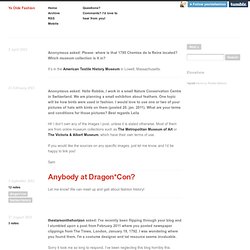 Ye Olde Fashion
thestarsonthehorizon asked: I've recently been flipping through your blog and I stumbled upon a post from February 2011 where you posted newspaper clippings from The Times, London, January 19, 1792. I was wondering where you found them. I'm a costume designer and tat resource seems invaluable.
Calanthe's Nightingale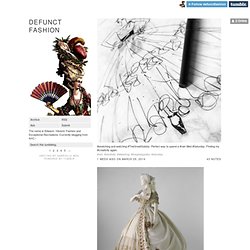 Wedding Ensemble | Yves Saint Laurent | c. 1976 House of Worth | c. 1882 This dress is in the Impressionism, Fashion and Modernity exhibition currently at The Metropolitan Museum of Art.
Defunct Fashion