Praktikk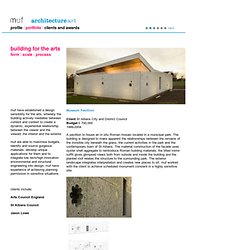 muf have established a design sensibility for the arts, whereby the building actively mediates between content and context to create a dynamic, experiential relationship between the viewer and the viewed; the interior and the exterior. muf are able to maximise budgets, identify and source gorgeous materials, develop unique applications for them and to integrate low tech/high innovation environmental and structural engineering into design. muf have experience of achieving planning permission in sensitive situations.
muf : buildings for the arts
ryuji fujimura architects | 藤村龍至建築設計事務所
Hideyuki Nakayama Architecture
located in the ancient japanese city of kyoto, the o house by hideyuki nakayama architecture is a kind of lean-to structure extending from a main 2-storey house. o house takes its name from its form in which a kitchen, dining room, furniture and bath area, encircle the main house. these spaces are produced by spanning rafters located between the retaining walls of the adjacent and main house. the o house space is somewhat like a passage garden. inside is a curved horizontal space, where a portion of the staircase, thin steelframe floor and equally lined fittings are found. the gable side of the house shows its dollhouse conditions, which are open and visible from the adjacent street. going back and forth everyday through this passage-like area, the residents can see the shape of the main house from outside at various angles.
hideyuki nakayama architecture: o house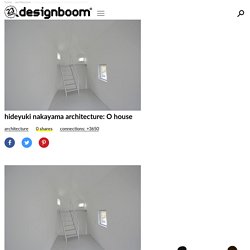 lacaton & vassal
TEZUKA ARCHITECTS
GO HASEGAWA & ASSOCIATES
2010年12月号 WEB連動企画 森のピロティ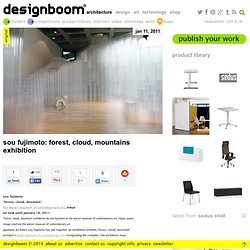 sou fujimoto: forest, cloud, mountains exhibition
sou fujimoto 'forest, cloud, mountain'the watari museum of contemporary art, tokyo on now until january 16, 2011 'forest, cloud, mountain' exhibition by sou fujimoto at the watari museum of contemporary art, tokyo, japan image courtesy the watari museum of contemporary art japanese architect sou fujimoto has put together an exhibition entitled, 'forest, cloud, mountain' at tokyo's watari museum of contemporary art. recognizing the complex role architects must play within today's modern society, the exhibited work explores the idea of the city by re-imagining its potential beyond what traditional architecture has thus far attributed it. the title, 'forest, cloud, mountain' is the three thematic concepts investigated through the exhibited installations:
Baan - photography
For the third consecutive year, schmidt hammer lassen architects (SHLA) have landed a MIPIM AR Future Project Award, this time in the 'Mixed Use' category. Their winning project is a proposal for the Holbaek City Harbour Masterplan including a new 'DGI City' – a sports complex concept developed by the Danish Gymnastics and Sports Associations.
architecture // news // daily @ archiCentral - Part 149