Praktikk
Muf : buildings for the arts. Muf have established a design sensibility for the arts, whereby the building actively mediates between content and context to create a dynamic, experiential relationship between the viewer and the viewed; the interior and the exterior. muf are able to maximise budgets, identify and source gorgeous materials, develop unique applications for them and to integrate low tech/high innovation environmental and structural engineering into design. muf have experience of achieving planning permission in sensitive situations. clients include: Arts Council England St Albans Council Jason Lowe.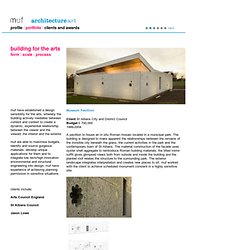 Ryuji fujimura architects | 藤村龍至建築設計事務所. Hideyuki Nakayama Architecture. Lacaton & vassal. Lacaton & vassal. Atelier Bow-Wow. Toyo Ito & Associates, Architects. TEZUKA ARCHITECTS. ?????? Shigeru Ban Architects. GO HASEGAWA & ASSOCIATES. 2010年12月号 WEB連動企画 森のピロティ. Baan - photography. Architecture // news // daily @ archiCentral - Part 149. For the third consecutive year, schmidt hammer lassen architects (SHLA) have landed a MIPIM AR Future Project Award, this time in the 'Mixed Use' category.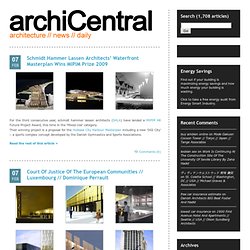 Their winning project is a proposal for the Holbaek City Harbour Masterplan including a new 'DGI City' – a sports complex concept developed by the Danish Gymnastics and Sports Associations. Read the rest of this article » This project by Dominique Perrault Architecture is located on the Kirchberg Platform, Luxembourg and currently in progress. It results from an invited international competition held in 1996. Start of conceptual design was back in June 2002 and the construction started in April 2004.
---